Dream kitchens for a Mediterranean lifestyle
ProMas specialises in the design and installation of quality kitchens in Marbella. Our highly experienced team can bring your dream kitchen to life. We work across Marbella, Malaga, Benahavís, Mijas, Puerto Banus, La Quinta, Nueva Andalucía and the whole of the Costa del Sol, so if you would like to have either a brand new kitchen created or your current kitchen renovated to an exceptionally high standard, please don't hesitate to get in contact with ProMas today.
Kitchens Marbella
Your kitchen is so much more than somewhere to cook food – it is a space for socialising, relaxing and entertaining guests. This all needs to be taken into account when the room is designed to ensure your get somewhere that looks stunning but is highly practical too. At ProMas we have been designing and building in Marbella for years, and we have both the vision and the expertise to produce outstanding results.
Every client has different needs and requirements from their kitchen. This means that we take a tailor-made approach to our creations. We will carry out full discussions with you on what you are looking for, before creating a plan to help you envision the finished product. Whether you are interested in traditional or modern, we have the skills to design whatever you need.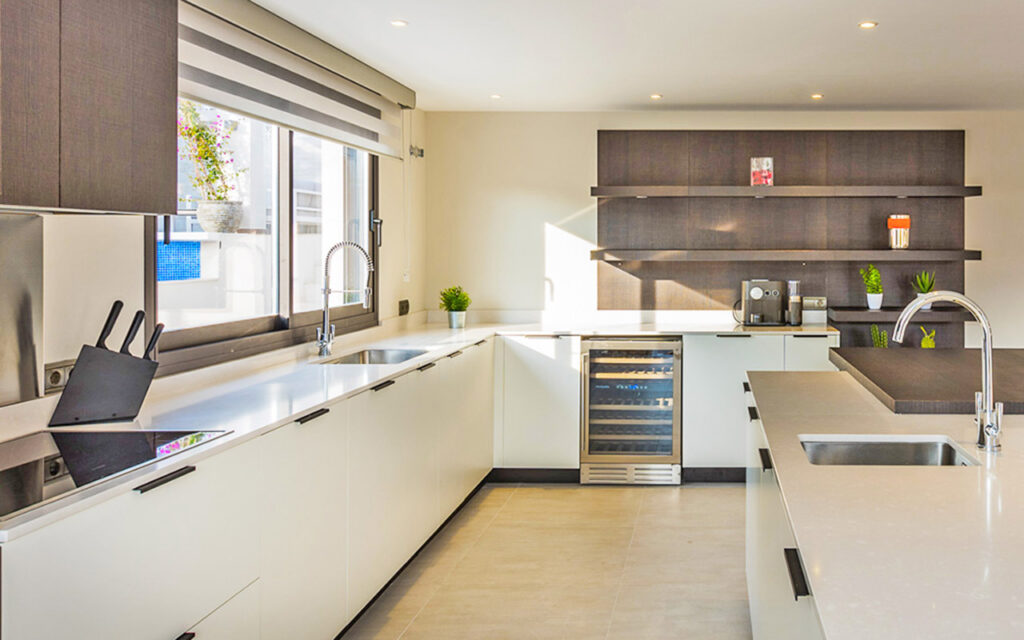 Why choose a kitchen from ProMas?
• We understand that the kitchen needs to be the focal point of the home, so we endeavour to design and create something that not only looks fantastic but also offers great functionality and practicality.
• All of our kitchens start as a full visual concept. We provide you with accurate 3D designs and plans to show you exactly how your new or refurbished kitchen will look. This will include full layout details for storage, cabinets and drawers as well as worktops, backsplashes, central islands, sinks, taps, light, appliances and more
• We only use the finest quality materials to ensure that your kitchen is durable and long-lasting. We can build the kitchen to suit all styles and work with high quality appliances to suit all budgets.
Our skills and experience
ProMas calls on more than 20 years of experience in the construction industry which was gained working both in Spain and the UK. Our team has expertise and knowledge in all forms of design, construction and villa renovation. This includes both interior and exterior design as well as architectural and construction planning services.
We have the skills to provide everything from accurate architectural plans to visual 3D images. Whether you are having the whole of your villa renovated or are just looking to have the kitchen redesigned, we have expert staff across a range of disciplines including masonry, plumbing, plastering and more. We can carry out anything from carpentry, tiling and electrics for your new kitchen, and tailor the whole service to suit your needs and requirements.
We have established a strong relationship with talented interior designers and architects in the area, which allows us to build stunning kitchens in Marbella.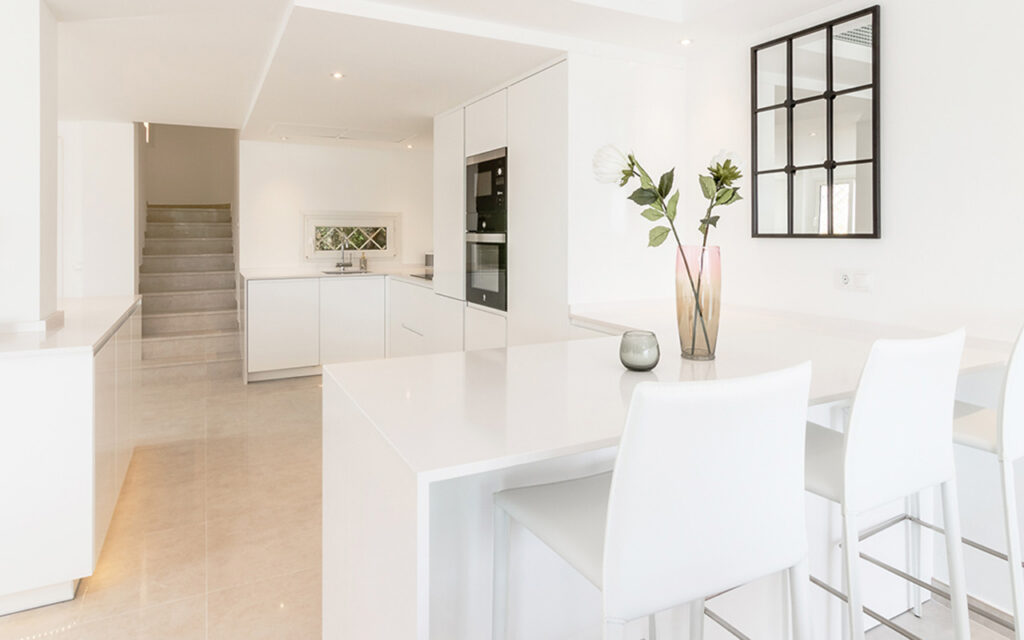 Contact us today
Would you like to find out more about the range of kitchen design and installation services that we offer? Please get in contact with ProMas Building by calling us on +34 951 497 619, emailing enquiry@promasbuilding.com or using the contact form below to send us a message. Our team has extensive experience in all forms of building projects and renovations across the Costa del Sol. We would be delighted to hear from you and will be able to answer any questions that you have.