After a further meeting with our clients for this new build in Benahavis, and a clearer idea of what they want in terms of style and design, our architect and designers have created new 3-D visual images and plans for them to go through.
The new villa in Benahavis will be on 3 floors. The basement will have the garage large enough for 2 to 3 cars and a large space for either a gym or cinema room, a staircase leading up to the ground floor. Once you arrive at the top of the stairs you have access to the bathroom and you reach the open plan living space.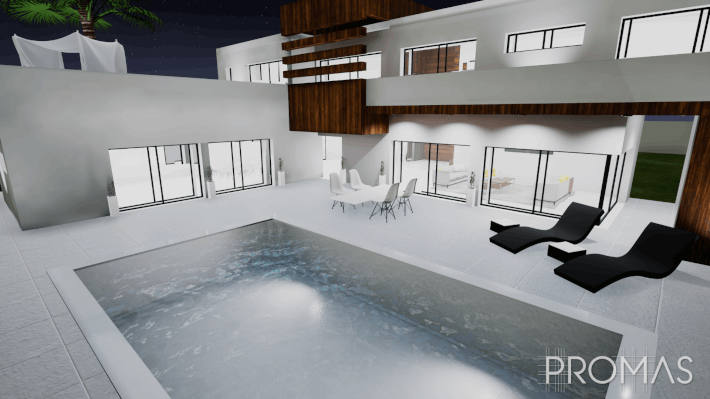 The ground floor will comprise of 2 bedrooms, each with their own bathroom. A large modern kitchen with central island with a separate pantry and laundry room. The kitchen will be partly open plan to the dining room and living room. The living spaces will be surrounded by large glass doors opening up onto the terraces and swimming pool and garden. The stairs will then lead you up to the last floor.
The top floor will lead you from the stairs into the corridor which will have a further 2 beautiful guest rooms with their own bathrooms and terrace looking onto the pool. The large ensuite master bedroom will have 2 terraces to enjoy the views from different angles. One smaller terrace at the back of the house and one very large terrace facing the sea and looking onto the garden and swimming pool.
As a whole, this new villa will have a surface area of 365m², surrounded by 3 tiled terraces and a flat roof giving extra living space of 235m² and of course a stunning swimming pool.
The exterior design has evolved and will change more until we are totally satisfied. We added the central wood effect tiles, horizontal line and pillars to break up the white and make it a little more different and unique which we really like. More to come on this project soon…