Approaching sustainability
Whether you are building your new home, completing a minor villa reform or a complete refurbishment there are things you can do to make your building more energy efficient.
Luckily you don't have to spend much to have a more sustainable home or building. Passive solar design provides simple ideas that you can incorporate into your home design or refurbishment. That is, designing your home to efficiently harness light and warmth from the sun without having to invest in extra products or additions. Although, of course, solar panels, underfloor heating, quality insulation and energy efficient appliances are a good investment. We hash out some key principles of sustainable homes below.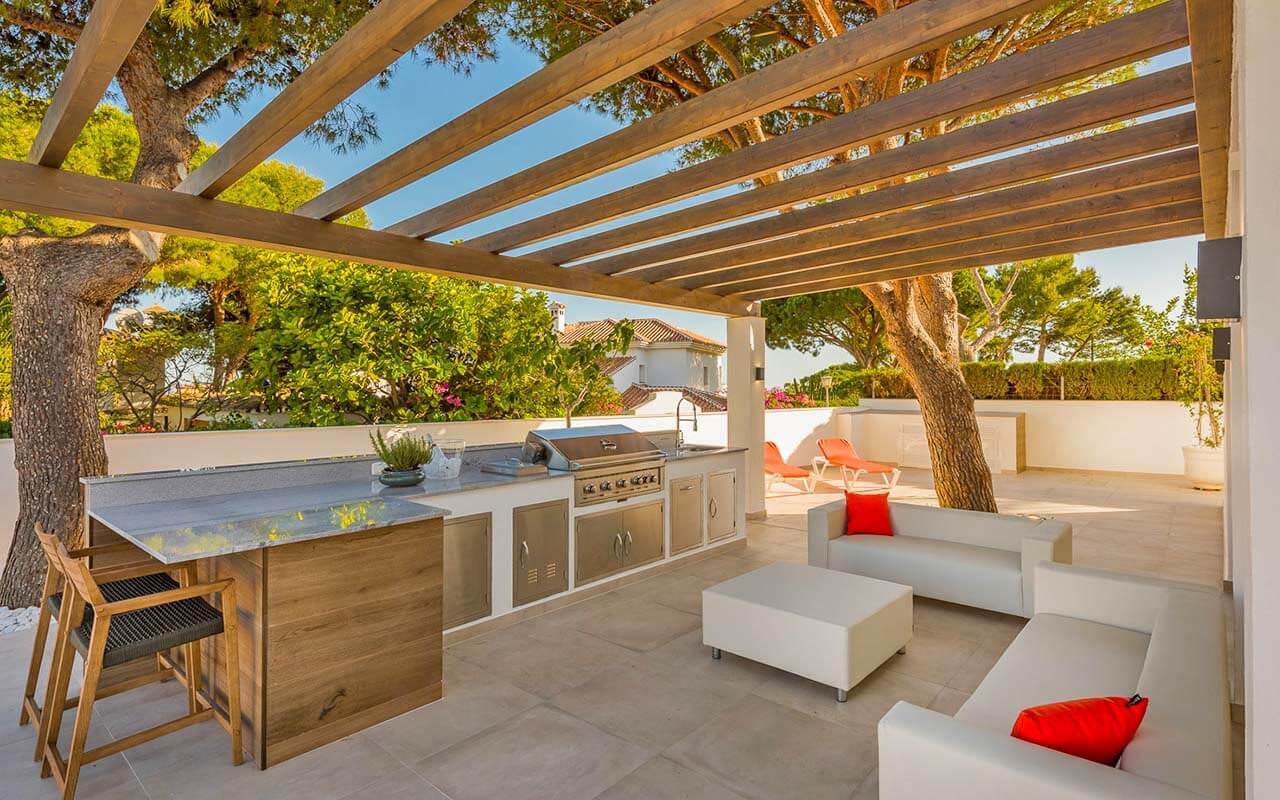 South-facing windows
Here in the northern hemisphere, a key element of passive solar design is maximising south-facing windows. Southern windows capture maximum sunshine in the cooler months, and less in summer when the sun is higher. Of course, this is reverse in the southern hemisphere, where north-facing is the ideal orientation. Then you can add clever shading to block the hot sun in summer.
A simple way with dealing this is to provide a high awning or eave on southern windows to allow the winter sun to enter (when the sun sits lower) but minimise the impact in summer (when the sun is higher). Another option is to use deciduous vines on an open pergola to create a seasonal shade. The vines can grow and provide a charmingly wonderful shade in summer, losing their leaves and allowing the sun to enter in winter. The same idea can be used with deciduous trees or retractable awnings (toldo in Spanish).
Outdoor living
Similarly, in pleasant climates, outdoor living spaces allow you to capitalise on the natural heating and cooling of outdoors. Here in the south of Spain we are blessed by an amazing year round temperature, and housing design capitalises on this. Many Spanish homes have luxurious covered outdoor living spaces that allow you to choose whether you want to live in the sun or shade. This means less energy is used in the house and is also being outdoors has many health benefits.

Window design
Since western windows augment the hot afternoon sun in warmer months, they should be minimised or have operable external blinds or awnings. The external shades block the heat of the afternoon sun before they reach the house. Luckily here in the south of Spain, there is a good tradition of using external blinds and awnings that provide the perfect cover to keep living areas cool in the warmer months.
Northern windows can be large to allow maximum natural light since the sun won´t enter (southern windows in the southern hemisphere). This provides lots of healthy light to make the space more pleasant and reduce lighting use. However, windows should be double glazed to maximise insulation, thereby reducing heating and air conditioning costs. Similarly, it is also important to install good quality windows and doors that seal well.
Cross ventilation
Another key element of natural cooling is having cross ventilation throughout your house or building. That is, designing operable windows to allow the air to maximise circulation throughout the space. This way you can open windows so that the air flows throughout your home to naturally cool and ventilate it in summer. So ideally, windows should be staggered to allow the air to flow throughout the home.
Light coloured walls and good insulation
It is such a simple idea, but light-coloured exterior walls help to reflect the sun and keep your home cool in summer. That is something that goes without saying here in the south of Spain where white houses and villages are the norm. Similarly, quality wall, floor and roof insulation are worth the investment to help to keep your home the temperature that you like.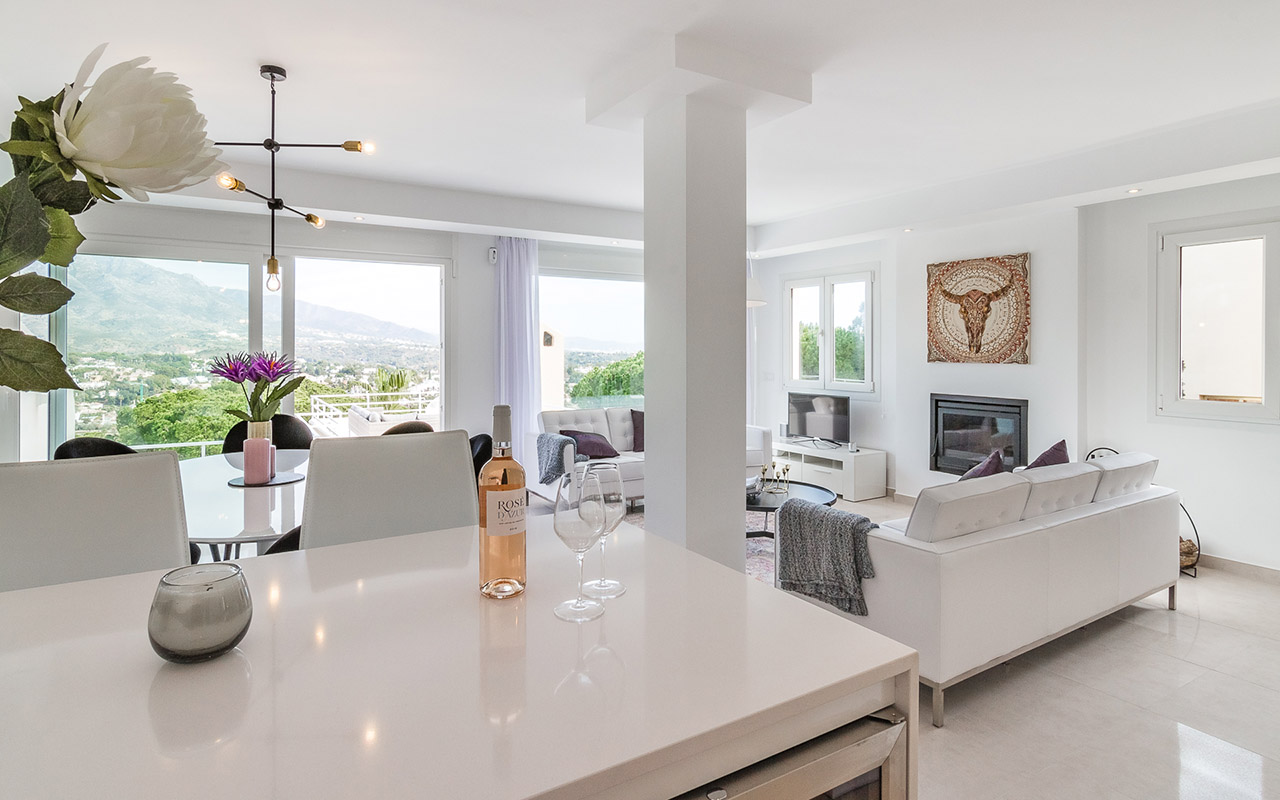 Renewable energy systems
With the cost of electricity continually rising, and the cost of photovoltaic systems reducing, solar energy is becoming more popular among our clients. We have upgraded penthouses that have installed photovoltaic systems on the roof to power their underfloor heating, appliances and lighting. Installing a battery also allows you to store excess energy for when it´s needed to make your house even more sustainable.
Photovoltaic electricity releases no sounds, gases or odours so is considered an extremely sustainable and renewable energy source. Plus, we all know there will be no shortage of sun here in the Costa del Sol! In theory, you can sell your excess energy back into the grid to be used, although relevant regulation is yet to be developed here in Spain.
Obviously, it´s more sustainable to have high rating appliances that use less energy and resources. However, underfloor heating is an efficient way to warm spaces since it allows the heat to radiate from the ground and naturally rise.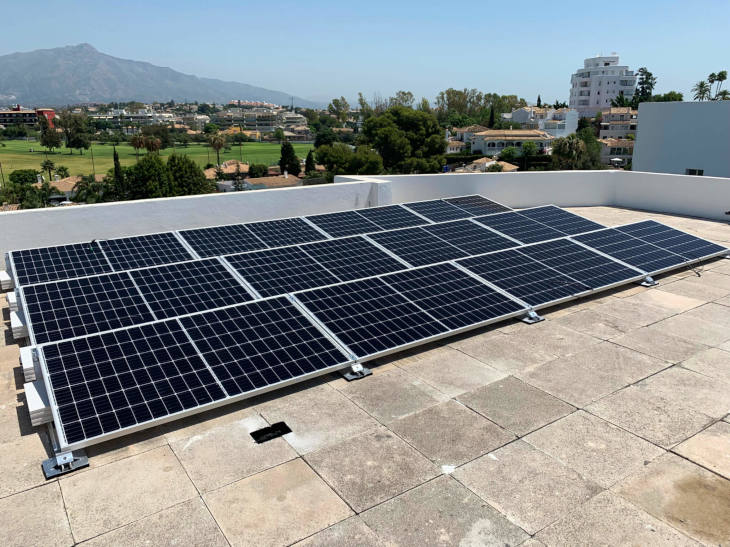 It´s wise to choose native plants that are adapted to the climate and will therefore be easier to maintain. Similarly, here in the Costa del Sol, drought proof plants are more likely to survive hot summers. Also, you may like to have a vegetable or herb patch (huerto) so that you can have your own organic supply of fresh produce. Another clever idea is connecting a rainwater tank to irrigation systems or internal water supplies, or a greywater filtration system to utilise internal wastewater.
Sustainable homes with ProMas Building
Our team at ProMas are experienced English builders here in Spain that specialise in building and renovation in Marbella and surrounds. In the process, we can help you maximise the sustainability of your home on the Costa del Sol. We even create 3D models for our clients to visualise their new homes before commencing works. We´d love to hear from you about your upcoming building or renovation project in Marbella, Fuengirola, Mijas or surrounds.