When undergoing a reform on your home, you may be overwhelmed by which things to prioritise. To help you visualise how you could improve your home, this blog will discuss the most important reform concepts here in the sunniest part of Europe.
1. Upgrade your outdoor area
Here on the Costa del Sol, the weather is quite mild throughout the year so, perhaps the most important renovation idea is to give your garden and terrace area a makeover so that you can really enjoy it on a daily basis. Key things are to open up the connection with your living area (perhaps with large operable glass doors), upgrade railings and floors to suit a modern design, and most importantly- add or upgrade your swimming pool so that you can enjoy it properly.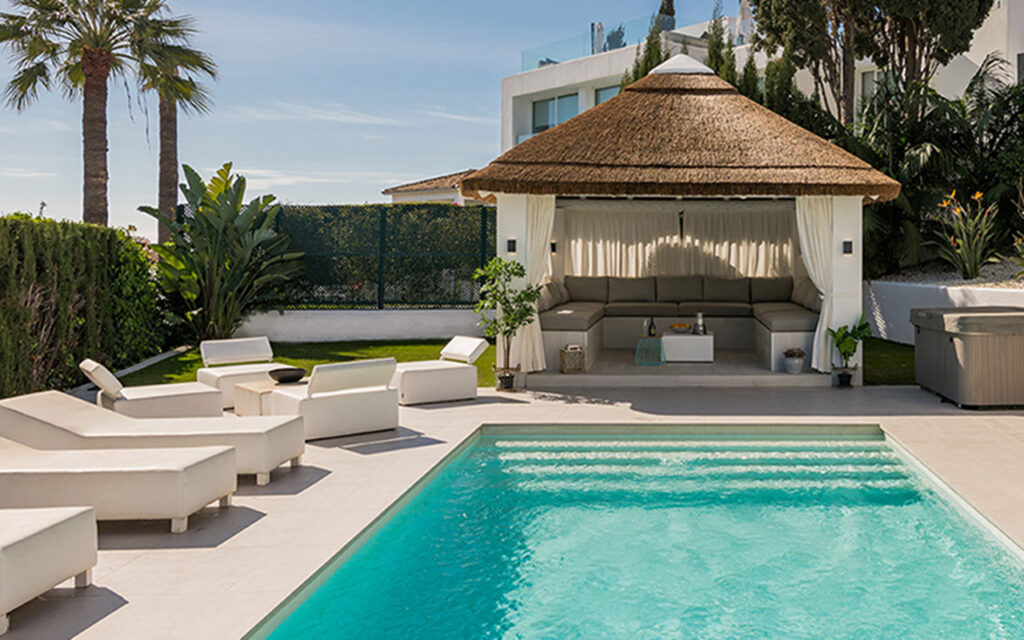 You may also choose to replace unmaintained gardens with terraces and clever landscaping with potted plants and an automated watering system that requires less maintenance. Pergolas also provide a solid shading option to escape the sun anytime, as well as protect you from the weather making it a reliable year-round feature. The focus here is to make the space both accessible and to suit your lifestyle so that are drawn out there to enjoy the lovely Spanish weather and enjoy the healthy fresh air as much as possible – so having a comfortable outdoor dining setting well connected with your living space is essential.
This might include replacing an older curved shaped swimming pool with a modern rectangular one, that is easier to maintain, provides more swim space (especially lap swimming) and in general, has a more luxurious modern clean line appeal. They can be easily customised for more in water features like swim benches or tanning ledges for example that add that extra class and functionality to the classic modern swimming pool.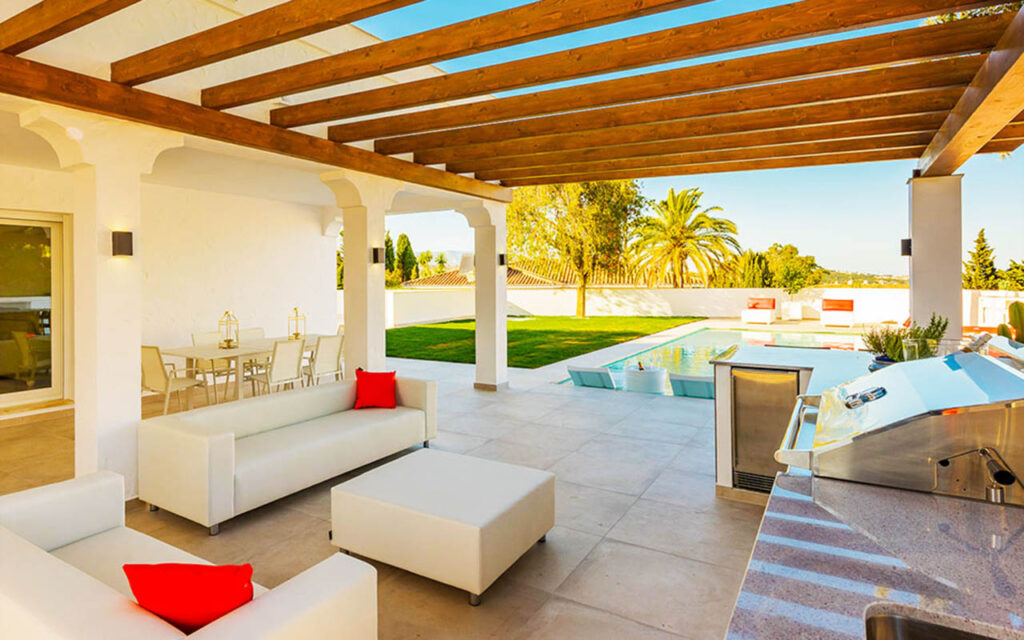 2. Modernise the appearance
As touched on above, another key renovation to enjoy your home is to modernise railings and general appearance so that it is a home that you can be proud of. Many traditional Spanish homes have small windows, arched covered terraces and old roman style balustrades that may not suit modern furniture or taste.
These are simple things to fix by opening up arches and living areas into underutilised covered balconies to maximise natural light. Just by opening up the windows, removing arches and changing the balustrades your home will instantly look more modern. To further enhance the overall appearance, you may also want to smooth what is often rough rendering and/or repaint in a brighter colour. As we know, white is timeless, easy to touch up and better reflects the Spanish heat but there are endless colour options to choose from both internally and externally.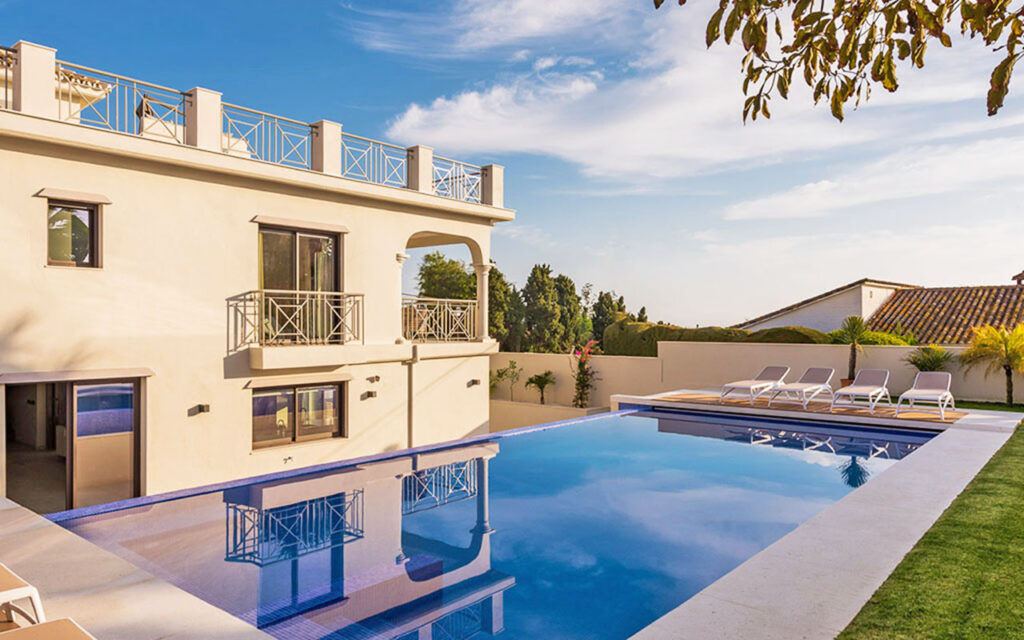 3. Open up the kitchen and living
Following on from the above idea, another prime renovation idea for Spanish homes is to open up the kitchen and living areas- that are often separate in traditional homes. As we know, open plan living kitchens are very popular, and not just because they are the modern trend. Open living areas are very functional for most lifestyles and also are fantastic for entertaining.
It is important that there is a clear connection between your kitchen and outdoor living area to remind you of how lovely it is out there and encourage you to grab your drink or meal and enjoy it in the beauty of nature. Because your outdoor area will also be made up, it is ideal to be able to see these from your kitchen and dining room so that you make the most of the visual aspects of your hopefully lovely outdoor area.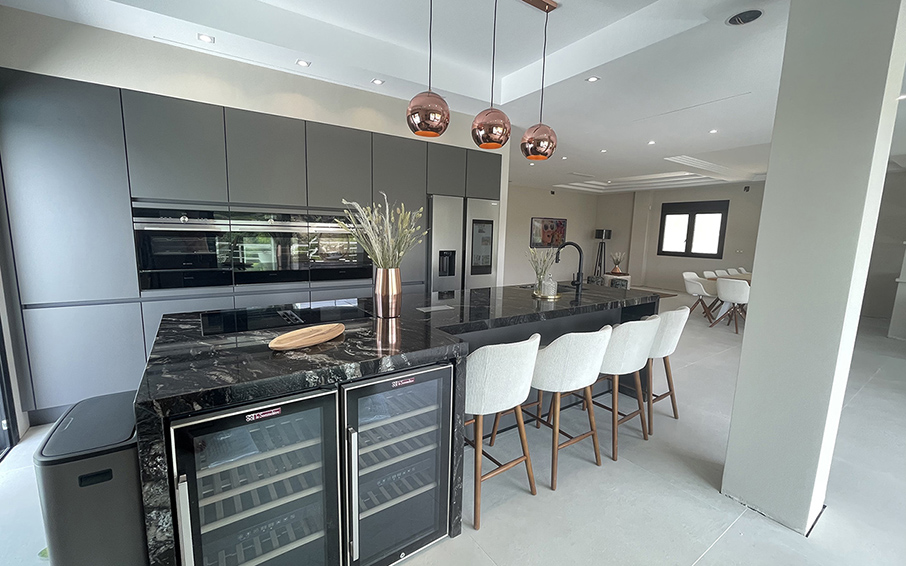 4. Restructure the internal spaces
When you look at opening up your kitchen and dining area, you might realise that the layout of your home is less than ideal. Think about the passage that visitors enter your home through and then the passageways that you use between living areas and bedrooms on a daily basis. Some older Spanish homes have long dark hallways that are not a good use of space and don´t allow a good natural flow.
So, for larger renovations it is a good idea to consider where is the ideal space for your living areas and bedrooms alike- thinking about the flow of the home, as well as outlook and orientation. Also think about whether the size of the living areas are well distributed or whether you want to make some rooms bigger- since some Spanish living spaces tend to be quite small. Opening up with the outdoors also helps the spaces feel bigger and remember to ensure the layout allows for good cross ventilation to keep the fresh air flowing throughout.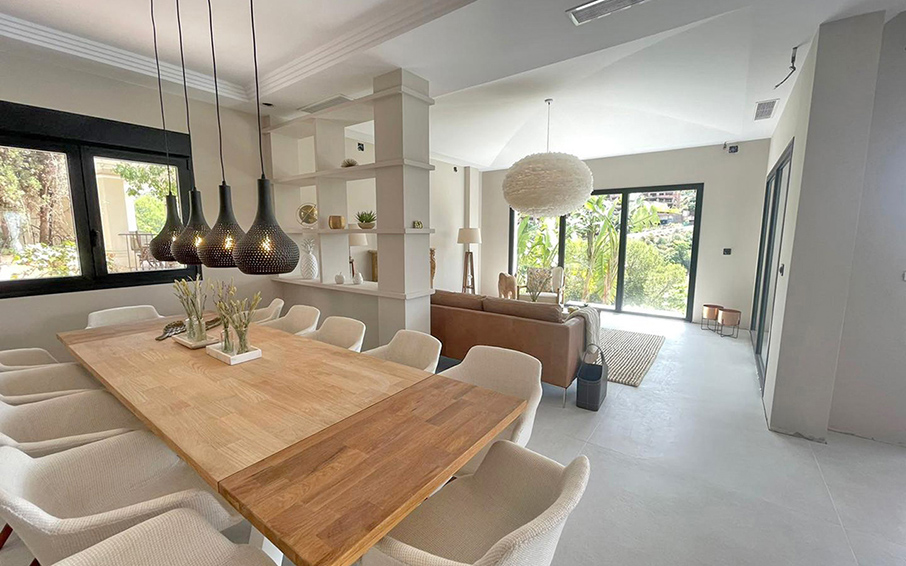 5. Makeover the bedroom and bathrooms
Although we spend less awake time in bedrooms and bathrooms- they are parts of the house that we do use every day (in fact, the first and last areas we use every day) and therefore important to your daily experience. With modernising and including larger windows you will have already greatly improved the enjoyment of these spaces – so any other upgrades to these spaces are likely to be quite cosmetic. Nonetheless, when renovating your home – modernising the walls, redistributing the bedroom and/or bathroom and including modern bathroom elements (a spacious shower, or walk in wardrobe for example), will help to make your home more enjoyable every day.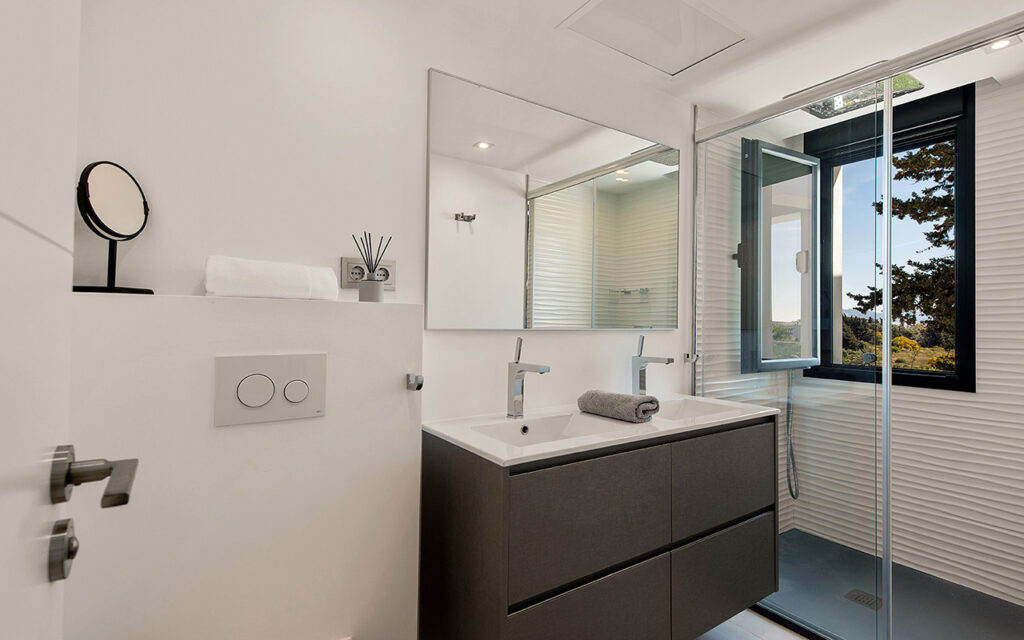 6. Plan better storage
An often overlooked, but very important, element for improvement in most Spanish homes is functional storage. For some reason, most Spanish homes lack sufficient storage space in both common and bedroom space so that that living spaces can end up cluttered. While redistributing or even just making over a couple of rooms, look for opportunities to include built in wardrobes and cupboards throughout the home. It may seem unnecessary but closing off items in closets helps the space to feel neater but also is much cleaner and healthier since you don`t have as many items gathering dust in the open. You and all future inhabitants of the home will be forever grateful for clever built in storage throughout- whether it is your holiday home or primary residence.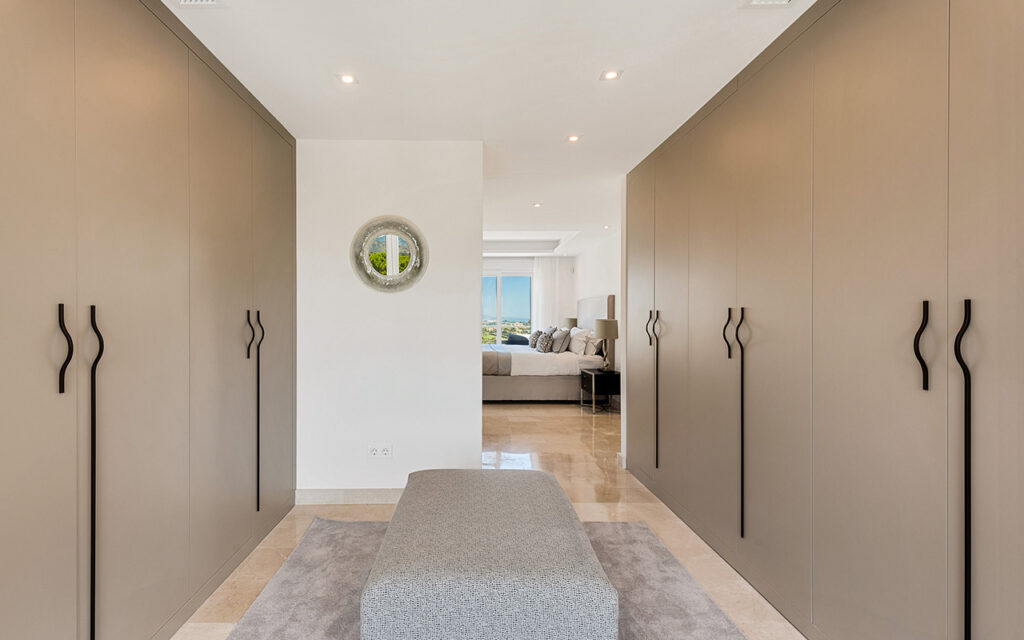 7. Improve insulation
For some reason, many older Spanish homes were built without proper sealing and insulation so that humidity and mould are a very common problem. So whenever reforming or refurbishing a Spanish home, close attention should be paid to the isolation, insulation and waterproofing and upgraded appropriately. While it may seem like an afterthought, upgrading insulation is very important for the health of all inhabitants, and also makes cleaning and maintenance much more manageable since it should help you avoid harmful mould. So, although it is not a flashy topic, this should arguably be the number one priority for your Spanish refurbishment.
Builders and Designers in the Costa del Sol
If you are considering building or upgrading around Marbella, Benahavís, Mijas or anywhere in the Costa del Sol, don´t hesitate to contact us to see how we can help you. With over 15 years' experience and an exceptional reputation, we are committed to working with our clients to ensure their construction project meets and exceeds expectations and timeframes. We also offer a full range of services so that we can manage the whole process from idea to completion for the clients that want a seamless building or reform project.