Here at ProMas building, many of our clients are expats who are lucky enough to purchase a second home here on the wonderful Costa del Sol.
Whether you are keeping your haven for family enjoyment or making a little extra income, there are some key elements that you can consider to make your home more enjoyable for anyone who visits.
1. Maximise natural light
Holiday homes are usually in less dense places than our primary homes meaning that we often have more space and therefore, more possibility of natural light. Having large operable windows makes the most of natural light and the surroundings. However, many Spanish homes have smaller traditional windows that can be easily upgraded.
Large bifold doors or windows provide loads of fresh air that is good for health and ventilation. Not only will this make your house fresher and brighter, but it allows you to move swiftly between the comfort of the home and beauty of your outdoor spaces. Think skylights and large windows looking onto outdoor areas from any room in the house. It is about making the most of your surroundings and private space.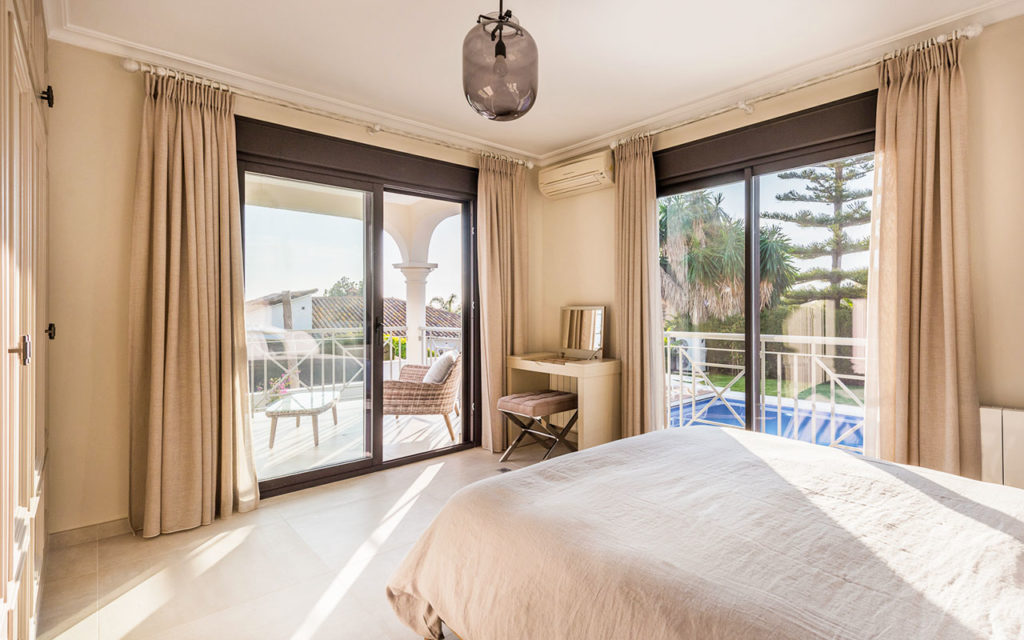 2. Open kitchen and living areas
If you are buying an older home here on the Costa del Sol you may also be surprised at how small the rooms are. The best thing to do in this situation is to open up the living spaces, reconfigure if needed, and extend if possible. You want to have enough space for couches and recliners where they suit you, but still with enough open space to move about freely. ProMas designers can advise you on redesigning your spaces to optimise your home and even create 3D models for you to visualise before starting works.
This is when extensions and rearranging living areas can be so valuable. One key part of this is upgrading kitchens, ensuring lots of cupboard space and integrating them into open living spaces. For entertainers, the kitchen area is often the focal point of the home, and it is also much more social to have an open kitchen. It follows that opening and renovating a kitchen and living area is key to upgrading any home.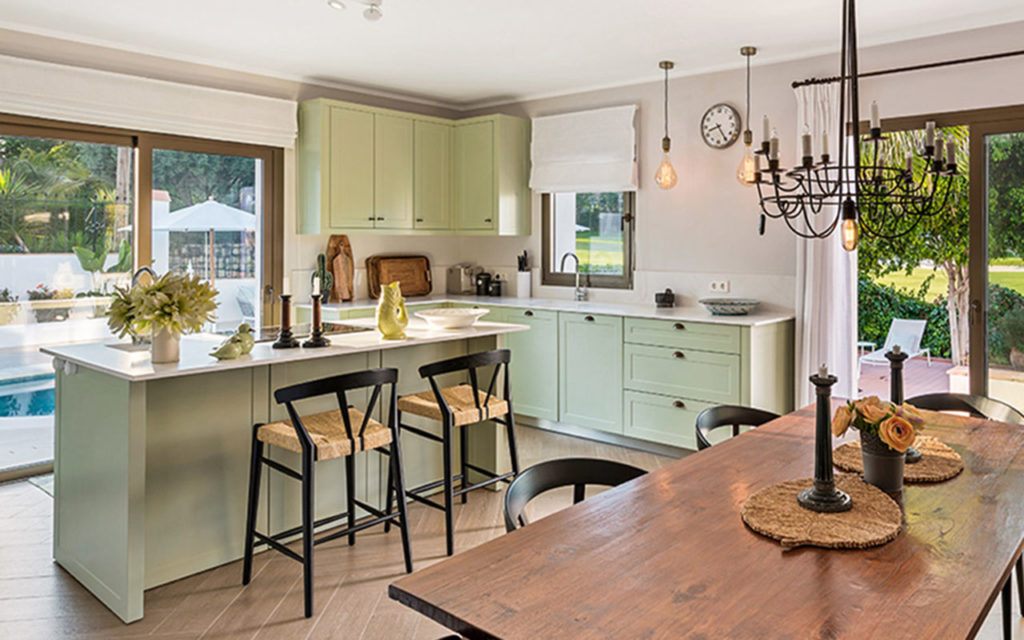 3. Create comfortable outdoor spaces
Here on the Costa del Sol they say that there are over 300 days of sun a year. That means that no holiday home here is complete without a comfortable outdoor living area. Practical paved areas connecting to gardens or swimming areas provide a seamless transition between living spaces. Outdoor dinning is an absolute must and chillout zones make entertaining or relaxing much more enjoyable.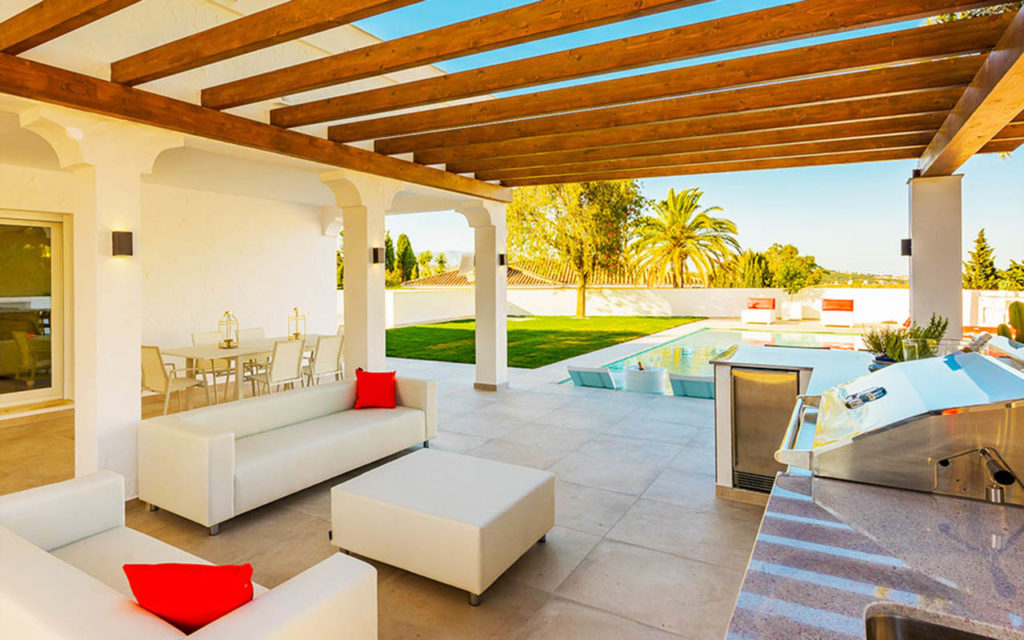 4. Install or upgrade a swimming pool
Of course, it follows that a stylish swimming pool is a key upgrade to consider for your holiday home. Whether it be surrounded by green, an infinity pool overlooking a wonderful view, or surrounded by resort style living spaces, a swimming pool is a luxury addition to any holiday home. There is nothing quite like dipping into your own private pool on a hot day, and even better if it heated in the winter months. You can also consider extra elements such as current generating machines, massage jets or built in jacuzzi to make it more personalised to your own relaxation preferences.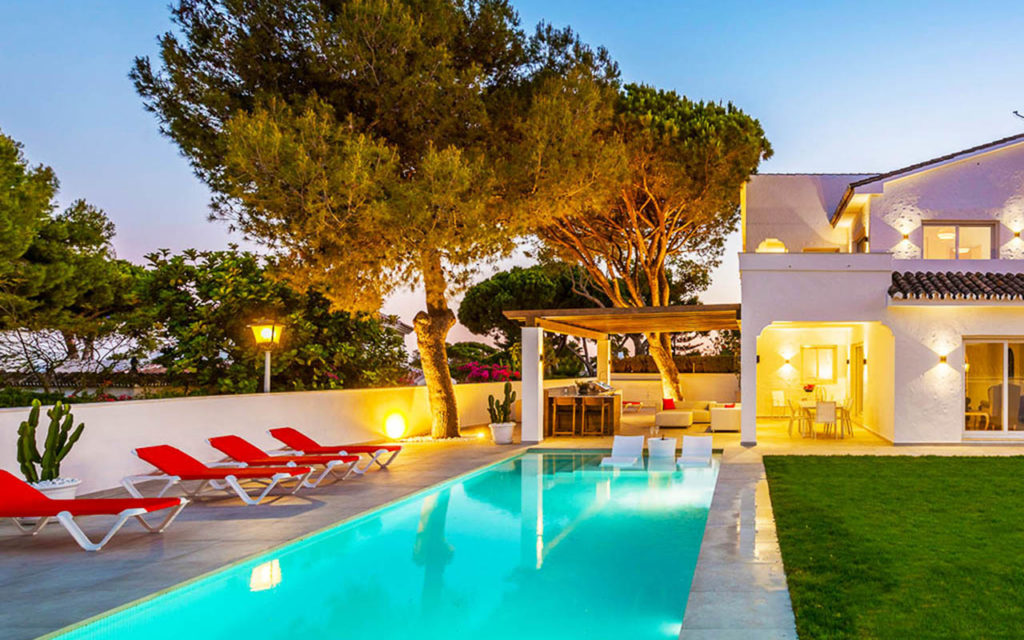 5. Incorporate luxury items
Investing in some luxury elements can help make homes even more enjoyable. Pizza ovens or outdoor kitchens are a wonderful way to enjoy the long balmy Spanish summer, that encourage cooking in a beautiful social environment. Fireplaces in bedrooms or living rooms really encourage relaxing winter evenings.
Similarly, swimming pools, large spa baths, or jacuzzi allow you to indulge in your own space. What about underfloor heating that makes walking barefoot cosy year-round? And heated towel racks that makes getting out of the shower a pleasure in the cooler months. Jets in the swimming pool can make a simple swim feel like you've spent hours with a masseuse. Sun loungers in a beautiful surrounding is also a key element to really unwinding. With a few luxury elements such as these you can make your home feel like a classy day spa, and you can choose everything to your own taste.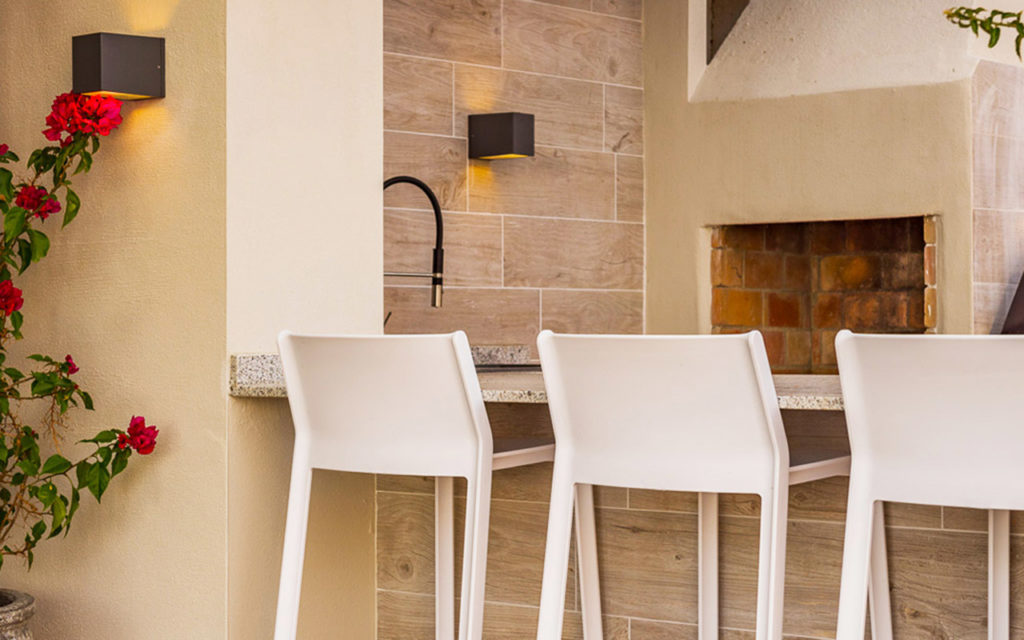 6. Provide flexible space options
When visiting holiday homes, it is refreshing to be away from all the responsibility and material things we accumulate and manage on a daily basis. So holiday living spaces and furniture should be simple and flexible. This might be flexible furniture, for example a beanbag that can be dragged to wherever you want it, or a table that can be used to sit on, put your drink or magazine on. The simplicity of adapting furniture for our momentary needs carries a practicality that mirrors camping- thinking of nothing but what we feel like in the moment, and this is relaxing and good for the soul.
This applies in any room of the house. Think generous open surfaces that can be used for whatever the moment calls for. For example, skirting shelves on walls or window seals, large tiled spaces next to baths, or generous empty tables or puffs next to the couch. Then you adapt it in the moment.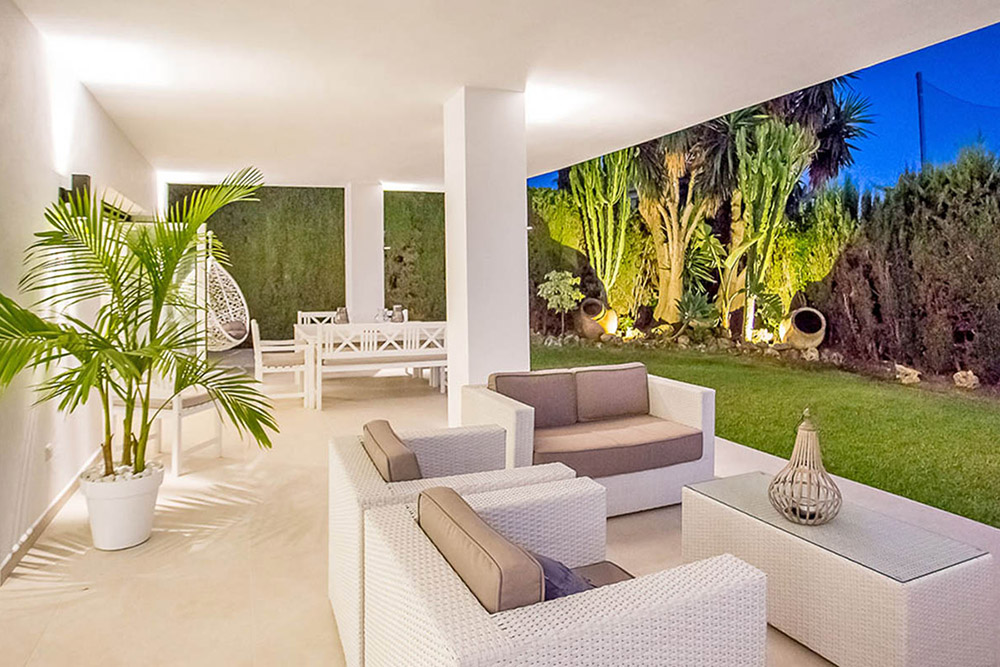 7. Incorporate Hygge design
Hygge is a Danish concept of enjoying the cosiness or natural beauty of a moment. It´s about enjoying the sound of an open fire, a candlelit room or a cosy blanket, either alone or with good company. This concept has really been incorporated into good interior design and luxury living by clever people worldwide. So it is something to consider when styling your holiday home.
In general, this fits with simplistic and functional decorating. Replace the trinkets and figurines with beautiful scented candles. Skip a couch covered in pillows and choose a couple of beautiful soft cushions and a stylish and cosy throw rug instead. If you can, install a fire place- not only is it a visual focal point of a room, but allows you to enjoy the sound and scent of a natural fire place. Not to mention, sitting around the fire place is one of the nicest things to do on the cool nights of winter (yes – we do get some here too!). You can incorporate these elements throughout the house, candles and other carefully selected items in every room. Our ProMas interior designers can help you choose just the right items to make your home both classy and cosy.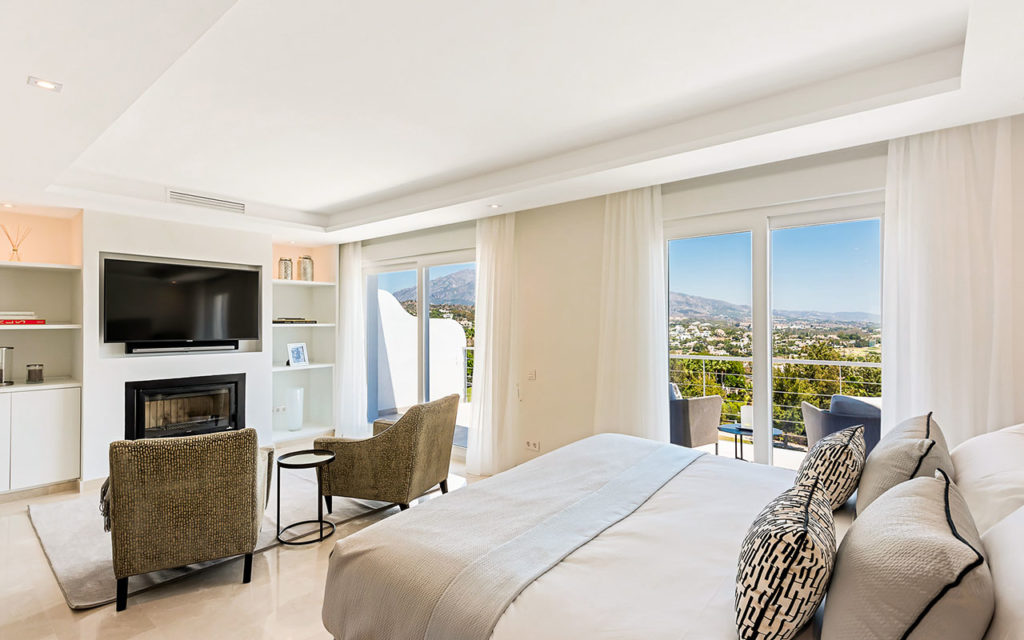 8. Use natural materials
Natural materials have a way of warming the soul. Timber doors and furniture, stone or timber floors or whatever natural elements you want to include will add pleasure to using it. Showers with natural pebbles can also make you feel like you are showering in nature. Natural materials are lovely to touch or walk on barefoot. Beautiful timber tables are a stunning centre for any living space. Get creative, but choose colours that you love – light timbers and materials are the trend although deeper tones are more traditional. Natural materials may require more maintenance over the years, but they contribute greatly to the quality and enjoyment of any home. Finally, natural materials are, of course, timeless.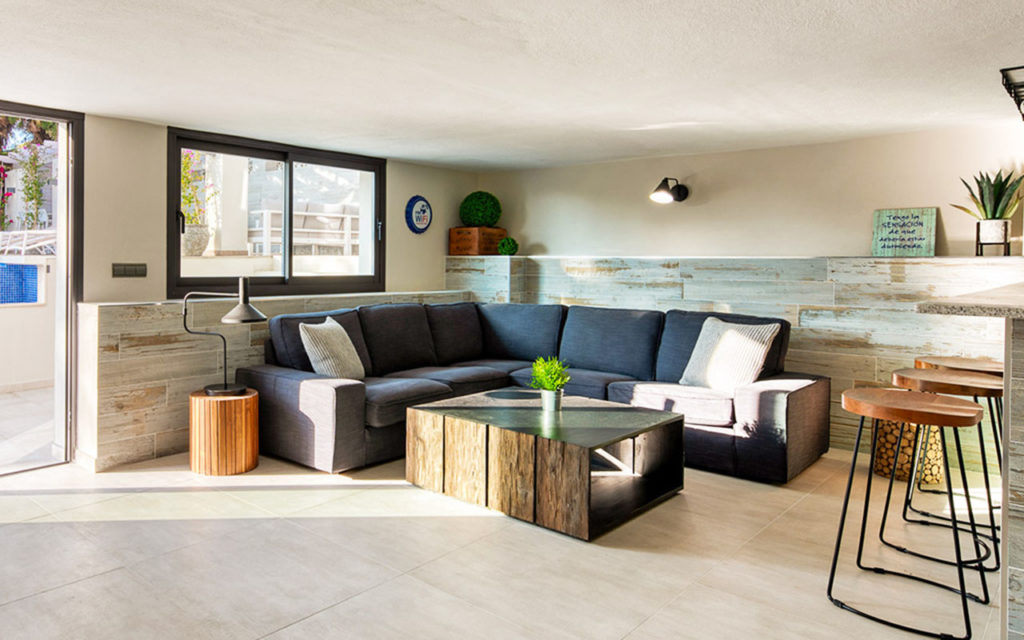 9. Green it up
It´s a proven fact that including plants either indoors or outdoors improves your air quality and increases enjoyment of a space. Automatic sprinkler systems can help you maintain gardens if you are away for long periods, and can even be a more practical option when you are present. Indoor pot plants can be placed in shaded outdoor areas to be watered while you are away and then move them inside when you are in the house. It is important to talk with professionals to choose hardy plants that suit your space and plan your sprinkling system and garden accordingly. There are also many businesses who can maintain your home and garden when you are away for long periods, especially here on the Costa del Sol.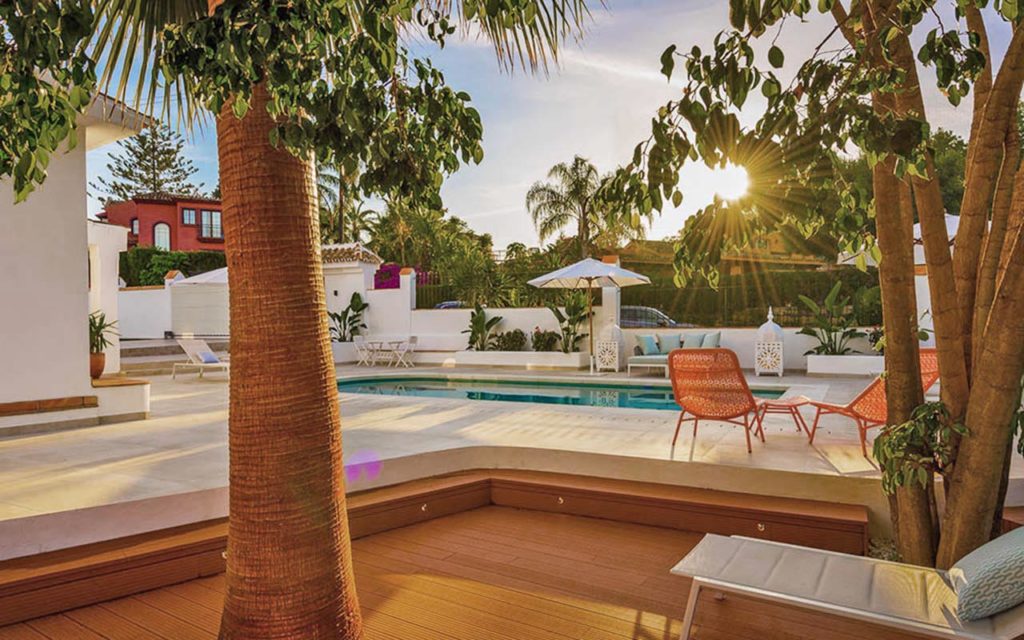 10. Incorporate smart electronics, heating or sound systems
Smart systems can make everyday life easier and avoid the need to fiddle with controls or remotes. Underground heating systems are little extra cost when changing your floors, but are relatively cost effective to run, and a pleasure to walk on. Similarly, good quality reverse cycle air conditioning can keep your space your ideal temperature so you are always comfortable. Finally, incorporated speakers or smart home products allow you to manage your appliances by voice command which adds a futuristic comfort that might suit your needs. There are many different kinds of smart appliances and systems that could enrich your quality of life.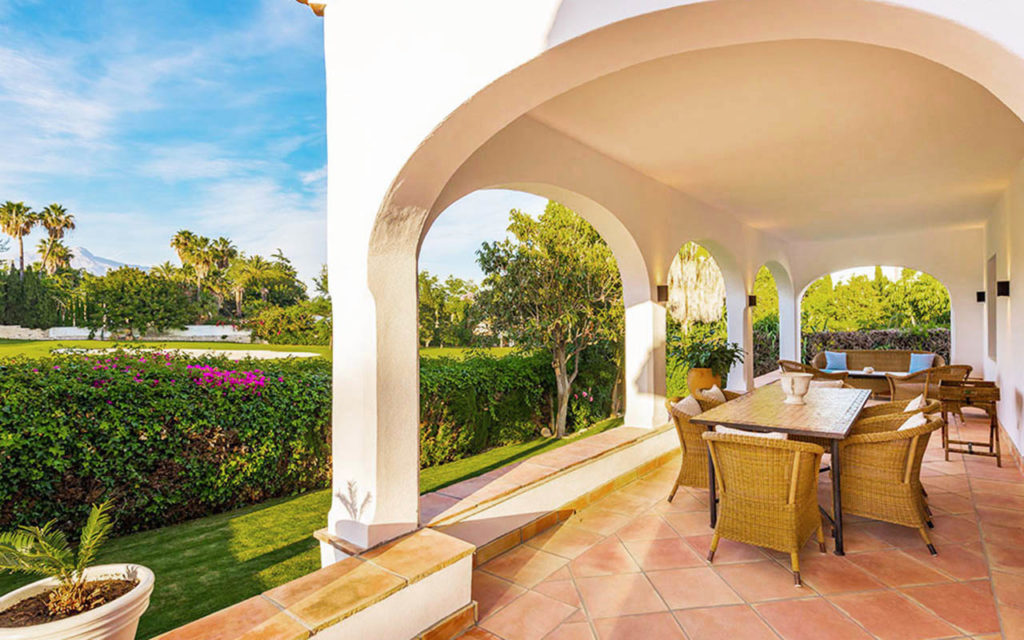 ProMas designs, manages and builds
Despite your budget, there are simple things you can do to improve the enjoyment of your holiday home. On the Costa del Sol, our team of ProMas builders and designers have years of experience in the design, management and completion of these upgrades or refurbishments. Don´t hesitate to contact us or explore our website to see how we can help you in the Marbella, Benahavís, Elvira, Puerto Banus or Mijas areas.