We all know that the kitchen is one of the most important spaces in most homes. It follows that good planning and design is fundamental to make it an enjoyable place to be and use. There are so many different layouts, tools and materials and styles to consider, so to get you started- here is an overview of the key topics to consider when planning the heart of your home.
1. Functional layout
As coined by the influential 19th century American architect, Louis Sullivan (aka the father of modernism) ´form follows function´ is the fundamental element of good design. This is possibly never as true as it is in the kitchen.
When planning layouts, one of the most important considerations is the ´´kitchen triangle´´ that is the distance between the oven, sink and refrigerator that will be the primary work area when using the kitchen. Experts say that the area between each of these hubs should be between 100 and 150 cm, or 40 to 60 inches, to make kitchen work most comfortable – any less makes it feel a little cramped, and any more requires a lot of walking back and forth.
Similarly, walkways should be a minimum of 100 cm (40 inches) wide, and 120 cm (47inches) in cooking areas, with particular emphasis on positioning cooking areas out of the main thoroughfare to avoid potentially dangerous accidents (particularly running children of course!). It´s also wise to position the refrigerator in a location that it is easily accessible to both people using the kitchen and people who are not – to make life both easier and safer when the kitchen is in use.
The function of kitchen islands, bars or dining tables is another important element. Which suits most depends on the size, layout and needs of your kitchen. Having a table within the kitchen space provides an inviting rustic feeling and works particularly well when the kitchen has a nice garden or patio outlook, while kitchen bars or islands provide a gathering area for children and guests alike. If you do include one of these elements, it is important to plan the use of that space and incorporate elements that enable that function, for example an overhang and stools for bars, lighting for working, a ledge over kitchen worktops to hide kitchen clutter. The flow and availability of workspace and cabinets is also a key functional element that we explore in more detail below.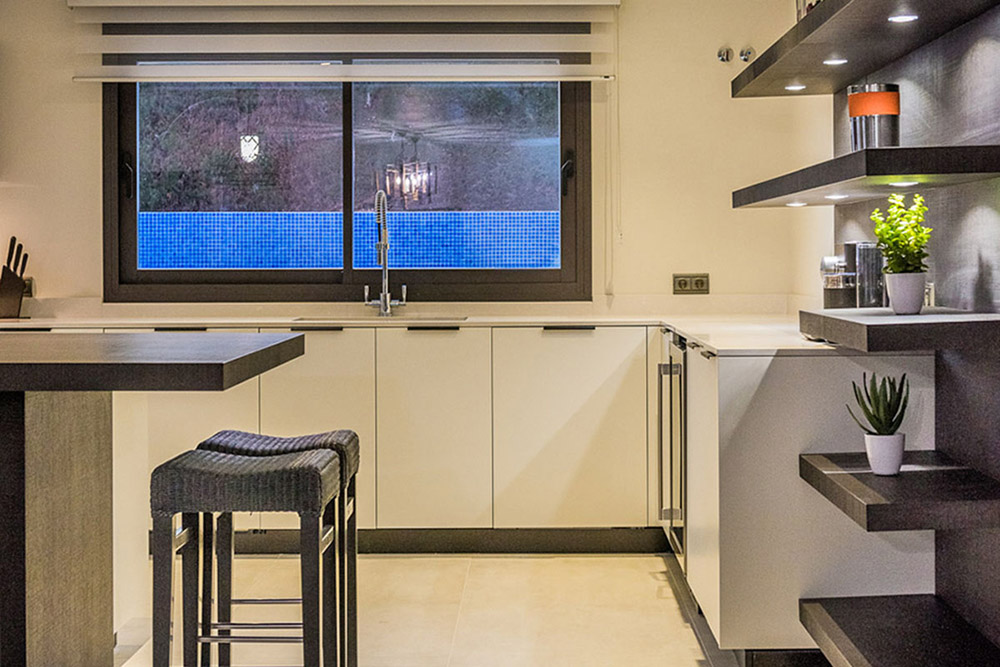 2. Storage Planning
Another key element of kitchen planning is comfortable and well organised storage. If you have the opportunity, planning and integrating the right storage from the start will save you a lot of time and effort in the long run. If we are being honest- you can never have too much kitchen storage- especially if you like cooking a variety of methods and setting the table with different crockery to suit different occasions. So it is wise to plan your space to maximise storage, for example using taller cabinets, and using the space on walls.
Installing quality drawers for counter storage will also make your life easier and allow you to use your whole storage area. There is a big difference between crouching down to look at the back of the cabinet, and pulling out a draw and seeing everything in one movement. Similarly, avoiding corner cabinets, or including a corner carousel makes corners much more comfortable to access.
Finally, think about which items you want in which spaces in the planning of your cabinets. Mugs and teas should be near the kettle, plates near the kitchen sink, glasses accessible to all, favourite foods and items should be accessible at the right level (especially items for children) and pots and pans should be close to the stove. It is also very wise to include rubbish and recycling into your cabinet plan- for both functionality and appearance. These simple considerations can help you decide which kind of storage you position where.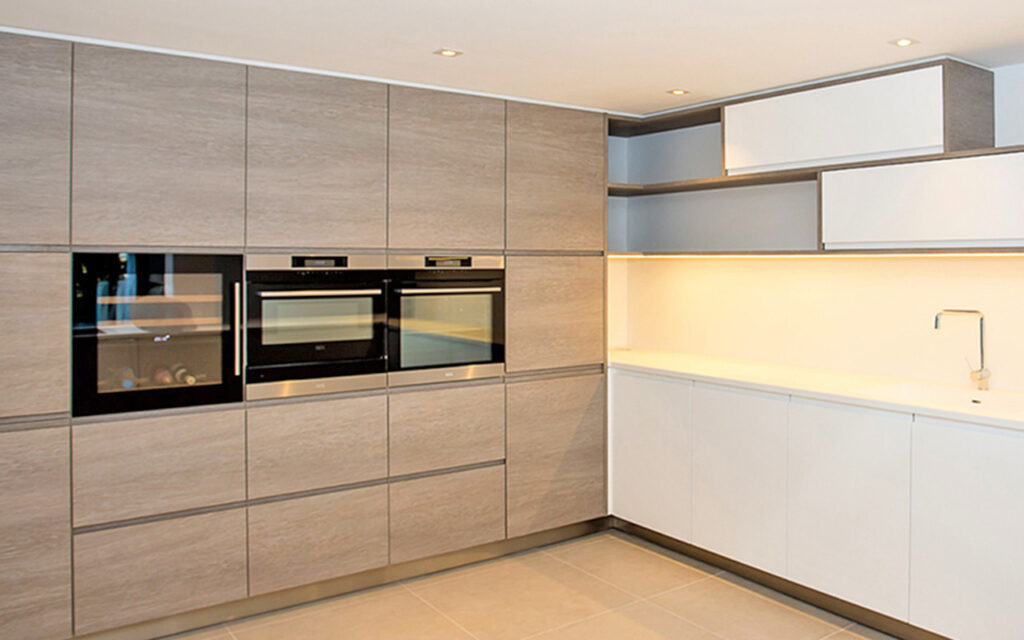 3. Visual elements
Deciding on the visual elements is the fun part of any design, but can also be confusing and overwhelming. One very important factor is the colour of your kitchen. Lighter kitchens are recommended for smaller or darker spaces to seem brighter and bigger, while colours can give a lot of warmth and personality to your brighter space- so think about the characteristics of the area that you have and the kind of place you´d like to be. But beware- colourful kitchens may not be wise if you could be selling in the next 5-10 years (although obviously timber can easily be transformed when a change is needed).
Similarly, it can be nice to break up cabinets with different details, such as glass or open shelves to make the space a little more interesting, and also avoid a daunting wall of cabinets. As we touched on before, it´s also clever to incorporate your bins into the cabinet design- to avoid messy bins without a good hiding place- there are plenty of clever bin drawer options on the market that also make recycling a pleasure.
Of course, different materials and choices have a huge impact on the look and feel of your space, so getting professional designer assistance, or doing a lot of personal investigation are important to create a space that you love. Personal touches with splashbacks, lights or even cabinet knobs are decisions that can be finetuned a little later in the process, but are also worth considering from the start-you are likely to become obsessed with kitchen design and styles throughout the planning process so the sooner the better. Designer kitchens also have little focal points on worktops with nice details, like flowers or fruit bowls to add a touch of class.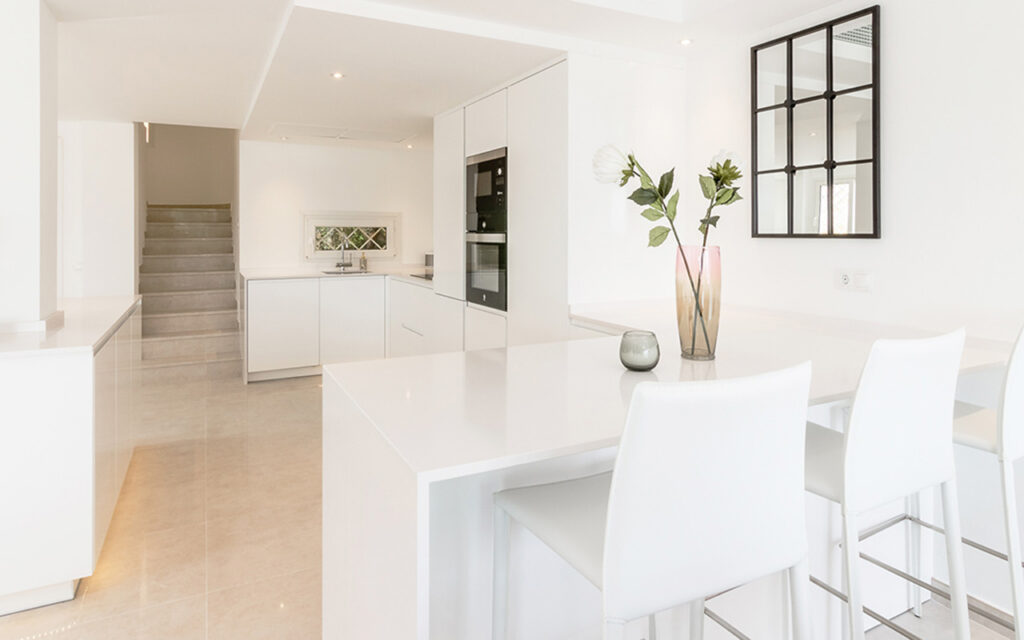 4. Worktop Planning
It is said again and again, but an abundance of bench space is crucial to a comfortable kitchen. It is recommended to have 40cm either side ´landing space´ beside cooking areas, sinks and kitchens. Then one needs to have plenty of countertop space for the appliances and equipment that invariably get left out- such as coffee machines, toasters, kettles or kitchen robots being the most notorious. And will knives be in a drawer, magnetised to a bar, or in a knife block- and ladles? and fruit bowls? Everything needs to be considered, and factored into the workspace or storage. In addition to all those landing spaces, and appliance space, it is recommended to have at least one big workspace for food preparation and serving.
It´s also important to ensure that there are numerous power sockets in all the required locations- ideally you don´t need to be unplugging appliances to use others. Ideally the sockets will be hidden too, so that you don't see a mess of cords and plugs. This all needs to be thought out early so that it can be included in electrical plans.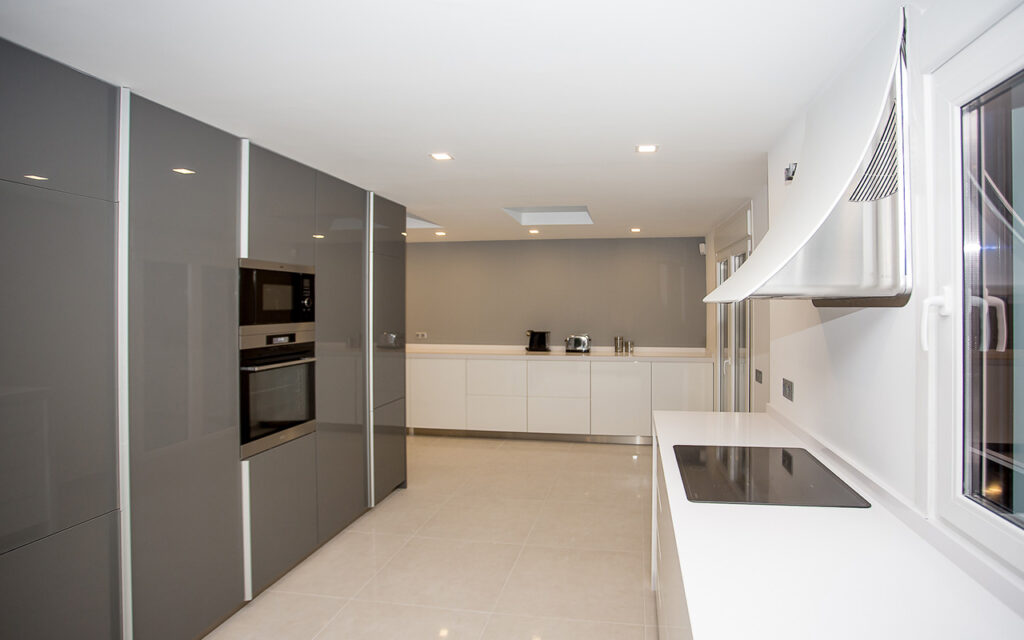 5. Lighting Planning
Another structural visual element that you need to consider very early on is your lighting design- where and which lights will help you to get the most out of your kitchen. It is nice to have lights directly over your work spaces, and pendant lights over your table, bar or island can be a lovely design element, that also create different ambiances for different needs.
Bright natural feeling platform or downlights are recommended to light the general area, which then can be complemented with specific lights for different uses. Lights over the stove, underneath or even inside kitchen cabinets can help make kitchen work more enjoyable, and also create a lovely evening lighting option- they can be in different colours to suit your preferences.
Pendants lights are also a way to spruce up any space in your particular style. They work well over bars, tables or islands where people can enjoy having focused light. They are also an excellent opportunity to add an easily changeable personal touch to the space- with such an endless variety of style options- glass, wicker and metal to name a few. Spotlights are also a classic choice, that allow you to aim them to specific area, although they don't usually have the same visual effects as other options.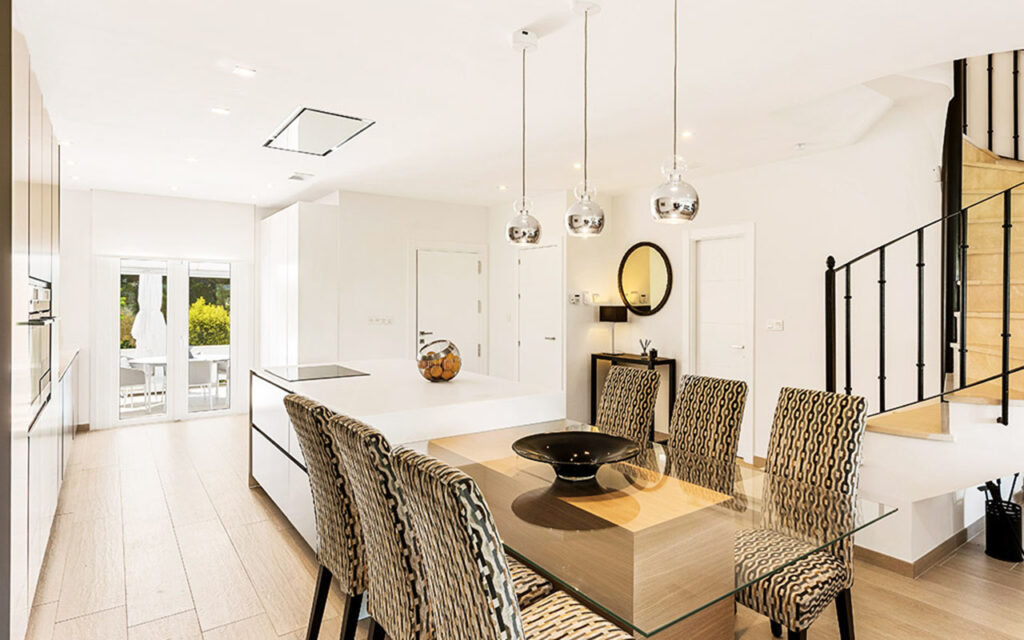 6. Materials and maintenance
Finally, when choosing kitchen materials there are many elements to consider- style, durability and price. When it comes to worktops, the main options are ceramic, conglomerate, timber or stone (such as quartz or marble). Conglomerate is the cheapest, and comes in a huge variety of patterns and styles, such as timber, marble or quartz effect. Unfortunately, these can be chipped, scratched or broken relatively easily, which normally requires replacing the whole space to fix properly. Timber is beautiful and gives a lovely natural feel, although you have to be careful with hot items and water that both damage the timber. It also requires ongoing treatment for maintenance, although it can sanded down and up polished to be like new.
Durability comes at a higher price of course- the best options are natural stone or ceramic. These have similar characteristics in that they both can cope with heat, although the ceramic has a higher chance of being chipped or cracked. They both vary in price, but the range is similar in both materials and each have their own advantages. Stone is classic and natural, and has an elegant feel, while also being more durable. On the other hand, ceramic comes in all patterns and colour (lookalike stone and timber are popular of course) and can be made to the size that you want, including having the sink in a continuous piece that means you don´t have to worry about grime or mould forming on the edges, and is also visually stylish. Beware that glossy finishes show more dirt and grime than matt finishes, so beware that will probably be cleaning more with gloss finishes! Designers also recommend combining glossy elements with natural timber or stone to bring some natural balance and warmth.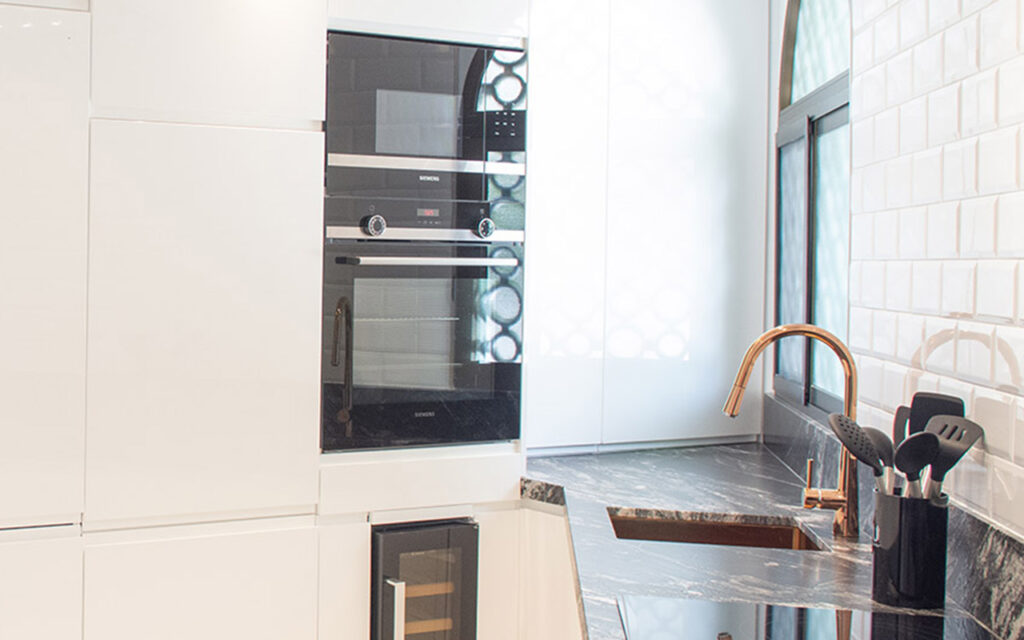 Similarly, there are various sink and tap options to consider. The classic is of course, stainless steel for the very reason that it is the most durable. However white or black quartz, plastic or ceramic sinks are other possible options. Porcelain sinks are not recommended for kitchens since they are not made to withstand such heavy and hot objects that the kitchen sink requires. Stone or ceramic sinks are also good options, since there is a small risk of damaging plastic composite sinks with extreme changes of hot and cold- but are are decent options depending on your budget and style.
Then there is also the form of the sink to consider. Undermount sinks, that are attached underneath the worktop, are only available with stone or ceramic worktops. They are of course, more pricey but have a more modern seamless look and don't get grime and mould caught in the edges as the standard overmount sinks do. Another style is the apron or country sinks are one piece that reaches to the edge of the bench – that also reduces mould issues that can arise when using the sink. The latter too are trendier and more expensive, but are less fiddly to clean. Visually you have black, white, copper and brass sink options- the latter too much less common and difficult to source, but create a unique traditional style. Beware- white sinks are hard to keep white without careful treatment with specific products- so research the specific characteristics of your particular sink before ordering. Then you have to decide the physical design of the sink, which really depends how you plan to use it.
If you need help
Around the world there are many companies that will help you with a kitchen design that will provide you with advice, a thorough quote, and 3D model but beware the quality is unlikely to be the same as bespoke kitchen or building providers. If you are looking at doing a kitchen or other house reform on the Costa del Sol, we would be delighted to hear from you and help discuss your needs. Our team of designers and bespoke builders can work with you to meticulously create a design and 3d visualisation that meets all your needs around the Marbella or Nueva Andalucía area, sourcing materials internationally when needed to create a kitchen that you truly love.