When selecting materials for your home, building or remodel, both the variety of options and quantity of decisions to be made can be overwhelming. You would have seen hundreds of windows that you like in recent years, but that doesn´t always make choosing easy!
While we always recommend double glazing and PVC frames that require lowest maintenance and provide excellent insulation, there are still many variables to consider. With colour, we usually prefer elegant black or timeless white – depending on individual preference and the style of the house. PVC can also be ordered in timber effect tones for those who want the traditional feel of wood with the practicality of composite mixtures, however these are not recommended because it could clash with different tones of timber furniture in the future.
But that still leaves how easy they are to operate, security, how you use that room space, insulation and then whether it works with curtains and mosquito nets. Not to mention price, timeframes and availability – which in general we would say you should check ahead of time since most larger windows and glass doors need to be custom ordered. So, without further a due, we present our favourite window and glass door types and why- to help make your next window choice that much easier.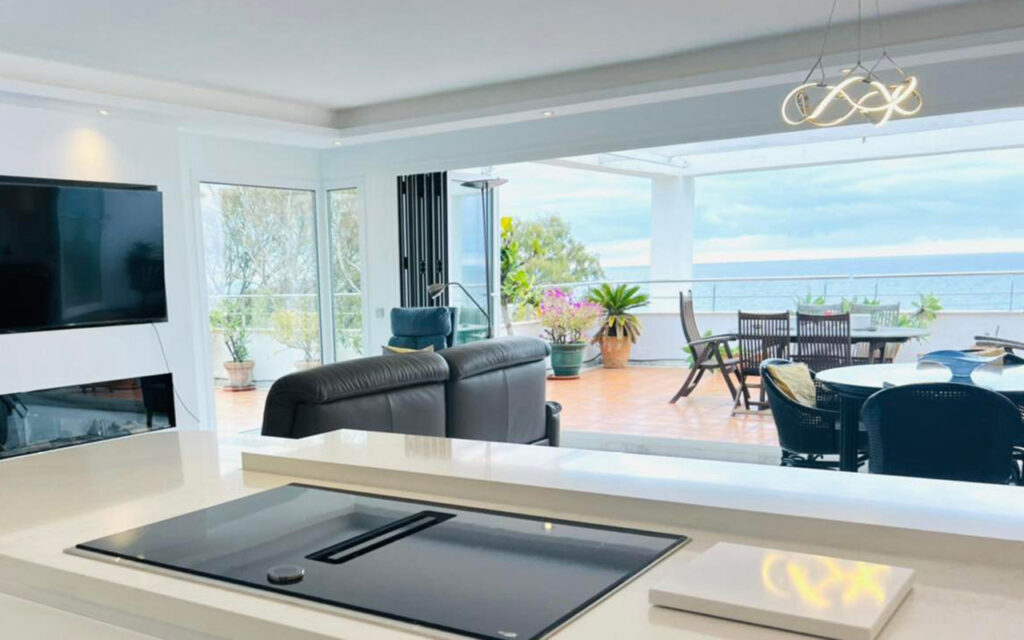 1. Bifold glass doors and windows
Here on the Costa del Sol one very popular choice is fully operable bifold windows or glass doors that allow you to completely open the space for that stunning seamless transition between the indoors and outdoors. This is where the well-insulated panels stack perpendicularly on the side. While they are most commonly used in living areas, they are also great for commercial spaces or opening up your bathroom or bedroom to the outdoors for those extra luxurious homes.
Obviously, the key benefit is that they allow you to open up your space to the maximum amount, making it feel more spacious and connected to the outdoors. These designs are also one of the more secure styles and seal relatively well too, so a very smart choice. The only downside of these models is that they are more expensive than sliding options, require some space for the panels to open and stack on the side, and are almost impossible to incorporate a mosquito net.
2. Casement windows
Horizontally swinging casement windows (with either one or two panels) are our preferred choice for smaller windows, once again because they allow you to fully open up the window space. They also have that old world charm of opening inwards and there is something effortless about them. However, they are best used on windows that don´t require internal curtains because the curtains need to be open to operate the windows. Although you can easily include fixed mosquito nets or external awnings.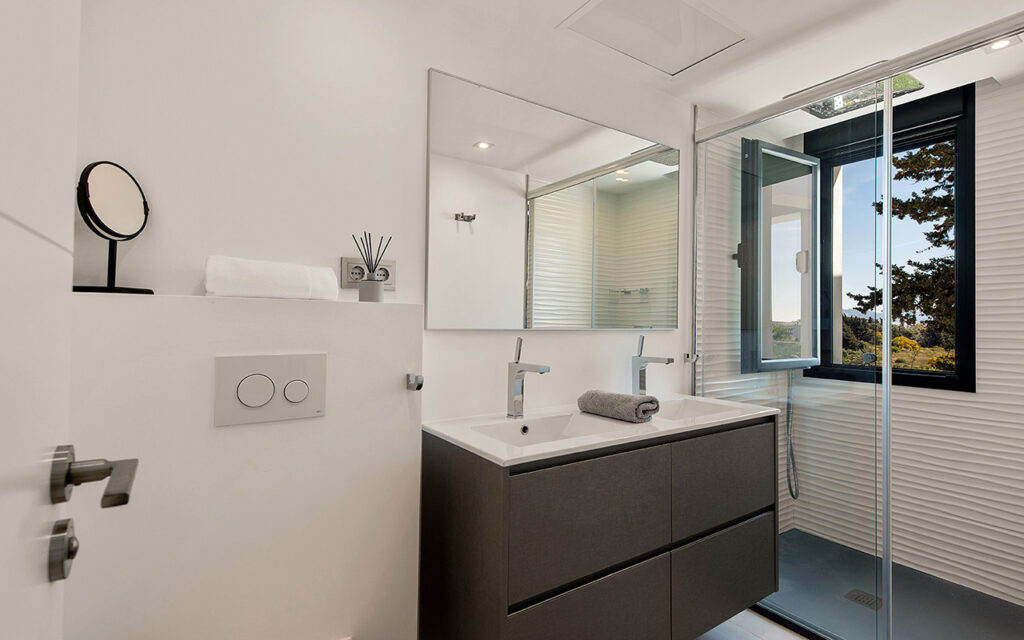 3. Sliding doors and windows
The main alternative to our two preferred options above are sliding windows and doors, which open with one panel of glass sliding along the rail next to the other. These are more affordable than their bifold cousins and better suited to medium width doors or windows, or tighter spaces in general. For larger spaces you can have four or more panels where the middle panels slide out to the sides. Due to their practicality, these kinds of sliding doors and windows are popular in bedrooms and living rooms, among other spaces.
These are especially practical and easy to use because they don´t require any folding space to open and don´t interfere with curtains or blinds. As an extra bonus, sliding mosquito nets can also be incorporated into their design. But of course, the negative is that you can not open the space completely as with the options above.
4. French doors
For even narrower spaces that require maximum light and operability, classic French doors are a great option. Apart from their charm, they allow you to get maximum airflow, and can be complemented by external awnings and/or folding (or pull down) mosquito nets. Of course, they are typical throughout historical centres of Europe for a reason- they help to open up small spaces and connect you with the outdoors. Obviously, they don´t work well for wider glass spaces because the panels are too wide to swing, but it very typical to have two or three narrow French doors across traditional European facades.
5. Bay or Bow windows
While not common in the south of Spain, for traditional English style or some contemporary homes we could not help but mention the classic bay window- where three windows panels protrude out of the side of the house to create a trapezium shape. Originating from 15th century England and popular in various places around the globe, these classic windows create a ledge for placing decorations or sitting on the inside of the window, possibly with storage underneath. Bow windows are the same but with more window panels so that they form more of a semi-circle shape. While beautiful, these are costly to make as they need to be custom ordered and built, and will probably be out of place in most modern homes.
6. Awning or Hopper windows
For narrow spaces where privacy or safety is essential, awning or hopper windows can also be essential options. These are windows where the panel partially tilts – awning windows tilt outwards from the top to open at the bottom as the name suggests, while a hopper window tilts inward to open at the top. For example, bathrooms with windows to common or transient spaces that may spend a lot of time open, or on the roof of an attic to allow air and light to enter without completely opening the space to the sky. Since each has a limited amount of operability, these allow you to get light and breathability while maintaining security and protection from the outdoors.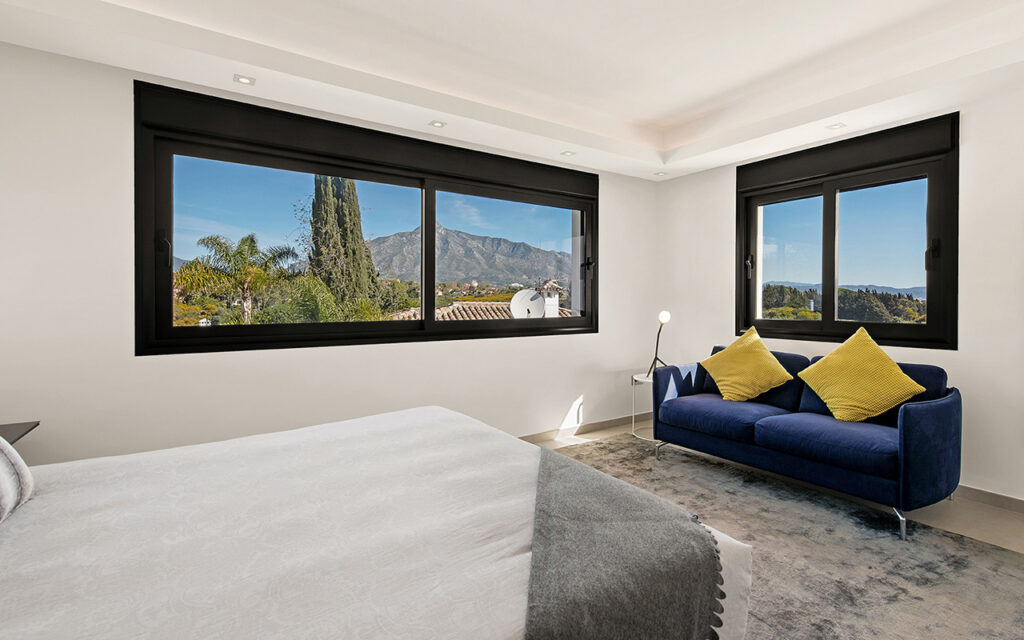 Getting your building or renovation project right
So depending on what your needs are and your space- we hope we have helped give you clarity over the kind of windows and glass doors that could be best suited to you. As mentioned earlier – the key is to plan early as smaller windows and glass doors are easier to order in standard sizes and should be incorporating during the architectural planning stage, and larger panels will need to be custom ordered ahead of time in line with your providers functionality. Some providers also create more secure versions of various models, as well as can install the awnings or mosquito nets at the same time, so ask about those early on too.
If you are thinking of undergoing a building or construction project around Marbella or the Costa del Sol, we would love to hear from you to see how we can help you. As well as a very experienced team of builders, planners and finishers, we have architects and designers that can get the details right from the start to ensure a seamless and successful outcome every time.