While we all dream of the perfect home, some are not able to do a complete refurbishment at once. Never fear, because if you are reforming on a budget there are a few key things that you can focus on to make your home feel good as new, whether it be your permanent or holiday residence. We have selected the top 7 ways to give your home a significant makeover, one step at a time.
1. Open up and increase natural light
The number one improvement in refurbishing older homes is often opening up windows and removing internal walls to makes homes seem more spacious maximise natural light. This makes living spaces feel larger, allows for better ventilation and flow, and improves visual connection between spaces. It is particularly useful if you are looking to gardens, views or outdoor spaces. While changing windows may be more costly than smaller makeover choices, it often has energy efficiency and security benefits, and can greatly change the feel of a space.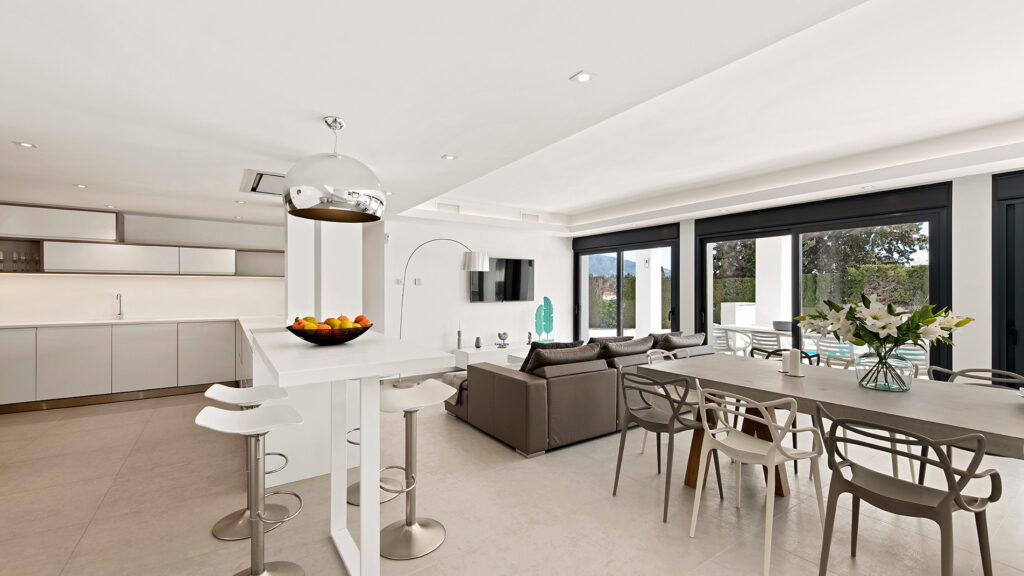 2. Improve energy efficiency
With energy prices rising, and constantly increasing technological advances in energy efficient products and materials- upgrading to improve energy efficiency is a very popular investment. As touched on above, replacing windows or doors for double glazed or better insulated PVC models can be both an efficient and visual improvement that also require less maintenance than older styles. Similarly, upgrading insulation or lighting systems and adding more windows can also allow for better cross ventilation that improves energy efficiency. It goes without saying that upgrading your appliances, or installing solar panels and/or water tanks are simple yet important installations that will make your home more self-sustainable for the future. So whether it be a larger or smaller investment- upgrading the green rating of your home is achievable.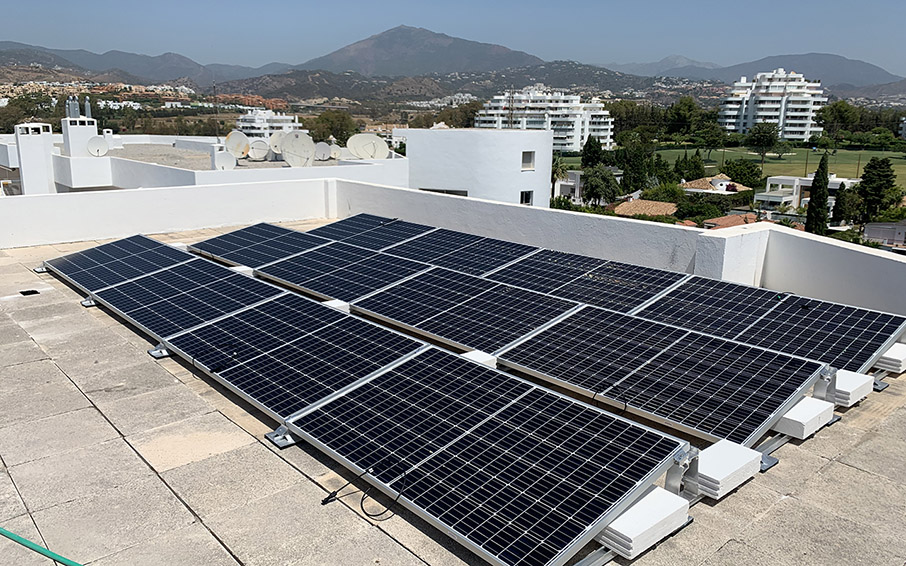 3. Maximise your outdoor space
Especially in the post-covid era, mindsets are increasingly changing to favour outdoor space. For many people, there is nothing better than stylish and functional outdoor living areas. We all know the benefits of natural light and fresh air cannot be understated on general health and using them is also more energy efficient.
Maximising your outdoor area could be:
opening large operable windows to garden spaces from living areas to better integrate it into the house,
redecorating gardens, balconies or terraces to make them functional and visually pleasing,
or completely remaking your garden or pool area with decking, gardening or pavers to make the space more pleasing.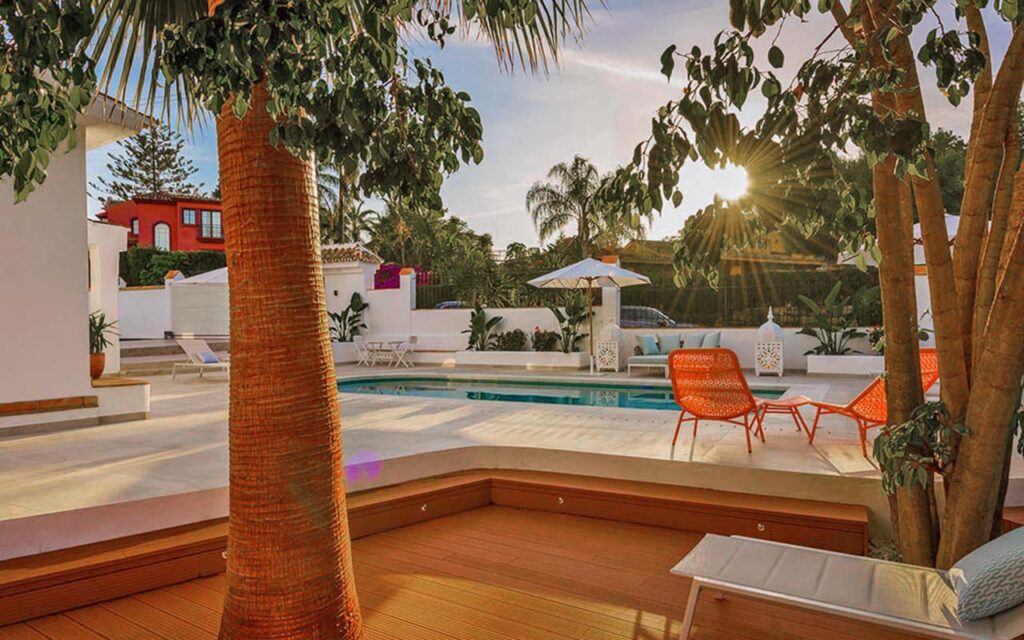 Depending on your space, solar powered fountains could drain out noise, artificial grass or plants can make an enclosed area feel fresh, or bamboo or timber walling can obstruct messy images and clear the way for you to decorate your space to your taste. It is essential to include comfortable seating of some sort and include a few decorative elements to make it visually attractive. Lighting is also important- whether it be integrated lighting, or some sort of fairy, decorative or solar lights- these kinds of touches can bring your outdoor space to life and transform your enjoyment of your home. Just a few simple touches can transform your outdoor space and be a simple but important step towards home improvement.
4. Incorporate home technology
With technological options consistently increasing, installing automated smart appliances is becoming ever more accessible. From automated lighting, music, power systems to remotely managing your home access, fireplace and air conditioning- smart home system options are plentiful, and increasingly affordable- making it easy to manage your home remotely. It is just a matter of researching the available options, cost and thinking what kind of smart home technology would be beneficial to you, or future users. Do you want remotely activated heating, security, lighting, or appliances? These are handy tools that are very affordable with various products.
5. Bathroom and Kitchen upgrades
It goes without saying that re-doing your bathroom and kitchen are ways to increase the value and enjoyment of your home. With these two rooms being modern, beautiful and functional- suddenly the majority of your home tasks are that much more enjoyable. Of course, while a full refurbishment of old installations, tiles and furniture will largely change the feel of your home, perhaps for some just transforming surfaces, painting timber cabinets or replacing key elements such as sinks or appliances can make the space feel renewed. Grey, black or white natural stones, timber or imitations are a popular and timeless choice to make these spaces stylish.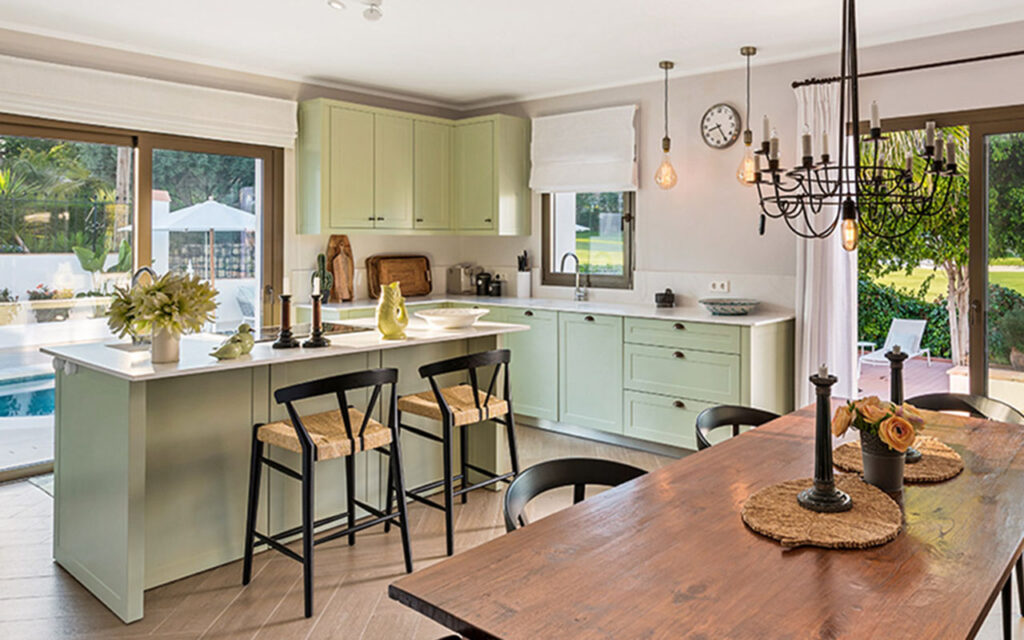 6. Makeover your surfaces
If you can´t afford any of the other investments, perhaps just repainting or redecorating your surfaces is enough to make your home feel much more stylish.
Wallpaper feature walls are back in any room of the house, and a fresh lick of paint in a stylish colour can make your home feel much newer, including on timber or metal balustrades and furniture.
With so many floor options available, including simple DIY options, changing flooring for a more modern version does not need to be a big investment if you are happy to replace it again in a few years.
As we discussed above, transforming your outdoor areas with decorative panels or painting kitchen cabinets can make everything seem new.
It is just a matter of flicking through some of your favourite home catalogues or magazines, getting inspired, choosing colour schemes and styles, and then making the makeover happen.
7. Interior design facelift
Finally, while not technically renovation, you could combine any or all of the above ideas with a simple interior design facelift. Think about the colours you like, the style of furniture you want to include, which decorative elements you want to incorporate- and transform away. Do existing layouts, lighting, shelving, furniture, materials and decorations work- or do you long for different surroundings? It´s amazing what changing or transforming a few key furniture pieces can do for your home. Choose a style you like and go for it to give your home that well desired facelift.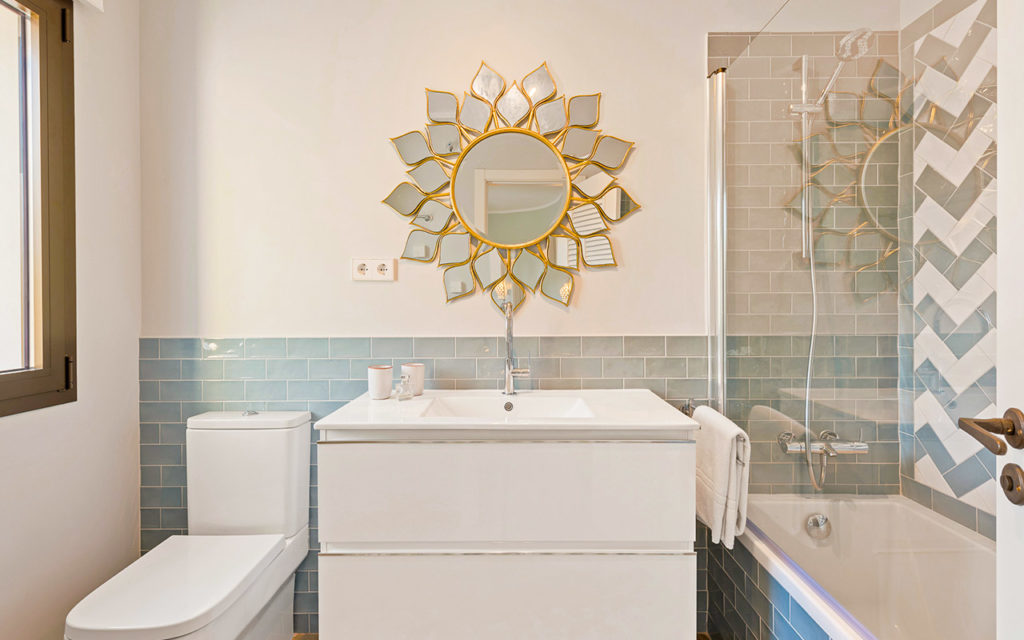 If your home is around Nueva Andalucía, Elviria, Benahavís or Mijas, our professional team of builders and designers would love to hear from you to see how they can help you with your home renovation. Whether it be one or more of these elements, we have over 20 years' experience helping our clients make the most of their home and we offer a complete range of services, including 3D visualisations so that you don´t need to worry about a thing.