As experienced builders here in Marbella, we are publishing a blog series of a beginner´s guide of where to buy on the Costa del Sol. Having been based here for over 15 years, we love this world-renowned region and want to share our insights on the different areas available on the coast and what they have to offer.
Our last blog was Part 1- Introduction to this series. This week we will explore the cosmopolitan heart of the coast, the location that put it on the map and attracts the internationally rich and famous. Our next blog will explore the other towns on the coast, including the beautiful mountain villages of Benahavís and Mijas.
Marbella – The Crown Jewel
There are many wonderful areas on the coast, but it is clear that Marbella is the crown jewel for it´s stunning historical centre, plenitude of leisure activities, plethora of golf courses and seemingly endless beaches with mountain views. Not only is it also in the physical centre of the Costa del Sol, but it also offers quality chiringuitos nestled between untouched sand dunes, a myriad of fine dining options including 3 Michelin-star restaurants and fabulous international cuisine options. Many of these renowned and well – established areas are popular with the rich and famous.
It follows that it is one of the most international areas on the coast, if not in Spain, and many people live here for decades just speaking English or their native language, if that is their choice. With all this to offer and more, it´s no surprise that Marbella has been called the Hollywood of Europe, and is one of the most prevalent golf and leisure destinations in Europe. Let´s break it down into the different areas of this world-famous town.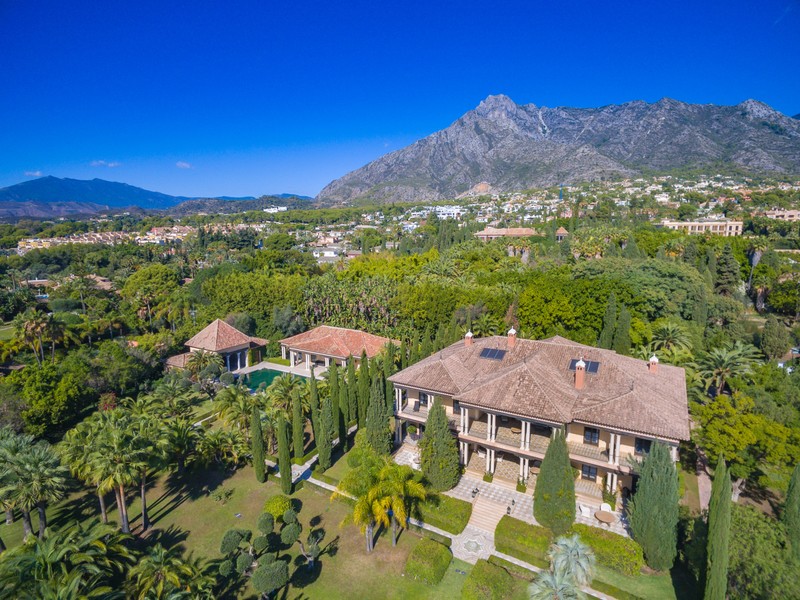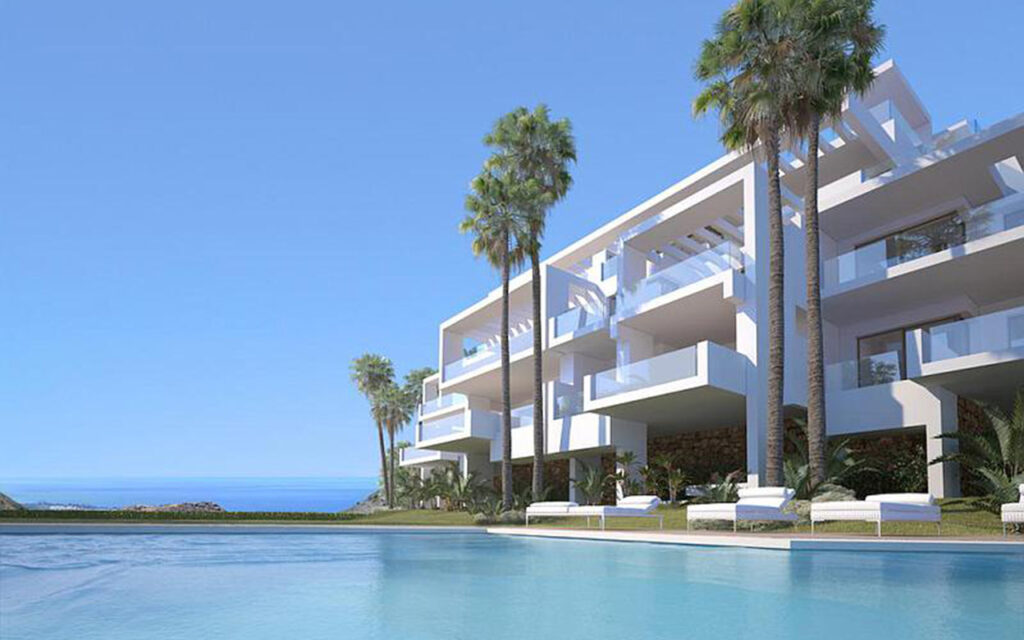 Marbella Golden Mile
The Golden Mile is the prestigious area situated between Puerto Banus on the west of Marbella and the edge of Marbella centre. It's possibly the most luxurious area of the coast, hosting fine dining restaurants including two restaurants by the Michelin-star Spanish chef Dani Garcia, some of the coast´s best beach bars, nightclubs and the world class hotels that put Marbella on the map- Puente Romano and Marbella Club, that continue to attract the rich and famous to the area.
The famous Puente Romano Tennis Club holds international tournaments and concerts, and is the training ground of some of world´s best players. Marina Puente Romano has high-end beach apartments in intimate exotic gardens with exclusive pools and luxury boutiques. This is the place to be for people who want to live in the highest of seaside luxury with many properties offering sea and/or mountain views. It is bordered by two luxury El Corte Ingles department stores in the east and west so retail needs are met at an easy walk.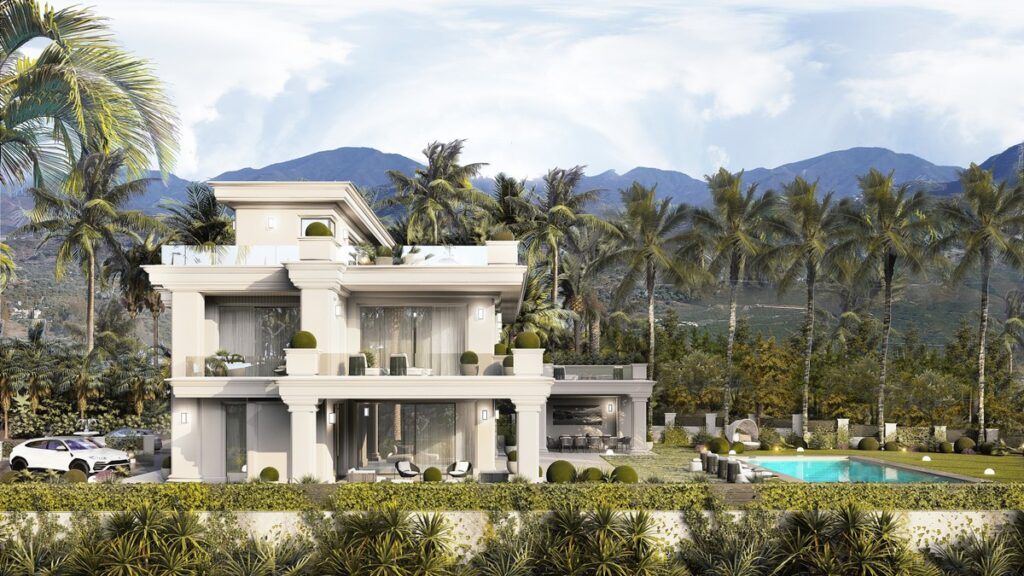 The Golden Mile contains a number of luxury developments and some of the best beaches in Marbella. Most of these properties offer superb sea views and many also look at the iconic La Concha mountain that borders to the north. A touch more inland you will find the growing residential area of Nueva Andalucía, that contains many family friendly amenities just at the door of the Golden Mile. Going up the mountain you find Sierra Blanca, one of the most exclusive areas for luxury villas in the Europe with spectacular views and exclusive finishes and styles. We will explore these areas in more detail.
Nueva Andalucía area
Nueva Andalucía is a beautiful, vibrant and well-connected area that contains Nueva Andalucía itself, Puerto Banus and three golf suburbs including Las Brisas, Los Naranjos and Aloha. Puerto Banus is the seaside area of the suburb that contains stunning apartments, restaurants and bars, a vibrant nightlife and cinemas. Perhaps what it is most famous for is it´s large El Corte Ingles luxury department store and a lively port where it´s normal to see some of the world's fanciest cars and super yachts.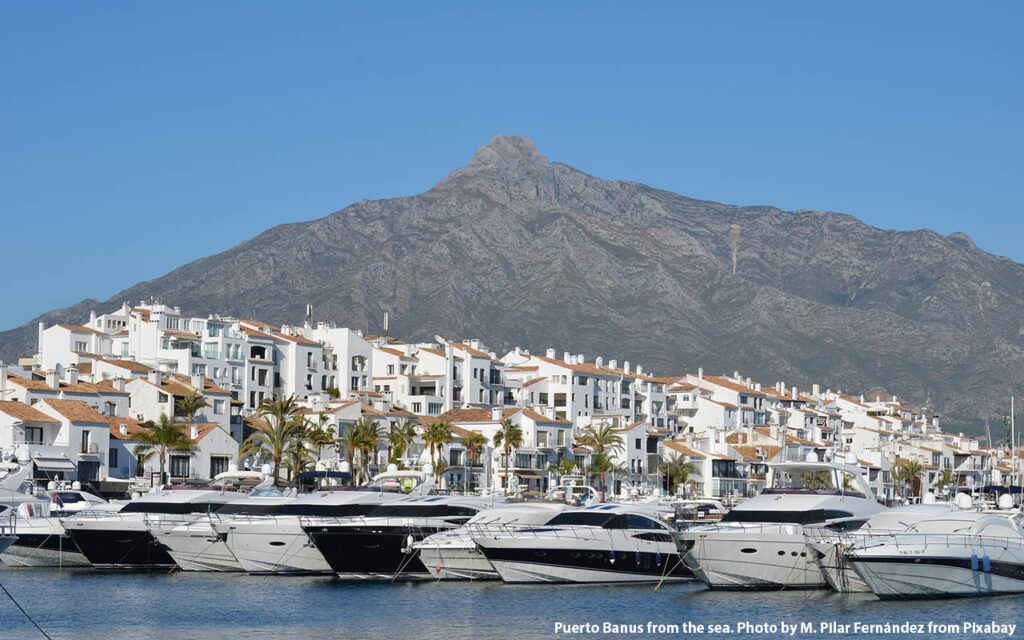 Just north you reach the centre of Nueva Andalucía, an increasingly popular residential area also well serviced by quality shops, schools and dining options. Nueva Andalucía is known for many beautiful family friendly areas that offer a healthy mixture of apartments, townhouses and luxury villa housing options. Like the Golden Mile, many of these have stunningly beautiful views of the Mediterranean to the south and La Concha mountain to the north. Nueva Andalucía is therefore a bustling family friendly area popular among all ages, and still a short drive to Marbella. It is also close to the beautiful mountain areas of Benahavís, Sierra de la Nieves and Ronda so therefore a central location for exploring.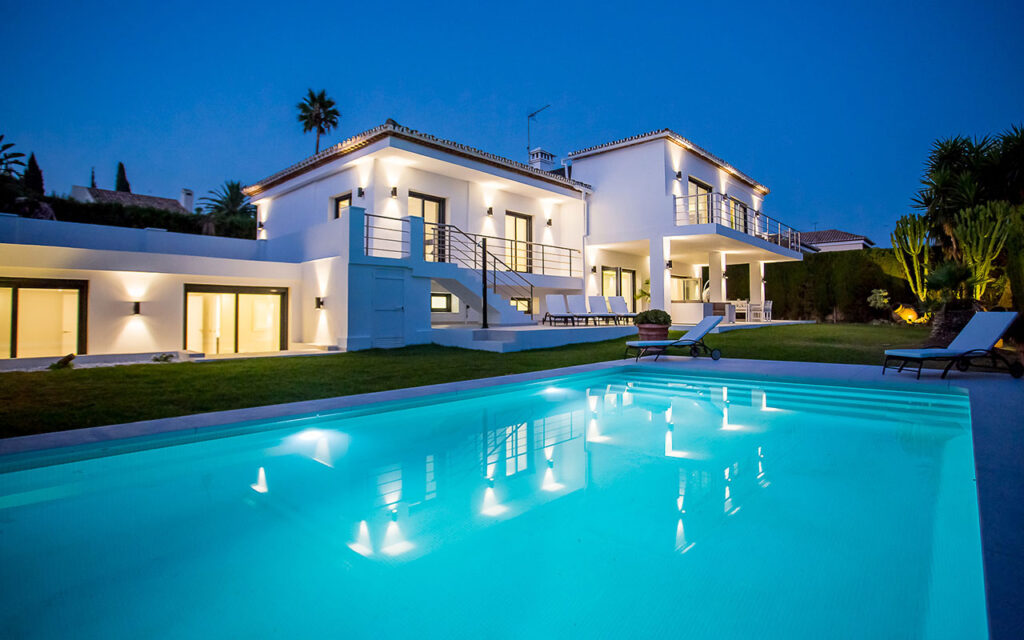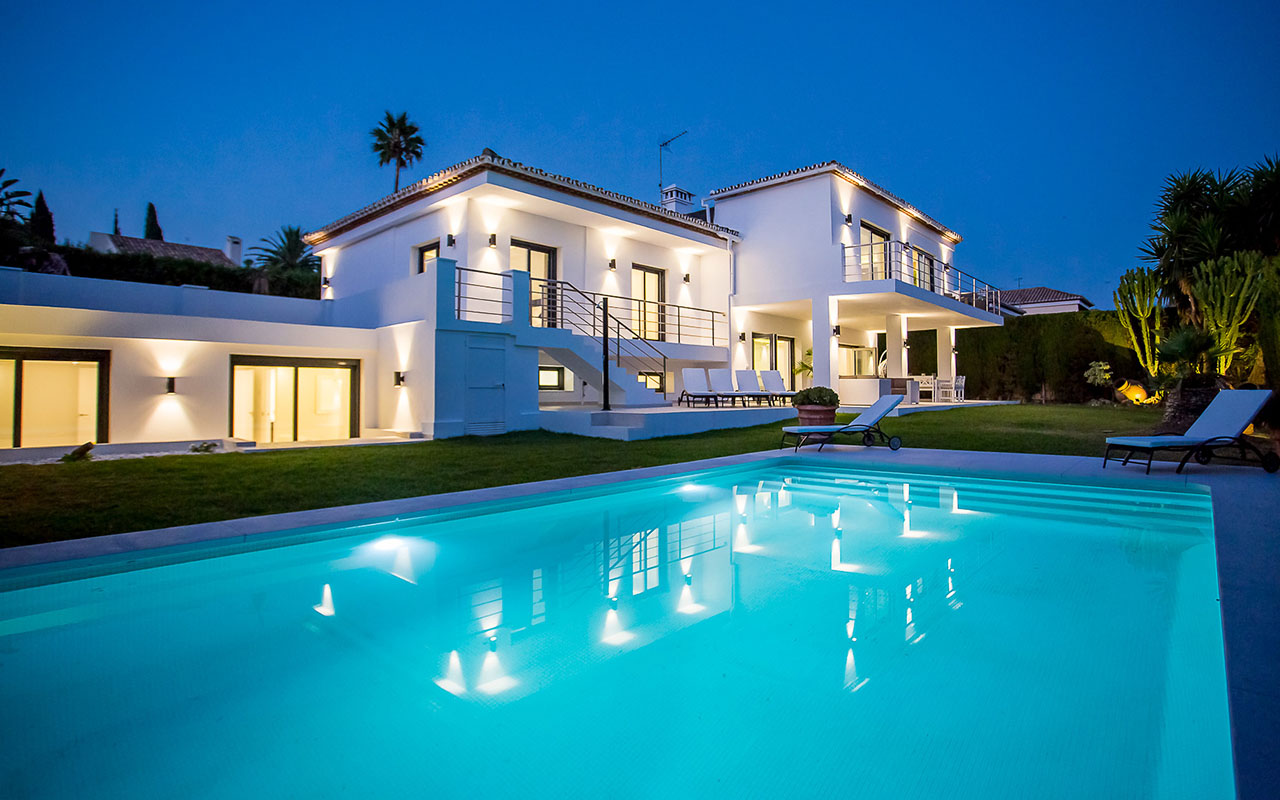 This is also an area adored by golf lovers, with three golf courses in a 2km line, and then another three just 2kms west and many more at a short drive. Each of the golf courses have their surrounding residential areas of Los Naranjos, Las Brisas and Aloha, all beautiful and well connected. Within these areas you will find a delightful mixture of luxury townhouses, apartments and villas providing housing for all styles within this beloved area. Remembering with the typical 300 days of sun a year and the Marbella microclimate, these areas really are a golfer´s paradise, and create a micro centre of golf clubhouses and social events that add to the uniqueness of the area.
Marbella Centre
In Marbella centre you will find a stunning selection of apartments, many with lovely views, and little village houses speckled amongst the complete range of luxury stores, hospitals and services. This is the town centre that services the coast between San Pedro and Fuengirola so it is a lively area where will you find everything that you need, including buses going in every direction, many banks, fine dining, retail and government offices.
On the beach side to the south there is a great area with boutique shops and restaurants and stylish beachside apartments with wonderful views, and a pedestrian beach promenade lined with cafes, playgrounds on the sand, and restaurants. Unlike most Spanish beach promenades, the road is behind the buildings eliminating noise and danger.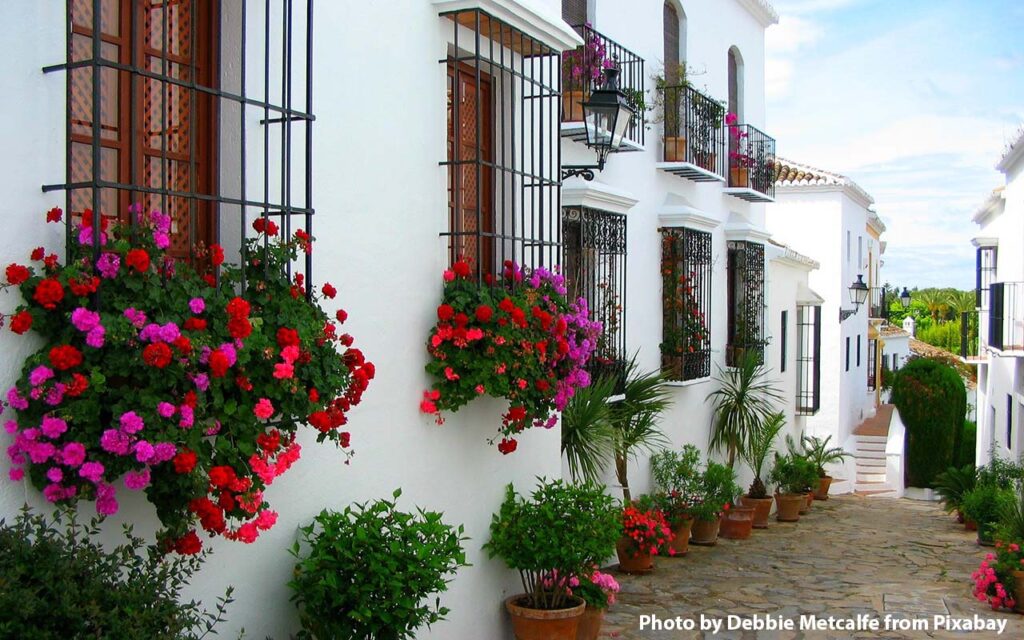 The historical centre is a beautiful quaint little town popular with tourists that is characterised by narrow streets, canopied by hanging plants, colourful bougainvillea vines and stylish boutiques. Plaza de los Naranjos is the central and picturesque square home to landscaped garden, council offices and many alfresco restaurants. Going up the mountain, you reach a residential area containing many apartments in developments with community facilities. This area is mostly populated by Spanish families and contains the majority of Marbella´s public schools as well as government bodies like the national police office. The Hacienda de Nagüeles area on the western bounds provides stylish villa and townhouse options in a very private setting just a stroll to all the excitement of the classy centre and beaches.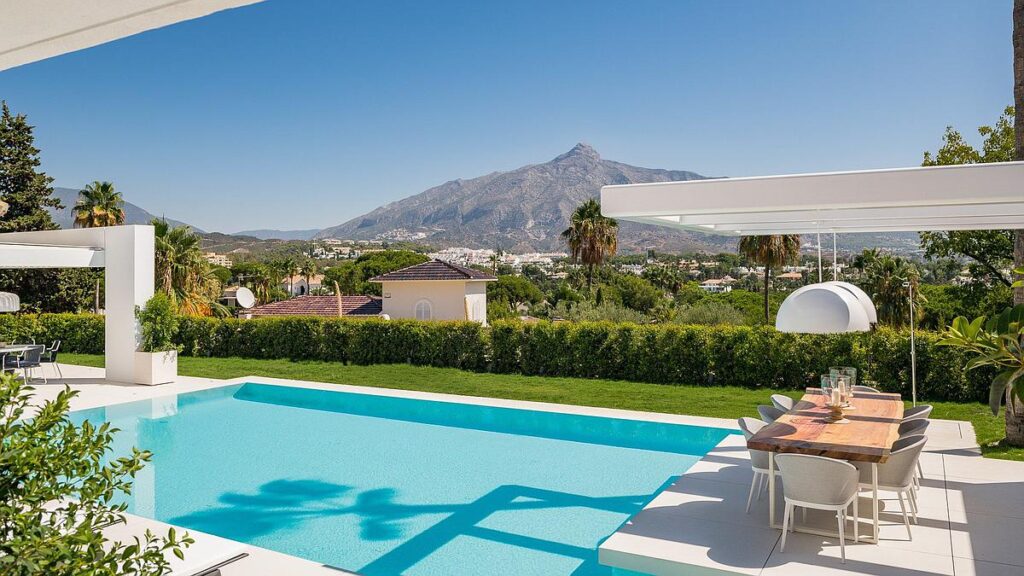 Marbella East
The area east of Marbella is a less dense area that offers wonderful beaches, townhouses, villas, chiringuitos and amenities, just a short drive from Marbella centre, as well as a few low-rise apartment buildings. It stretches from Los Monteros in the east, along past Costabella, El Rosario, Elviria, Las Chapas, Marbesa and Cabopino in the west. Since it is less developed, it is greener but still offers a range of amenities, great restaurants, five golf courses, and is also home to the public hospital Costa del Sol. There is also unreleased land that could provide future opportunities.
The beaches are less built, containing sand dunes rather than a promenade, although the usual firm sand allows for comfortable walks along the beach nonetheless. It offers beachside villas, as well as town houses and apartments in communities with shared gardens and pools, and restaurants and amenities speckled amongst the more suburban environment. The area is popular with families, retirees and people searching a more relaxed way of life, but still with access to all the wonderful amenities and areas of Marbella.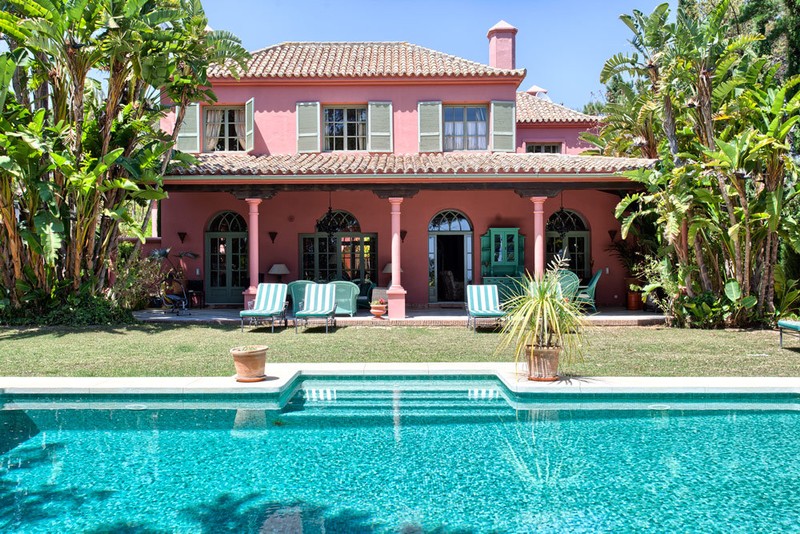 This stretch of beach is loved for it´s chiringuitos and comfortable access with easy parking spread throughout the suburbs. Some Spanish celebrities have homes along this stretch so it is also possible that you will spy someone famous. The port of Cabopino is much loved for it´s exclusive portside dining and stunning timber walking track circling through the beachside dune forest. The growing and popular area of Elviria also contains a Michelin-star restaurant, much-loved dune beaches, chiringuitos and a nice range of dining options in a pedestrian square, as well as organic pine forest around the homes. Both of these areas contain 18-hole golf courses in lovely surroundings. Moving up the mountain, there are also many stunning properties with wonderful views, perhaps more understated than the Golden Mile.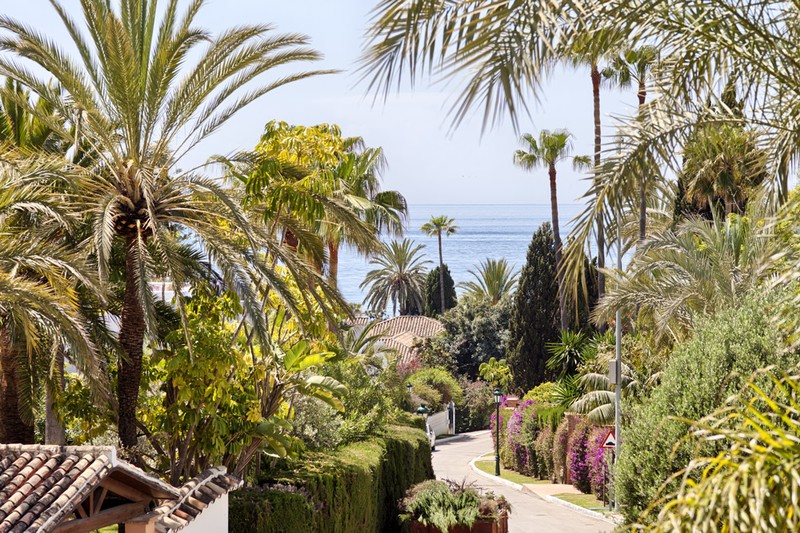 San Pedro de Alcántara and Guadalmina
San Pedro is a small seaside town that grew from a fishing village between Marbella to the east and Estepona to the west. Like most small Spanish towns, the centre contains many white village houses and apartments with complete amenities at a short walk that is popular with Spanish families. It also offers a lovely well-kept beachside promenade including some play areas on a beautiful pebbly beach. Another popular area is Boulevard San Pedro de Alcántara that has a pedestrian walkway, play grounds, cycling and skating areas in a beautiful open setting. It is also popular for its vibrant nightlife.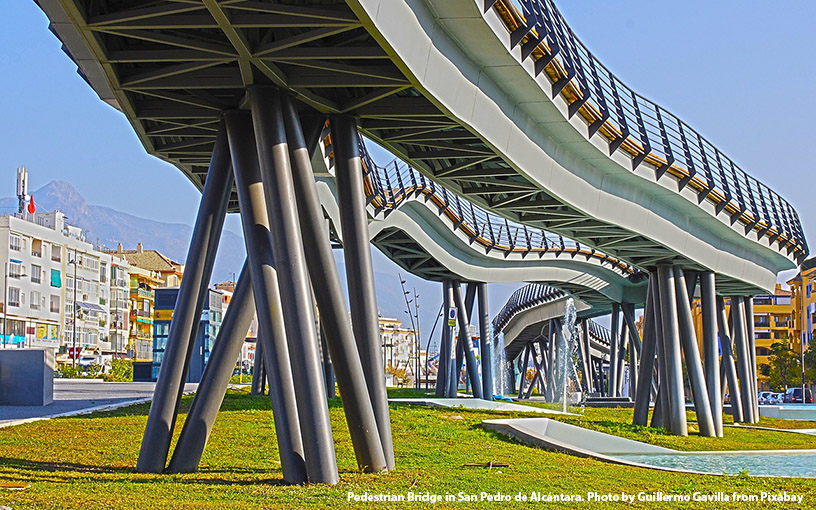 To the west is the prestigious area of Guadalmina that offers luxury living, and some of the most beautiful villas on the coast. Bordered by Arroyo del Chopo to the east and Guadalmina river to the west, the area has private security and consists of mostly villas, as well as some townhouses and apartments. Guadalmina Baja south of the highway is close to the famously clean beach, while Guadalmina Alta is further up the mountain, both containing large deluxe villas on substantial plots.
The beach area is characterised by the four-star Hotel Guadalmina Spa and Golf Resort that is popular among visitors and residents alike. This area is also a golfer´s paradise, containing three golf courses with their own communities spread over a 4km stretch. The Real Club de Golf Guadalmina is the only one on the coast housing 36 holes, providing for a great golfer´s day out. The area is also vitalised by the vibrant social life of these golf clubs.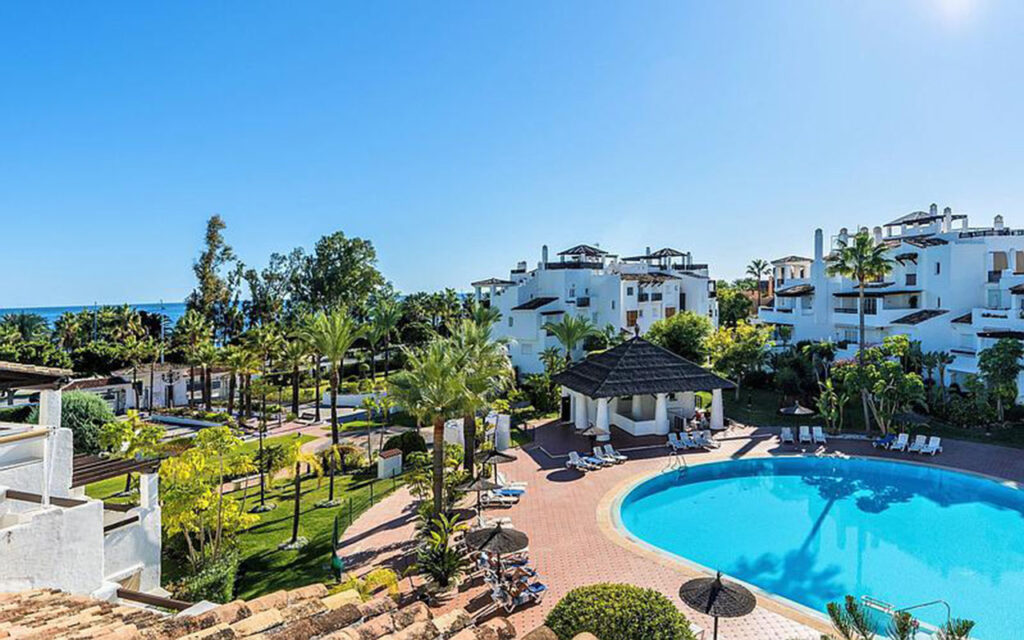 Sierra Blanca area
Last but not certainly not least is the extremely luxurious mountain residential area of Sierra Blanca that offers some of the most prestigious real estate in Marbella, in the security of a guarded community. If stunning villas on large plots with 180-degree sea views is your style, then you should at least browse some real estate in this area.
It consists of large villas in a variety of architectural styles on plots between 1,500 to 6,000sqm. The streets are lined with manicured gardens, cctv cameras and protected with boom gates monitored by on-site security guards providing a comfortable level of security. To have this kind of property, just 10 minutes drive from Marbella old town, the nearby stunning beaches and the numerous golf courses is a dream for many.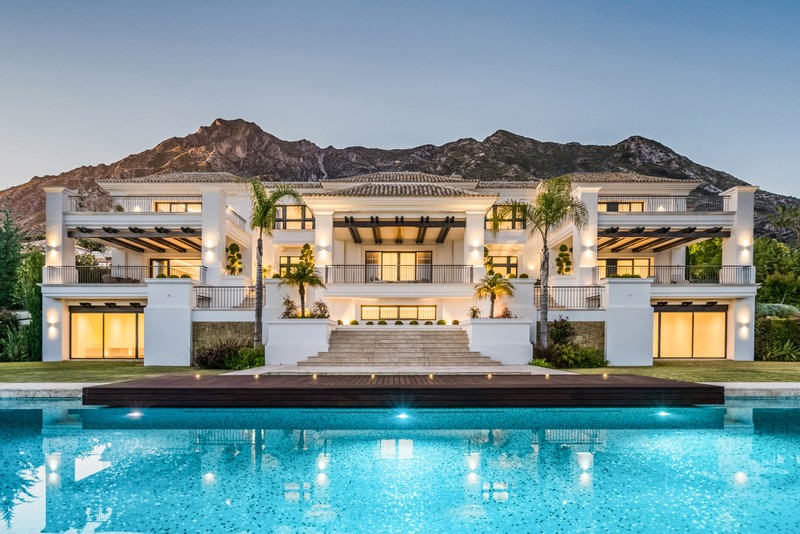 Nestled at the foot of the famous La Concha and Sierra Blanca mountain, this area offers unique tranquillity and absolutely stunning views in all directions. You have easy access to hiking trails through the protected mountain reserve that has the sparkling blue Mediterranean as a backdrop, and views to Gibraltar and Africa on a clear day. Within this area you also have the famous Casacada de Camojan which also offers large villas and, as the name suggests, contains a serene waterfall and swimming hole nested in a natural setting.
Further down the mountain a little you have the developments of Xarblanca, mainly pretty townhouses and apartments, and Nagüeles that also offers a range of villas, all with lovely views and within excellent proximity to all the surrounding amenities.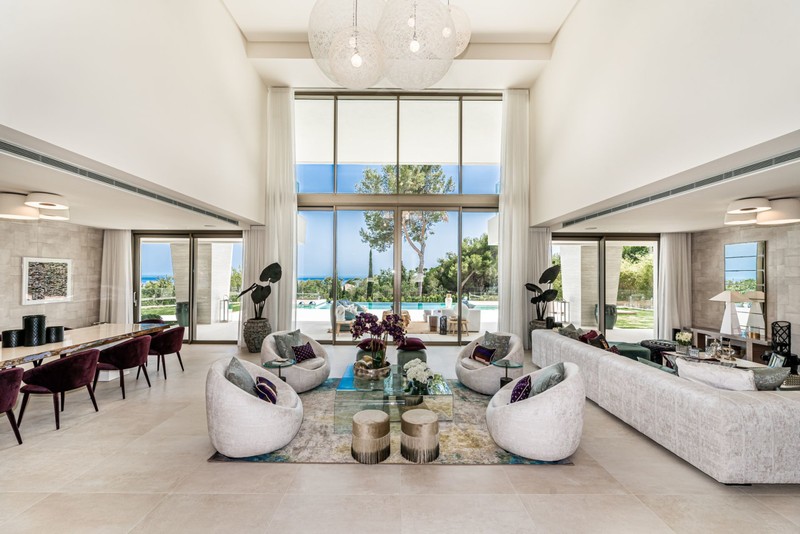 Buying property or Construction in Marbella
With all these amazing locations, natural beauty, culture and amenities, it is clear why Marbella has the reputation that it does. For anyone considering buying property in Spain or the Costa del Sol, Marbella is definitely worth a visit. With its unique microclimate and mountainous backdrop looking south to the stunning Mediterranean Sea and Africa, it provides endless beautiful properties nestled in an ideal environment. Further, the international nature, beautiful historical centre, myriad of golf course options and world-renowned luxurious amenities, Marbella offers a fantastic life for all tastes.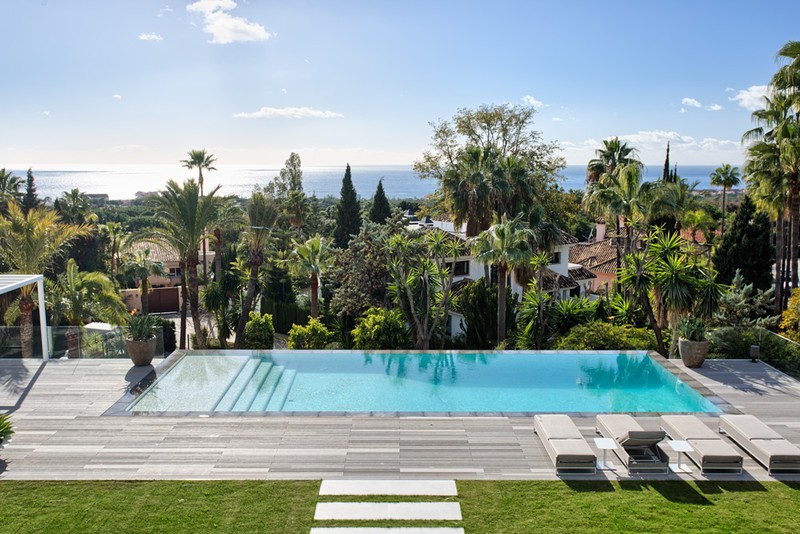 If you are interested in exploring luxury properties in Marbella or the Costa del Sol, visit our partner website Promas Estates, who offer personalised bespoke property services for anyone looking to buy or sell in the area. Using our building services and expertise they offer specific services for clients wanting to buy and reform older properties and can manage the whole process from search, planning, permits, reforms and even interior design for the clients who choose it. Headed by the same committed owners as ProMas Building, our Estates team are committed to providing the best possible service and working tirelessly to ensure that our clients get exactly what they are after.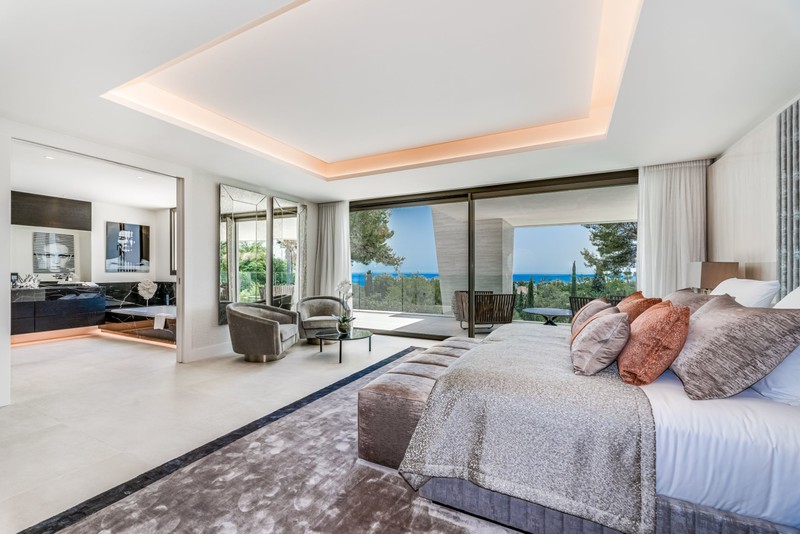 Alternatively, if you own a land plot or property in the Marbella or Costa del Sol area and are considering designing, building or reforming, we would love to hear from you. With over 20 years experience in high specification design and construction, our team are committed to achieving immaculate finishes, outcomes and delighted clients every time. Please contact us on +34 951 497 619 or enquiry@promasbuilding.com to discuss your next construction project in Marbella, Benahavís, Nueva Andalucía, Los Monteros, Mijas or surrounds.