Introducing the villages of the Costa del Sol
From the picturesque mountain villages of Benahavís and Mijas, to the sparkling seaside villages of La Cala de Mijas and Estepona, the Costa del Sol offers exquisite beauty and variety. As your experienced building company here in Marbella, Mijas and Benahavís, we are delivering a blog series on the beginner´s guide of where to buy on the Costa del Sol. This is the final instalment that explores the smaller towns of Spain´s famously sunny coast, following our first two blogs- an Introduction and uncovering the key areas in the cosmopolitan town of Marbella.
As we have said, the Costa del Sol is unique for its international community, metropolitan culture and natural beauty set between the spectacular mountain range and the glistening Mediterranean Sea. It is also made special by the remnants of the area´s Moorish past in the whitewashed villages and patterned tiles that characterise Andalusian architecture. Yet another thing that is extraordinary about this part of the world is that you can go from the town centre to complete wilderness in just a few minutes' drive, so there are many gorgeous towns, impressive restaurants, stunning beaches, hiking tracks and countryside to explore.
There are also particular areas that are popular among certain nationalities speckled along the coast, and English is widely spoken, so you have a fantastic range of cultural influences and can feel at home wherever you are. Typical of Spanish culture, you will find excellent restaurants, bars and terraces all around, as well as a range of cultural activities, including many annual festivals and events throughout the coast (including regular flamenco shows of course). Obviously, all the beach locations offer a full range of water sports, lessons and rentals.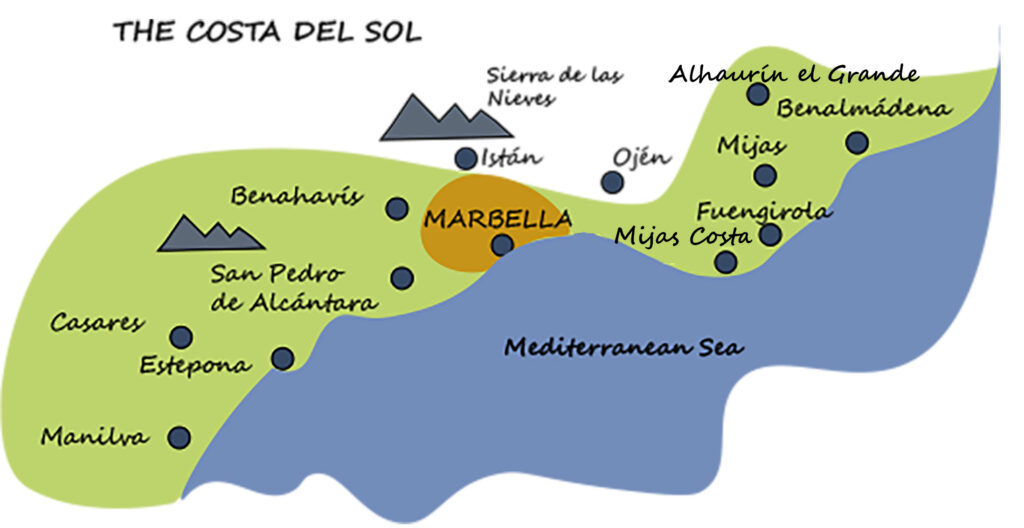 We should note that the Costa del Sol is generally considered to be the area on Spain´s southern coast between Estepona in the west and Fuengirola in the east, although it is sometimes considered to extend to Manilva in the west and the city of Málaga, along to Nerja on the east. In this series we will only include the smaller range, since it is the area that we service and are better positioned to discuss. Many of these areas offer a full range of amenities, including public and private health centres, however the only public hospital in the area is Hospital Costa del Sol near Bahia de Marbella.
As with any property search, the key thing is determining what you value most, whether it be connectivity, countryside, beach, space, price, views, culture or vibrancy. Since all of these towns are fantastic places to live, the right place depends on your needs and priorities. As a starter, we will give an overview of the smaller towns in the Costa del Sol making a clockwise loop starting from Estepona, moving up to Benahavís, along to Istan, Alhaurín el Grande, Mijas and then back through Fuengirola, and Mijas Costa.
Estepona- a typical Andalusian seaside town
Starting just west of the furthest point of Marbella is the quaint seaside town of Estepona. With its typical white Andalusian town centre lined with potted geraniums, Estepona is becoming an increasingly popular choice for a relaxed and beautiful seaside lifestyle. Boasting a port, spacious paseo maritimo with children's playgrounds on the beach, a beautiful white town centre and many gourmet restaurants, Estepona is considered to offer a quieter and more affordable alternative to Marbella.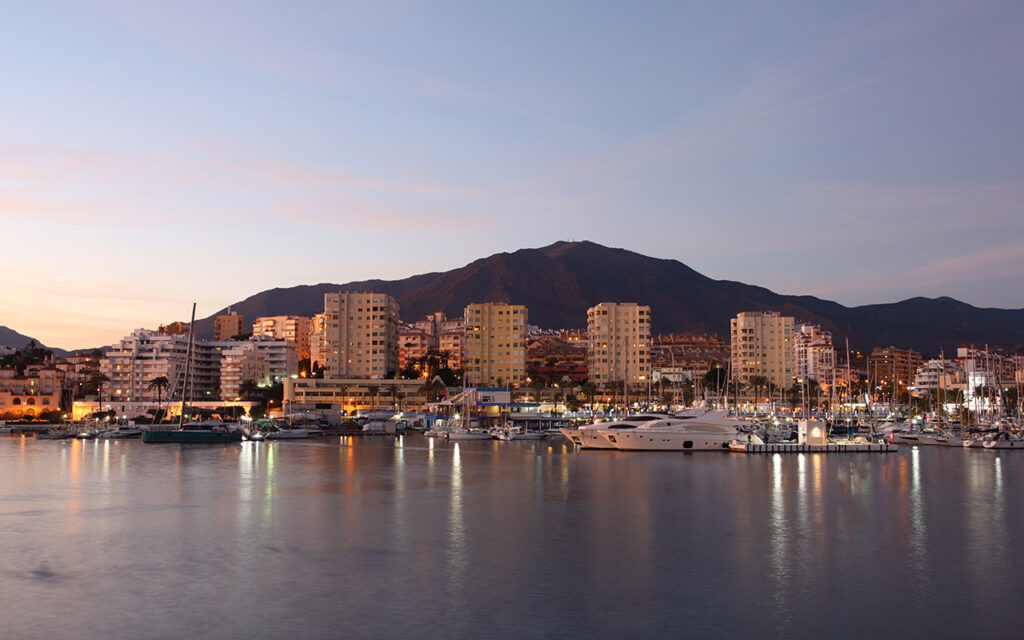 Similar to Marbella, Estepona hosts a variety of villas, apartments and townhouses outside of the historical centre, including some more luxurious areas including Atalaya Park and Bahia Dorada. There is also an emerging ´new golden mile´ between Estepona and San Pedro containing a variety of luxury and rural style properties in this growing area. Estepona offers a range of health clinics and services, as well as the Selwo open plains zoo and Orchard House and Botanical gardens, that are popular attractions for both tourists and residents.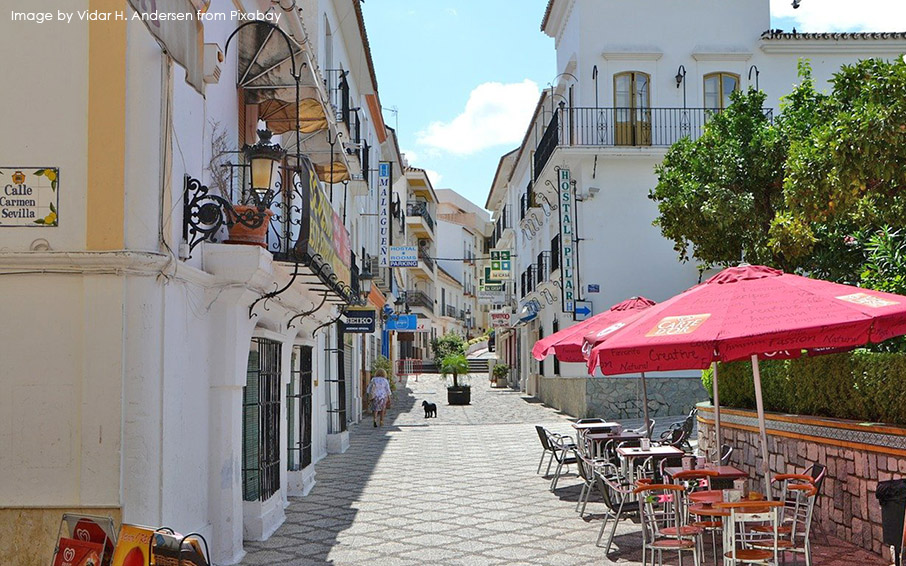 Benahavís – the ultimate in luxury living set in stunning mountains
When thinking of great places to buy property on the Costa del Sol outside of Marbella, one of the most sought-after areas is the gorgeous mountainous countryside surrounding the Andalusian village of Benahavís, north of Estepona. Few places in Spain offer such stunning uninterrupted views of woodlands, rivers and mountains in such a well-connected location. It is only a 10-minute drive from beautiful beaches, 20 minutes from the metropolitan heart of Marbella, and 30 minutes from the Gibraltar and Málaga airports.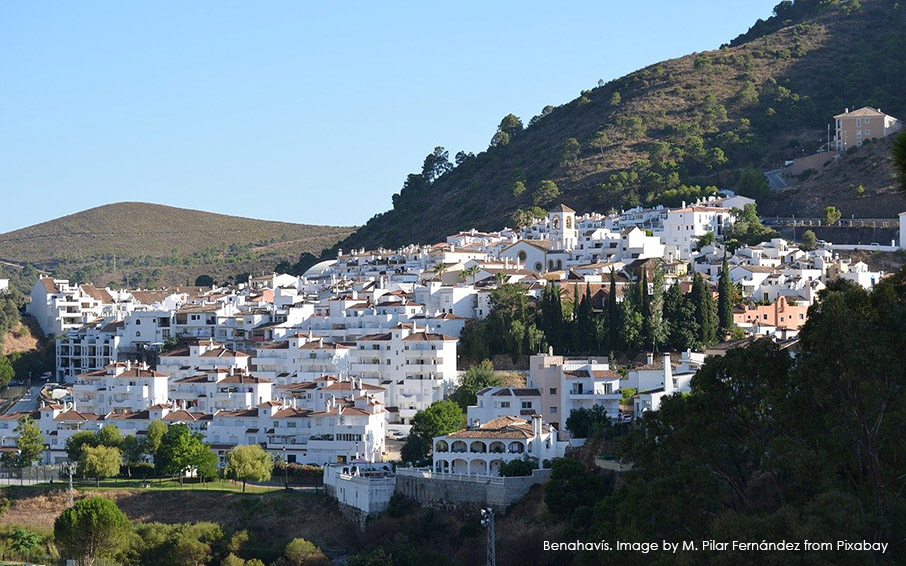 The town itself is a beautiful well maintained white village, with pretty stone streets lined by geraniums, quality restaurants, plazas and boutique style shops. Set in a spectacular mountainous landscape, it is crossed by the Guadaiza, Guadalmanza, and Guadalmina rivers, the latter providing excellent canyoning and adventure opportunities that feature waterfalls and plunge pools that attract adventure lovers from around Europe.
The area covers around 150 km2, including the luxury golf resorts of La Quinta and Los Arqueros, and the surrounding residential areas of Monte Halcones, La Quinta, La Heredia, El Madroñal, and the exclusive gated community of La Zagaleta. These areas offer an incredibly luxurious lifestyle attracting homeowners from around the world and making it one of the wealthiest villages in Spain.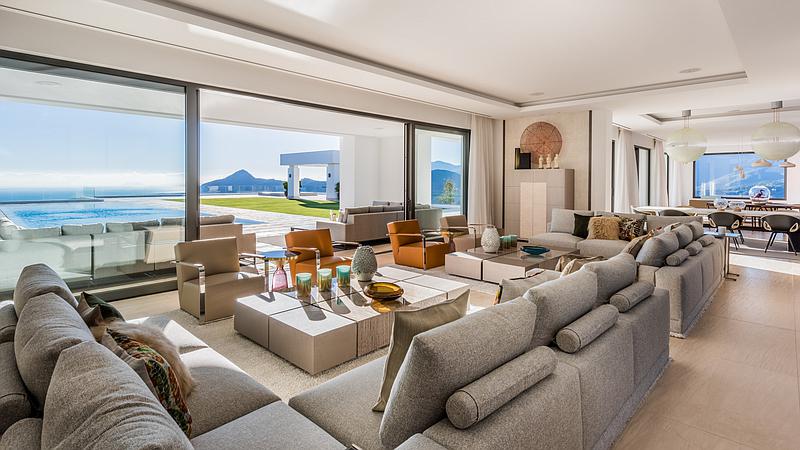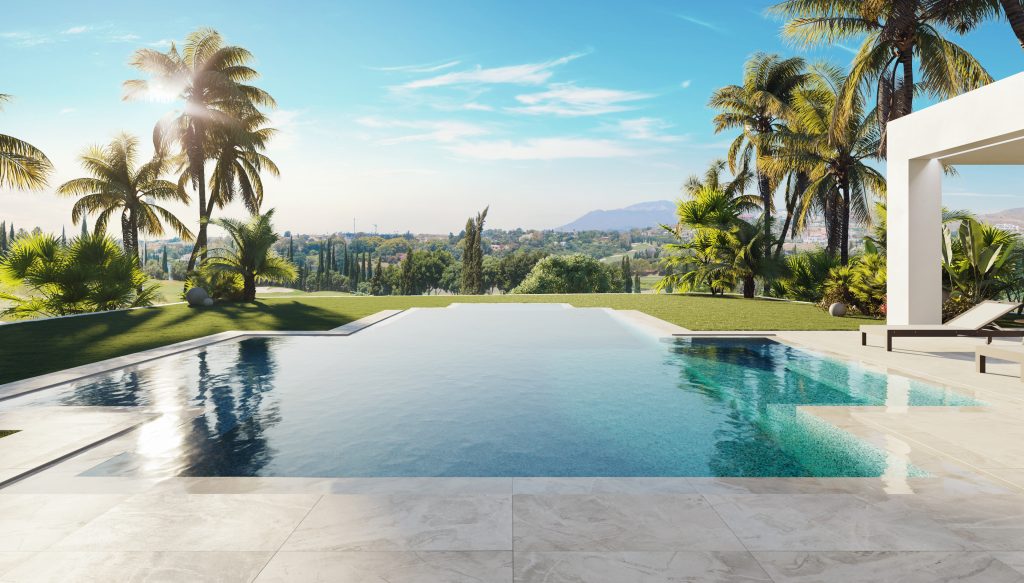 Wherever you are in Benahavís you wouldn't be far from the numerous hiking tracks and golf courses speckled amongst the area. This concentration of natural beauty and Spanish culture has also contributed to an exquisite dining culture, containing high-end restaurants, as well as the Sabor a Malaga cooking school that has led the area to become known as the gastronomic corner of the Costa del Sol. It also contains a good range of municipal sporting facilities including an outdoor swimming pool.
With this variety there are plenty of luxury apartments with stunning views, as well as beautiful townhouses and villas available for those wanting easy access to the natural, sporting and culinary delights of the region. Many new villas and luxury apartments can be found among this area, offering a full range of fabulous properties in this ideal location.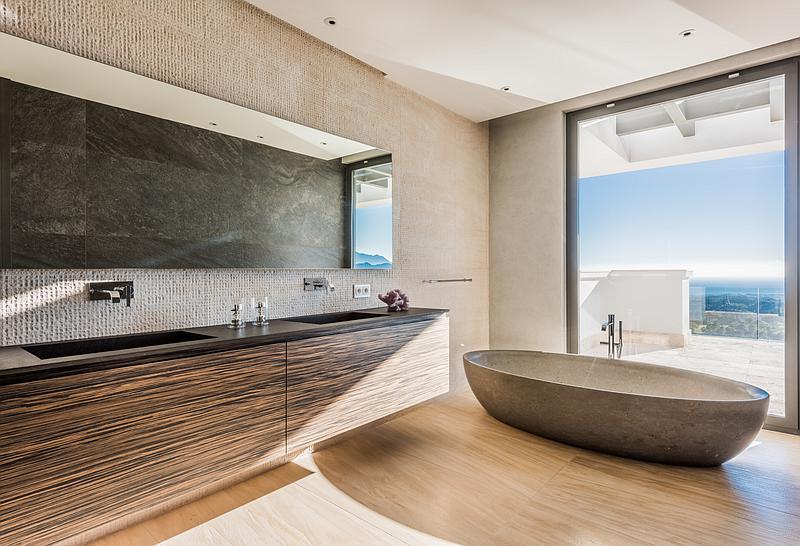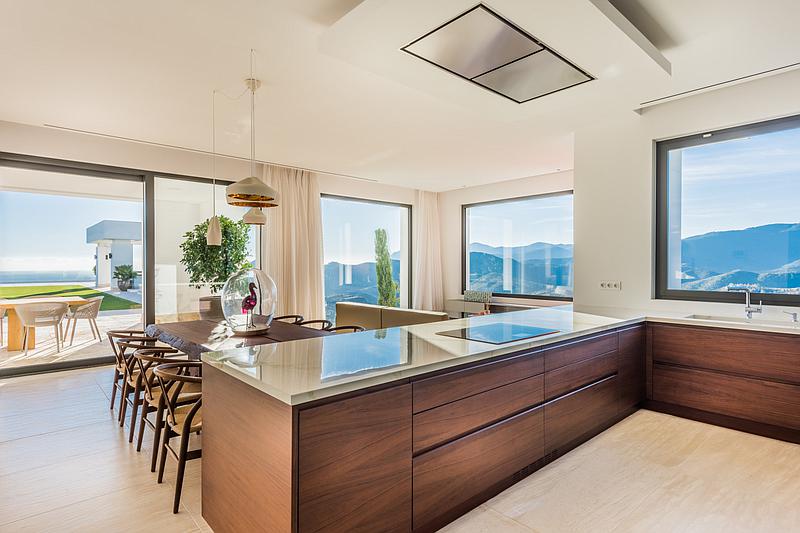 La Quinta is one of the areas that contains a mixture of luxury villas, townhouses and apartments with breath-taking views to the mountains, golf courses and sea in the distance. Villas in La Quinta start from just over one million, and apartments from around 300 thousand euros, including some superb new apartments that are currently being built. Similar properties are available throughout the area, offering luxury living in all forms. Townhouses and other smaller living options are also available within Benahavís town and surrounding residential centres such as La Heredia.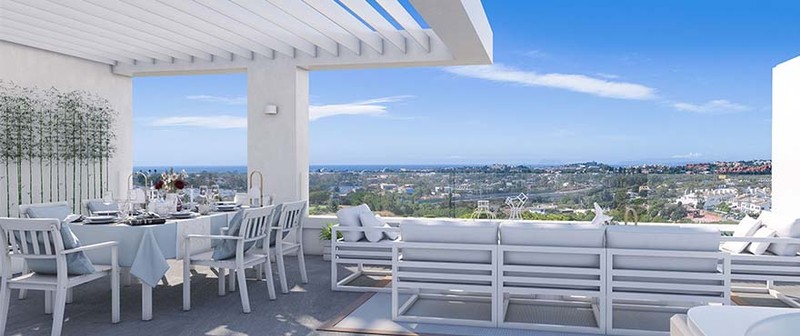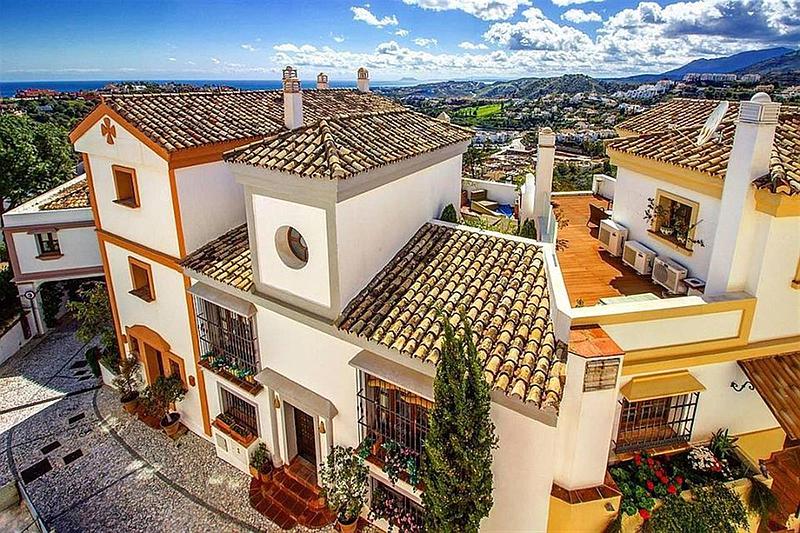 However, the most famous area of Benahavís is La Zagaleta- an exclusive gated community that is home to many luxury villas owned by the internationally rich and famous. Homes here start from around 3 million, offering extremely high-end villas with stunning views of the uninterrupted mountains and sea within the privacy of a guarded locked community. As you can see, Benahavís provides a diverse range of living options for those wanting to be at the doorstep of this exquisite natural setting at a short hop to the beachside excitement of Marbella and Estepona.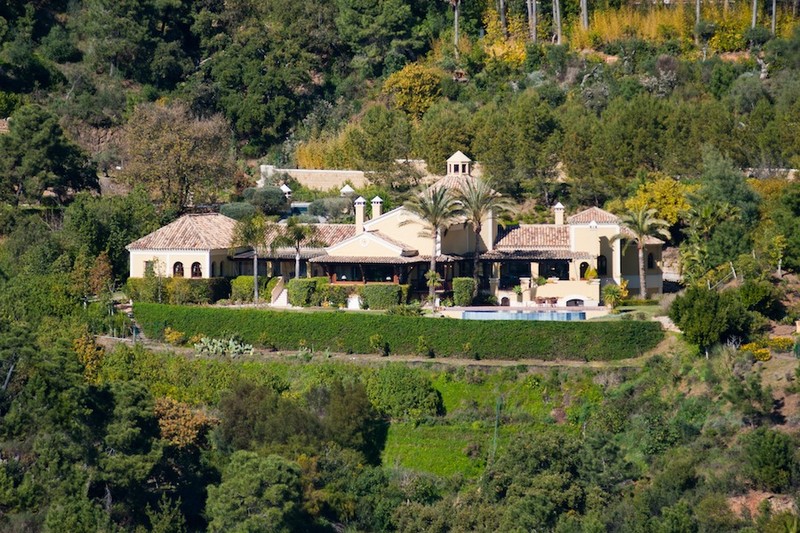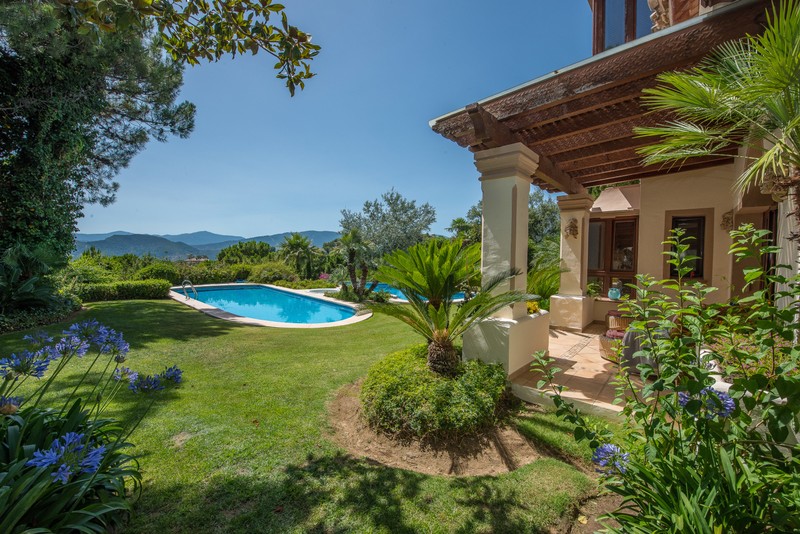 Istan- a whitewashed village overlooking a pristine lake
Just a little further up the mountain at a 30-minute drive from Marbella, is the small but beautiful white village of Istan. Yet another stunning village built by the Moors, overlooking the Mediterranean and the beautiful reservoir in the valley. The reservoir, known as Embalse de la Concepción, is a serene spot to swim, kayak or fish.
Istan offers a range of townhouse and apartments, with impressive villas being built around the outskirts. It is also the entrance to La Sierra de las Nieves national park, which can sometimes host snow in the winter months, and offers spectacular views of the coast. It follows that the town is also surrounded by natural beauty and hiking tracks. A little more understated than the luxury lifestyle of Benahavís, Istan also offers a tranquil lifestyle surrounded by natural beauty.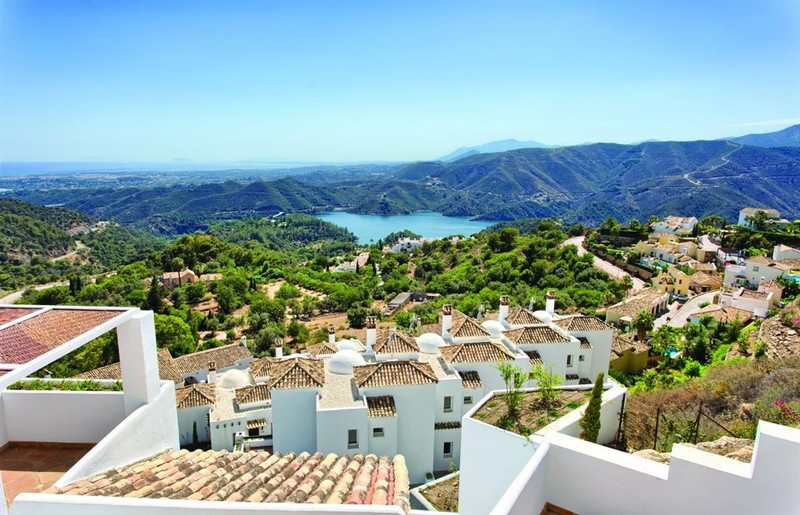 Alhaurín el Grande – a practical country lifestyle
Heading east, the town of Alhaurín el Grande is becoming an increasingly popular residential choice. It offers everything that you need for a comfortable way of life set in an open mountain landscape. At a 30-minute drive from the beaches of Marbella, Mijas Costa, Malaga and the airport, Alhaurín offers a relaxed lifestyle and splendid villas at a more reasonable price than seaside areas. You can wander in the countryside, as well as have a diverse variety of restaurants and services within the town itself, also a beautiful white town that is serviced by a complete sports centre with an indoor pool. If a practical and relaxed country lifestyle within easy reach of the key attractions of the coast is what you are after, Alhaurín el Grande could be your place.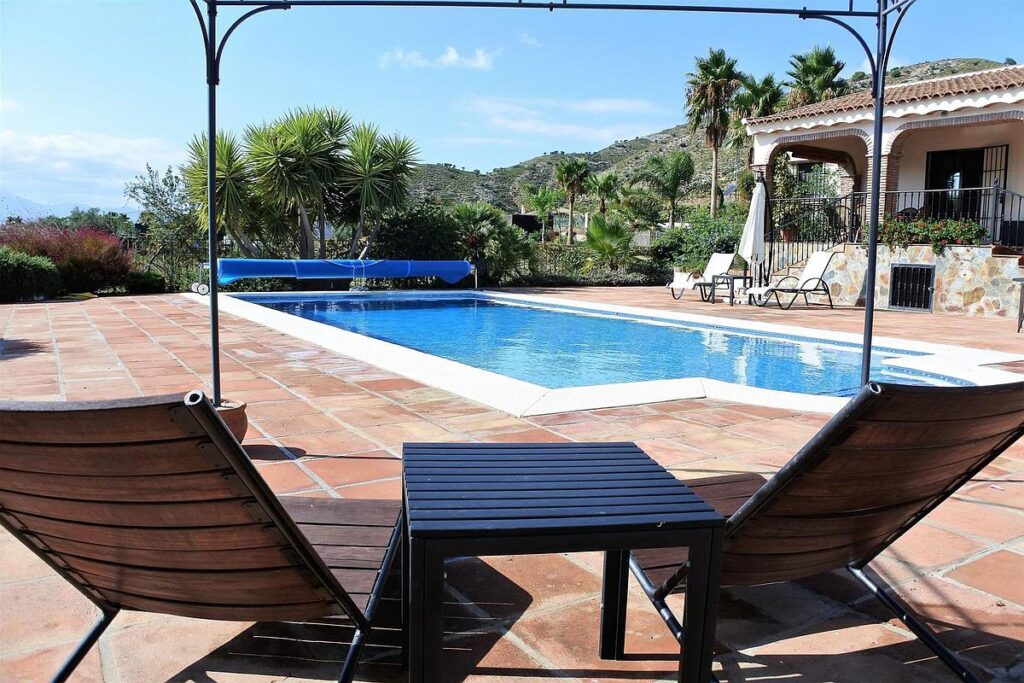 Mijas Pueblo – a stunning mountain village overlooking the Mediterranean
Heading towards the coast from Alhaurin el Grande is the stunning mountain village of Mijas Pueblo (pronounced Mi-has), also surrounded by the picturesque mountainous countryside of the Sierra de Mijas. The town is a famously beautiful whitewashed village, offering all the benefits of village life with magnificent views down to the Mediterranean. It provides an excellent variety of restaurants and bars and an amphitheatre hosting many concerts and local events in the warmer months. Mijas Pueblo is a very popular tourist destination and offers horse drawn carriage rides and donkey rides around the picturesque town.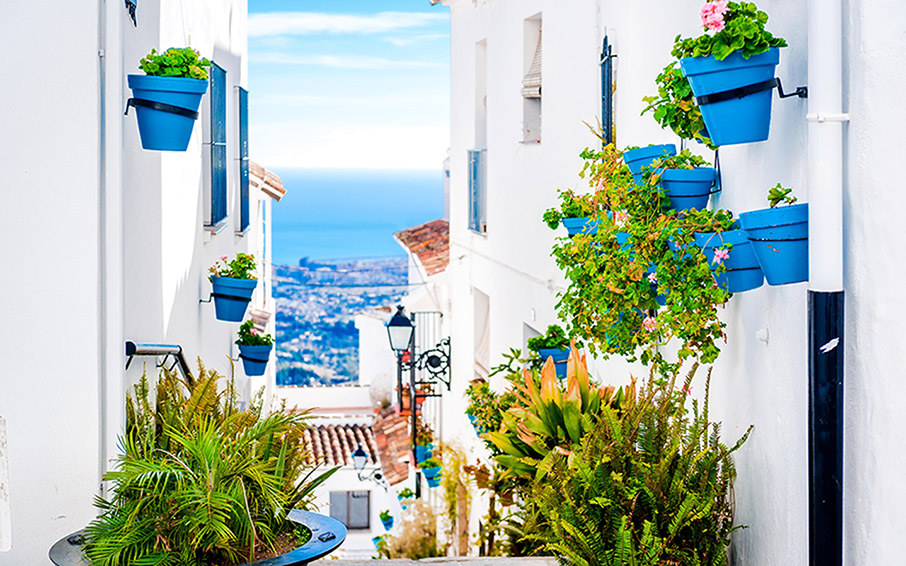 It is popular for its beauty as well as the 25-minute drive from the Málaga airport and 15 minutes from the beaches of Fuengirola. The area has two golf courses, and series of lusciously green urbanisations including Las Lomas de Mijas, Mijas La Nueva, Doña Pilar, Santa Rosa and La Alqueria that offer beautiful homes with fabulous Mediterranean views around a 10-minute drive from Mijas Pueblo. It´s also a 40-minute drive from the larger centres of Málaga and Marbella, thereby offering an excellent choice of cultural and lifestyle activities. It contains a municipal sports centre and outdoor swimming pool, as well as various hiking and biking tracks around the Sierra de Mijas. If a relaxed, well connected, picturesque lifestyle is what you are looking for, Mijas Pueblo good be a choice. Due to the low supply of rental properties in this area and the high tourist demand, it could be a good area for investment.
Fuengirola – a well serviced seaside town
On the coast, at a short 20-minute drive to both Marbella and Málaga, 10 minutes from Málaga airport, is the larger seaside town of Fuengirola (pronounced Fuen- hirola). It boasts a beach promenade lined by apartment buildings, restaurants, children's playgrounds and shops, and a small but lively centre that has a vibrant year-round atmosphere. A train line connects it to Malaga city, as well as half hourly buses to both Marbella, Málaga, and other surrounding towns, so it is possible to live or visit comfortably without a car. It has a public health centre as well as a complete range of private health services centres, including private hospitals.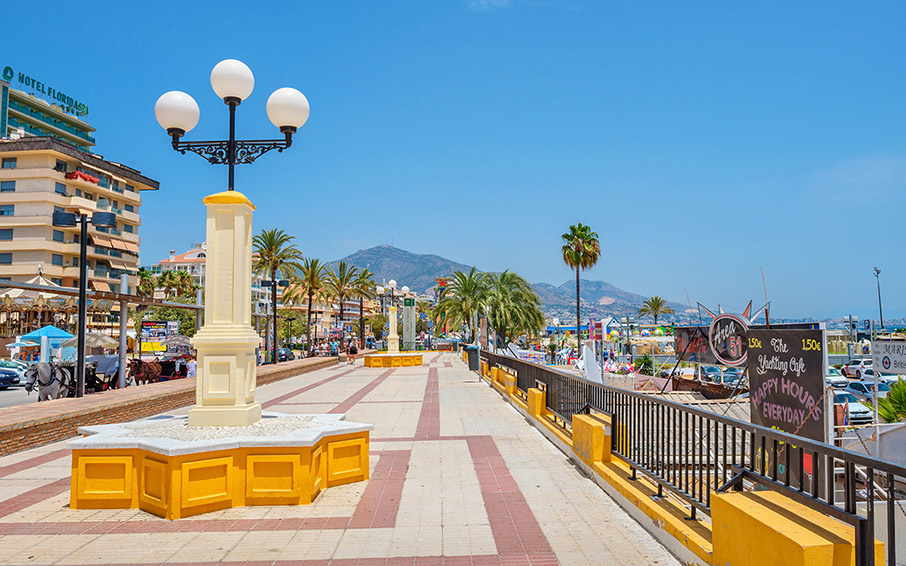 Fuengirola encompasses 8 kilometres of coast line, and 35 hectares of public gardens and parks, so there is plenty of space to enjoy within the centre. In addition to the water sports and markets offered throughout the coast, it also offers a zoo, cinema, two water parks, a marina and various sports centres. It provides all the amenities of seaside urban living, in the comfort of a small town, and also contains a well-appointed commercial centre containing all of the key retail players in Spain. Like much of the coast, it has various suburbs that are popular with distinct nationalities living in the region, and English is prominent throughout.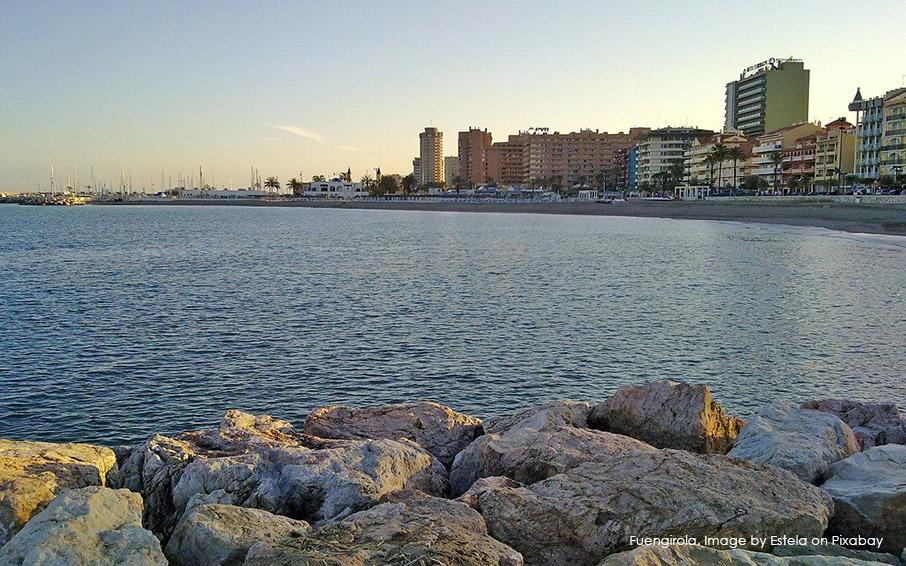 Mijas Costa – a suburban seaside life around a quaint town
Just west of Fuengirola is the area of Mijas Costa, including the residential areas of La Cala de Mijas, Calahonda, Riviera del Sol and El Faro. These areas contain a range of beachside developments including villas, townhouses and apartments, with mostly green and sea views. The residential area is generally very close to the coast, that is separated from most of the homes by the highway that connects Marbella and Fuengirola.
The area is particularly known for being popular among the British living in Spain, but in reality, the whole Costa del Sol is home to people from all around Europe, especially Britain, Norway, Germany, Sweden, Finland, as well as parts of Africa. It´s only around 15 minutes to the extensive amenities and health services in Marbella and Fuengirola, connected by a gorgeous scenic drive.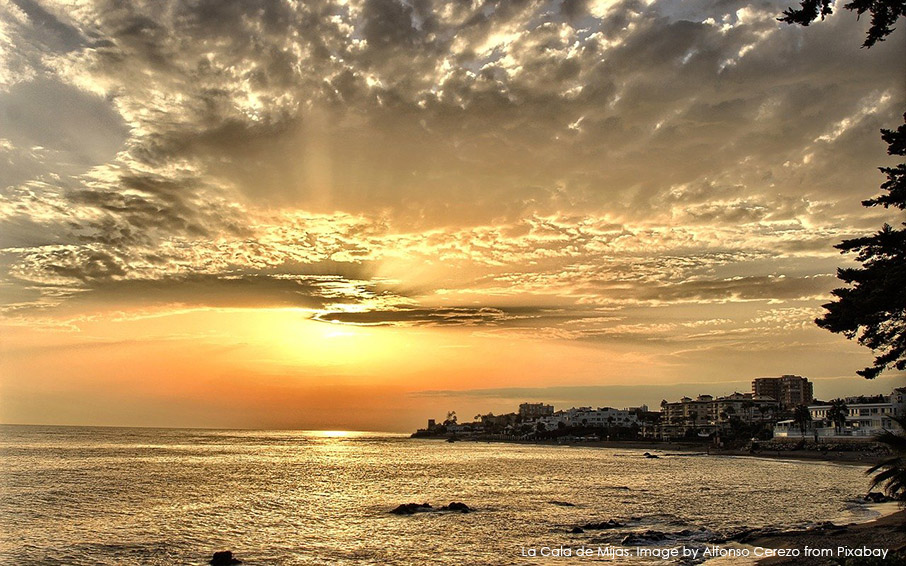 La Cala de Mijas is the main town in this stretch, it is like a little Spanish village tucked between the highway and the beach that contains the public schools and the council offices that service the area. It offers all the key amenities, as well as a beautiful pedestrian beach promenade that stretches to Calahonda in the west. Although smaller than Fuengirola, and offers the typical Spanish seaside town experience, surrounded by urbanisations that provide a variety of housing options, many with splendid views.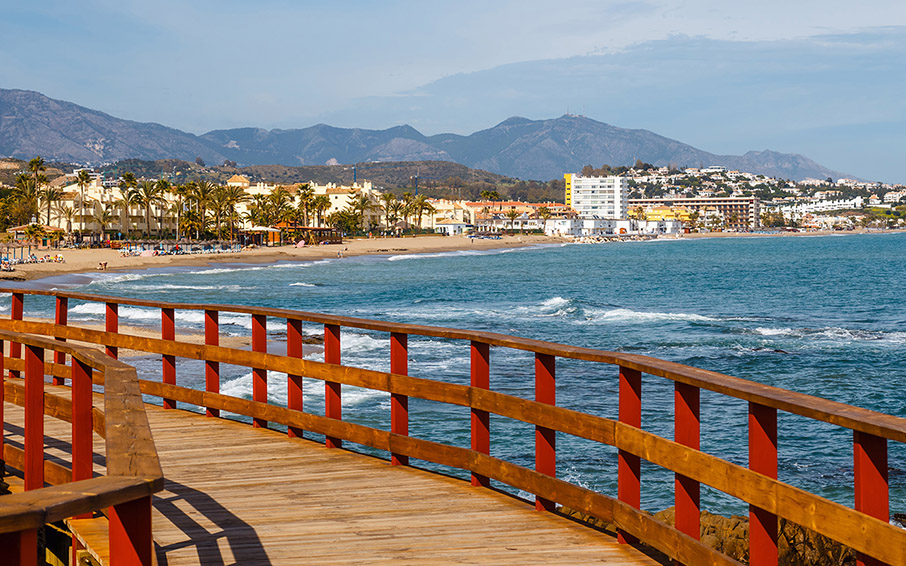 Luxury properties in the Costa del Sol
If you would like more information about finding luxury properties in the Costa del Sol, including the properties featured in this blog, visit our partner website Promas Estates who offer bespoke property consultant services throughout Marbella and surrounding areas. They can help you find the right area and the right property for you, and also guide you in the direction of any other assistance that you may need.
Alternatively, if you have a property that you´d like built or reformed, our team have over 20 years' experience in quality construction services of luxury homes. We offer services in design, layouts, swimming pools, kitchens, bathrooms, complete refurbishments and new builds. We can also manage the process from idea, to layouts, permits, construction, finishes, interior design and fitout for those clients that choose, including 3d visualisations of the finished product. So, if you are in need of quality building and construction services anywhere on the Costa del Sol, we´d be delighted to hear from you.