Over recent years an outdoor kitchen has become one of the essential elements of great outdoor living areas. Here on the Costa del Sol, they are an excellent way to enjoy those sunny days and balmy evenings in your own private space. Whether it be poolside, in a smaller patio or balcony or on a spacious roof terrace, an outdoor kitchen area will add boundless quality to your daily lifestyle.
An outdoor kitchen is really an extension of the age-old barbeque area, but potentially with all the comforts of modern life integrated. Obviously, a kitchen in your outdoor living area- so it makes entertaining in your terrace or garden so much more enjoyable.
Firstly, you can delight in the fresh air while doing all your food prep and cooking- without the need to go back and forth to your kitchen every two minutes. Perhaps just as importantly, you can socialise with your family and guests who are enjoying the pool and outdoor area- making food prep and outdoor living much more relaxing, sociable and natural.
To help get you thinking about how it might work in your home, we have put together the key elements of a good outdoor kitchen.
Barbeque or cooking elements
Of course, the key feature from which the concept came are barbeque or cooking facilities. Usually this would be a gas barbeque, but some people also opt for charcoal cooking option that takes longer, but provides a unique and traditional flavour. For both options it is a good idea to have a cooking cover to cook quicker and retain the flavour and moisture too.
If you live in great weather like around Marbella and the Costa de Sol, or if you really want to use it regularly, you can also include a stove and oven to facilitate all kinds of cooking. That way you can do all your normal cooking while enjoying all the benefits of your outdoor space. It just allows you to be outside when the weather calls to you and also keeps the cooking fumes out of your house, avoiding the accumulation of residue.
2. Refrigerator or bar fridge
It also goes without saying that a refrigerator is an excellent addition to any outdoor kitchen. While it doesn't need to be a full-size fridge, a larger one will make life easier if you entertain for large numbers regularly. That way you can store all your barbeque foods, salads and cold drinks nearby– avoiding the need to go back and forth to your kitchen continuously. Also, add a water tap and ice crusher into the fridge if you want easy self-serve drink preparing too.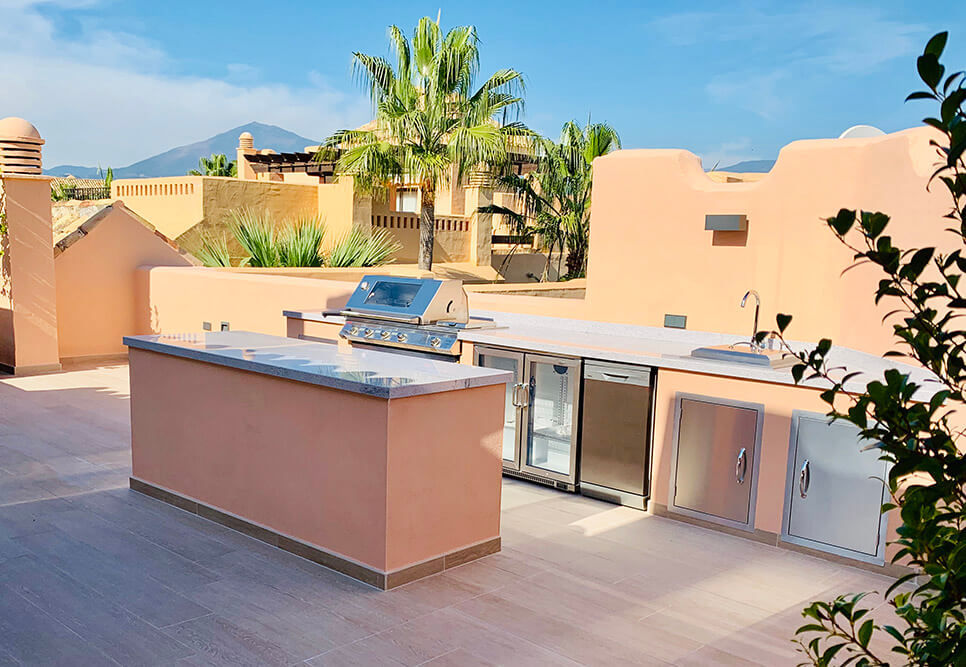 3. Bench space and cupboards
Following on from that idea, another life saving element is having enough cupboard space to store kitchen essentials, plates, glasses and bowls- not to have to be bringing them in and out of the house.
The flip side of cupboard space, is the bench space above it to make food preparation a breeze. Stone or concrete materials are essential for permanent outdoor surfaces to last the test of time and also create a gorgeous rustic feeling in your summer kitchen.
While it may not be essential for the odd barbeque, or if your kitchen is quite close to your outdoor living area, having a fully stocked outdoor kitchen makes food prep in your outdoor kitchen just as natural as cooking indoors. Aka- a nice weather default kitchen.
4. Sink and dishwasher
Even if you don´t have much cupboard or bench space in your outdoor kitchen, a decent sized sink is another essential element. This just allows easy access to fresh water for drinking, cleaning or cooking, which will be used just as much as your cooking facilities – or even more.
While you are at it, it´s a great idea to include a water filter system and tap that are very readily available on the market too. Even in places with great tap water, there will be impurities that can be easily removed that can help the long term health of your family.
And of course, if you do cook for more than a few people in your outdoor kitchen regularly, especially if it's fully stocked with it's own plates, glasses and cutlery- it may also be worthwhile including a dishwasher- even if only half size. That way, cleaning up after an outdoor meal or even just drinks, will be just as easy as if it were inside- easier, in fact!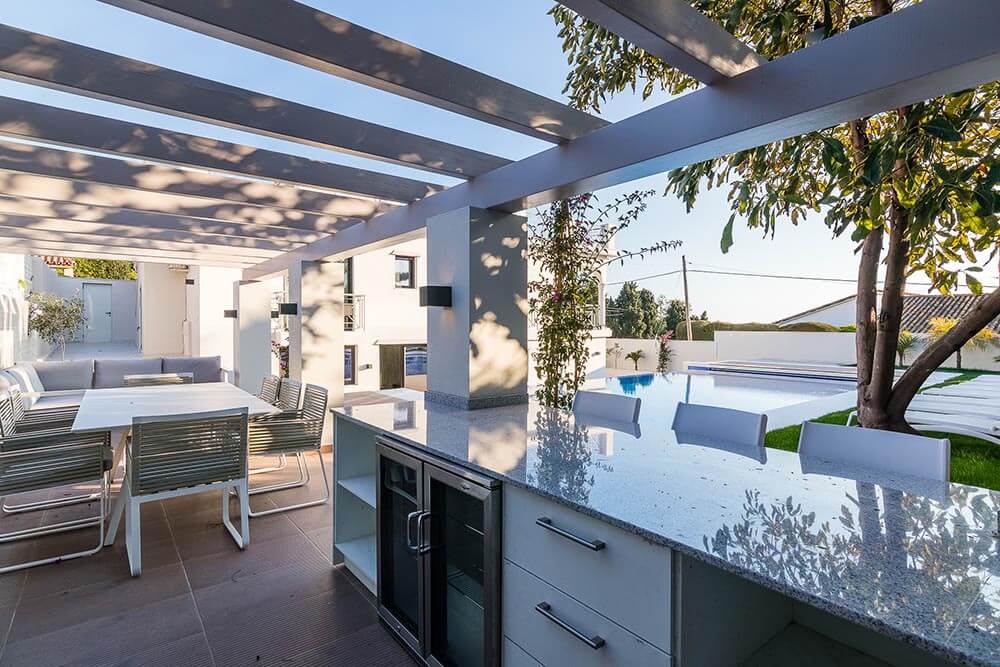 5. Long lasting materials and weather protection
Whatever elements you include in your outdoor area, you should ensure that the materials are made to last in the exterior- stones, stainless steel and specially treated aluminium. You may also want to incorporate a roof over the kitchen appliances and work tops to further increase the longevity of your kitchen and appliances. If you live in a rainy area, you may also want to include a waterproof cover for the colder months when you don't use it.
You could also choose to cover the whole outdoor living area- the larger the cover the better protection of weather it will provide. If you want the option of sun/shade and cover/open air, you can also include operable louvre roof over parts or a pergola frame, to allow you to adjust it depending on the weather- close it for rain and colder months, and to provide shade in summer, open it to allow more light and airflow in the warmer months.
6. Lighting and power sockets
It is also wise to integrate lighting into your outdoor kitchen roof design. The sky is the limit here, depending on your taste and budget. Solar lighting might be a feasible option for this space, and perhaps you want traditional or oriental, Moroccan or beach club style lighting- or you could also have lighting integrated into the kitchen worktop. Whatever your heart desires- but it is a good idea to have some kind of lighting integrated rather than end up constantly in need of candles or cabled lamps later. Similarly, make sure you include at least a few power sockets near bench spaces and fridge/oven areas to facilitate the plugging in of phones and appliances.
7. Bar seating and table/lounge area
Irrespective of how you intend to use your outdoor kitchen, it is also essential to plan for some kind of seating. Good outdoor living areas will always have a dinning setting nearby, so that you can comfortably sit and enjoy your meal in the ambient open air and not be walking back and forth to serve food on the table.
However, it is also fantastic idea to include a bar space and seating within the outdoor kitchen area- to allow for socialising while prepping food (just the same as any good indoor kitchen space). This is particularly valuable given the nature of outdoor living and entertaining- an outdoor kitchen with bar space is the easiest way to host pool parties and cocktails!
On that note, if relaxed long days, afternoons or evenings of poolside cocktail parties are your style, a chill out area with relaxed sofas or sun lounges with drink tables are an essential accompaniment to your outdoor kitchen (along with your drink fridge and cocktail shaker!).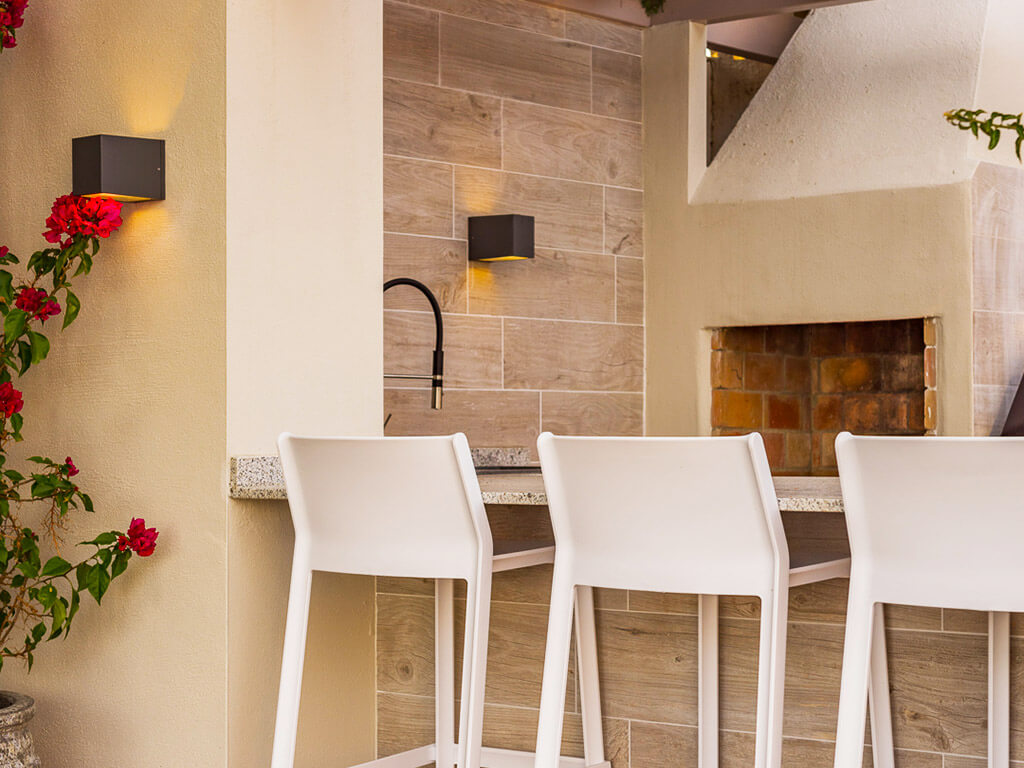 8. Pizza oven or fire place
If indulgent enjoying of the open air is your thing, including a pizza oven or outdoor fireplace or firepit will also add invaluable ambiance to your summer kitchen. There is arguably no better scent on a summer evening than that of a woodfired pizza and fresh dough wafting around the patio. It adds a lovely authentic feeling, especially if you combine it with natural stone worktops and bar areas, and perhaps you can create it open to act as a fireplace even when there is no pizza is in it.
If fresh pizza is not your style but sitting out in front of the fire for hours on a slightly cool evening is then including a fireplace or firepit may be just the perfect complement to your outdoor kitchen. There are many options out there, depending on your budget and space.
9. Herb wall or garden
We all know that no gourmet kitchen is complete without easy access to a healthy range of mixed herbs. If your outdoor kitchen allows it, it is great to have these nearby also. Perhaps it´s just a few herb bushes, some planters, or if you have a limited space or walls that you want to cover- a herb wall is both a visually and aromatically pleasant solution. There are so many ideas for how to do these online – so you don´t have to be a specialist to make this work.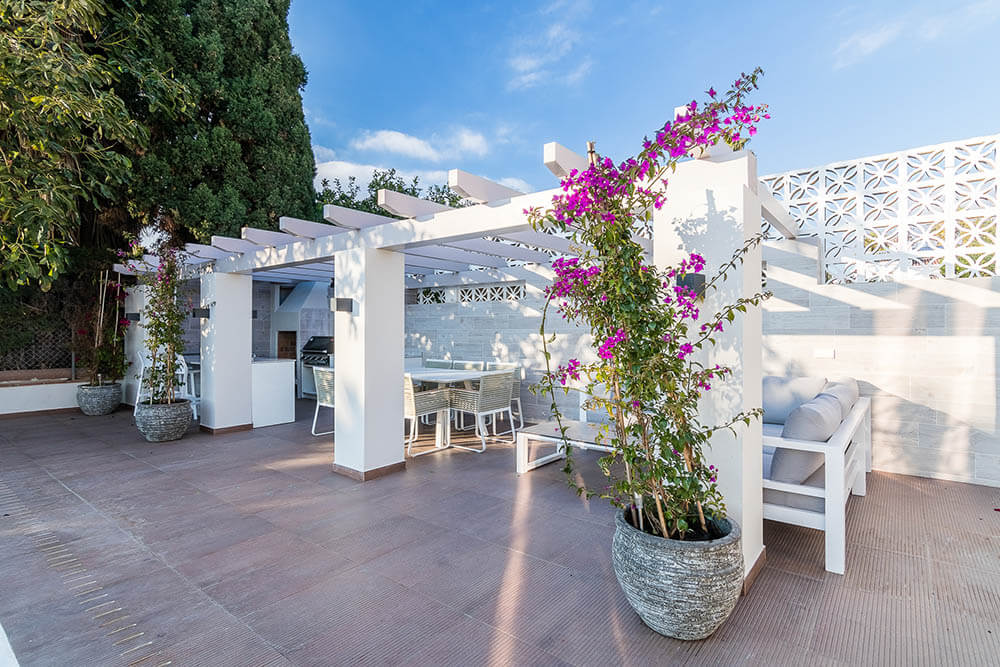 10. Water feature or nice outlook
Last, but certainly not least, a great outdoor kitchen will have a nice outlook to enjoy. As with most things, this will depend on your space and budget. However, even if your outdoor kitchen is in a small patio space with no outlook, you can make it nice by decorating the walls and space in your style- whether it be a mural, hanging/climbing/potted plants, lanterns or whatever decoration suits your fancy.
Ideally though, like any good outdoor living area, the kitchen would look to a nice view, pool or garden- so that you really can enjoy the ambiance while using the space. Obviously, looking to your own outdoor space also has the added benefit of watching children while you cook. But if your home doesn't allow it, consider a green wall, water feature or other decoration to give the area a lovely relaxing ambiance.
Reaching out in the Costa del Sol
With the warm weather just around the corner, it is the perfect time to get your outdoor living space up to scratch. Whether it´s an outdoor kitchen, swimming pool, pergola or just a general makeover of your outdoor space- it will be well worth the investment once those long summer days hit. If you are around Marbella, Mijas or Benahavís, we´d love to hear from you to see how we can help you transform your home or outdoor space (or any other building project you may have in mind).