Just like barbeque or summer kitchens, pergolas and gazebos have become one of the marks of a great outdoor living area. Especially here on the Costa del Sol, where the summers are long and warm – in the shade of one of these lovely features is one of the best places to be in the middle of a hot day.
These garden jewels make outdoor dining and living a breeze, are low maintenance, provide flexible space to be used in various situations and add value to your home (and lifestyle too). So if you have an outdoor space, they are well worth the investment.
To get started, both gazebos and pergolas are open outdoor structures that offer some shade or protection. However, a pergola is the frame with an open or operable roof cover, while a gazebo has a fixed roof for permanent protection from the elements. In general, they can be made from timber, cedar, steel, vinyl or brick framed and can be made in any form that your heart desires- square, rectangle round or hexagonal are the popular options. You can also purchase pop-up or dismountable options as temporary structures for an event. This blog gives an overview of permanent types of these open outdoor structures and the styles that they match.
Thatch Roofed Gazebo
This classic island style gazebo has been increasingly popular in recent years. Think Bali, Hawaii or the Caribbean- these are traditionally made of dark thick natural log planks that create a pitched roof frame, filled in by a dry grass (thatch) roofing. Alternatively, you can go for the more timelessly modern structure of brick and cement frame, which is both easier to maintain, as well as allowing you to integrate lighting and furniture or outdoor kitchen elements (like the the ProMas built gazebos above and below).
Whichever type of construction you go for, this style is effortlessly luxurious and calls you to long summer days relaxing in and around your gazebo. However, the key benefit of thatch roofing is that it allows the air to pass through, thereby keeping it cooler than other kinds of roofing. For this reason, thatch roofing is the ideal roof in warmer climates, especially where heavy rain is not a problem- just like on the Costa del Sol. Although it should be noted that, when well-constructed, they actually are waterproof and hold up well in heavy rains and winds. While it is more environmentally friendly and made from recycled materials, it is not easy to install and will need yearly maintenance- making it a more expensive option.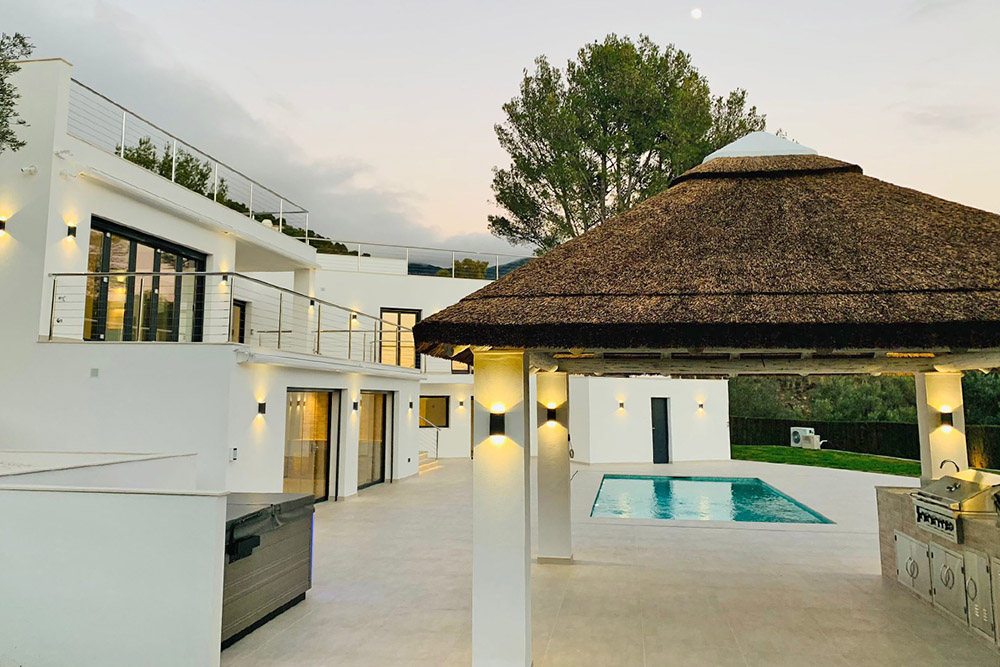 Simple Timber Gazebo
Whether it be poolside, lakeside, beachside or even just the garden, a timber gazebo offers simple and classic shelter from the elements that allow you to include proper drainage and guttering. Whether you go a high open pitched roof to allow more air to pass through in a large space, or a simple closed pergola like structure that is less imposing and therefore better suited to smaller areas – they allow a simple, low maintenance space to escape from the sun and rain. Of course, you can go any kind of roofing that suits your home, but are a fantastic addition to your garden or swimming pool area.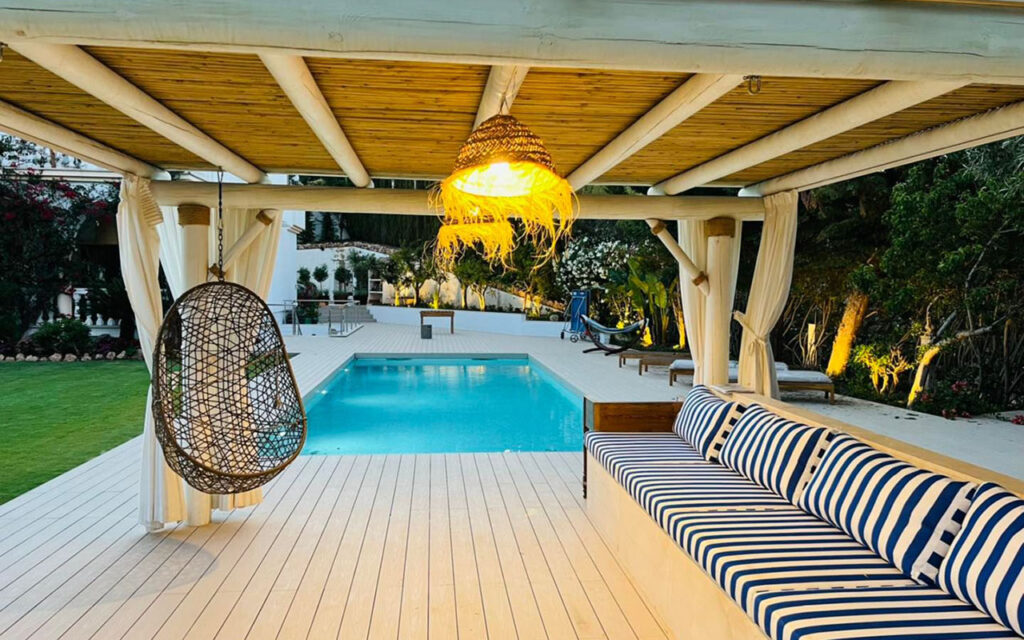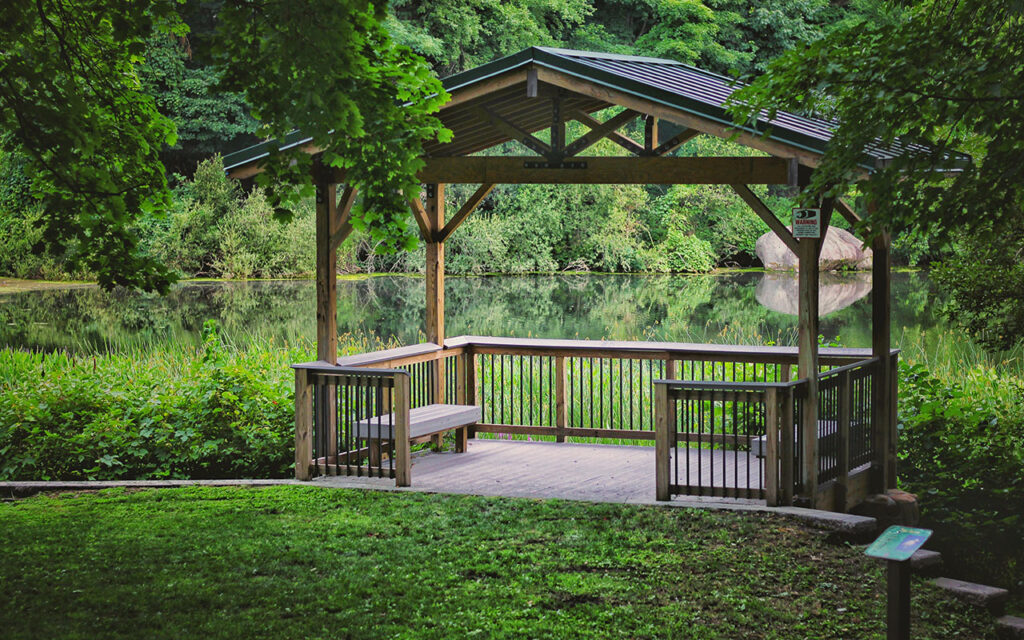 Timber Pergola
If you want the option to open the area to get the sun, and rain is not such a concern, a pergola may be what is better suited for you. While usually built in timber, they can also be done in long lasting metal that requires less maintenance and offers a more modern look. The benefit of pergolas is that they create a frame for you to accessorise and use the space however you´d like- whether it be a classic romantic setting, relaxed chill out with built in sofas to complement your garden or swimming pool, outdoor kitchen, bar or dinning space.
You can then create shade with deciduous plants or vines, or simply by attaching a cloth or custom-built shading device to the structure. There is also the option of integrating operable louvre shading into the frame so that you can choose whether it is closed protecting from both the sun and rain, or open allowing it to breathe and receive sunshine- making it fully adjustable in an instant. Either way, you can decorate these for any style and are certainly the most adaptable of the gazebo and pergola options.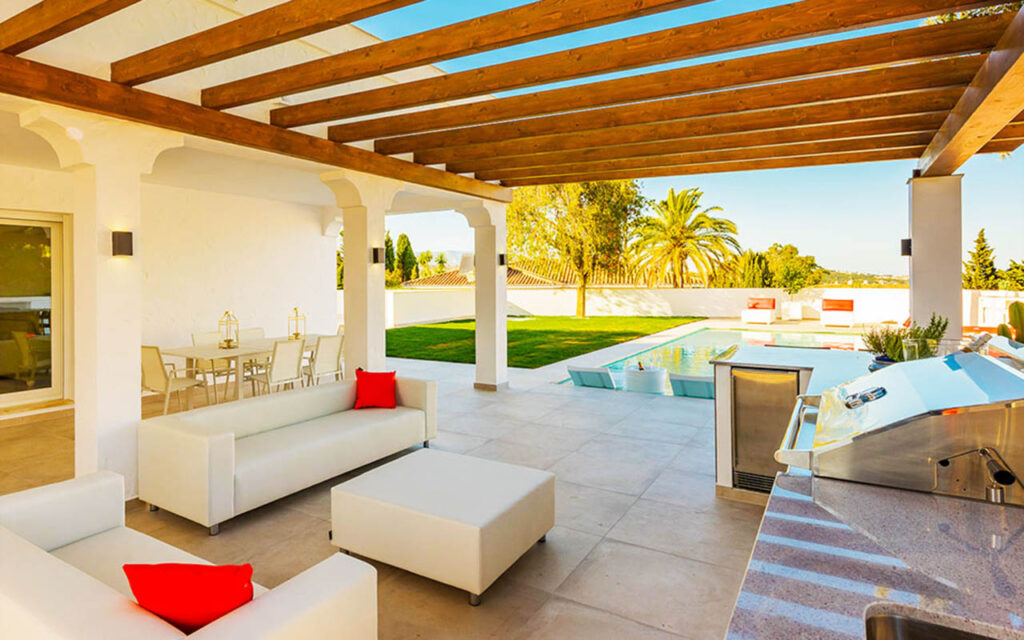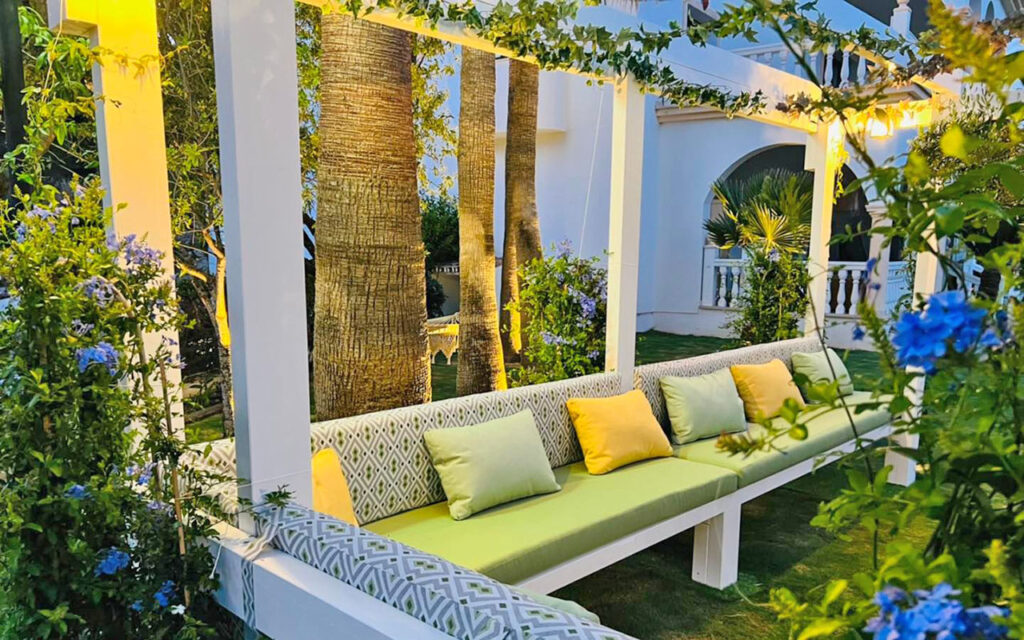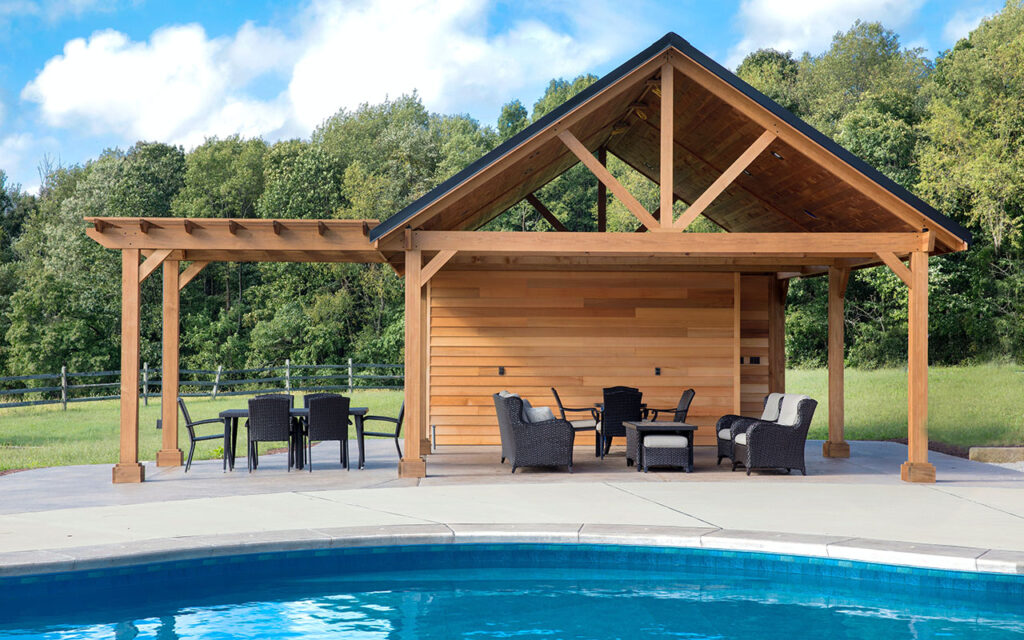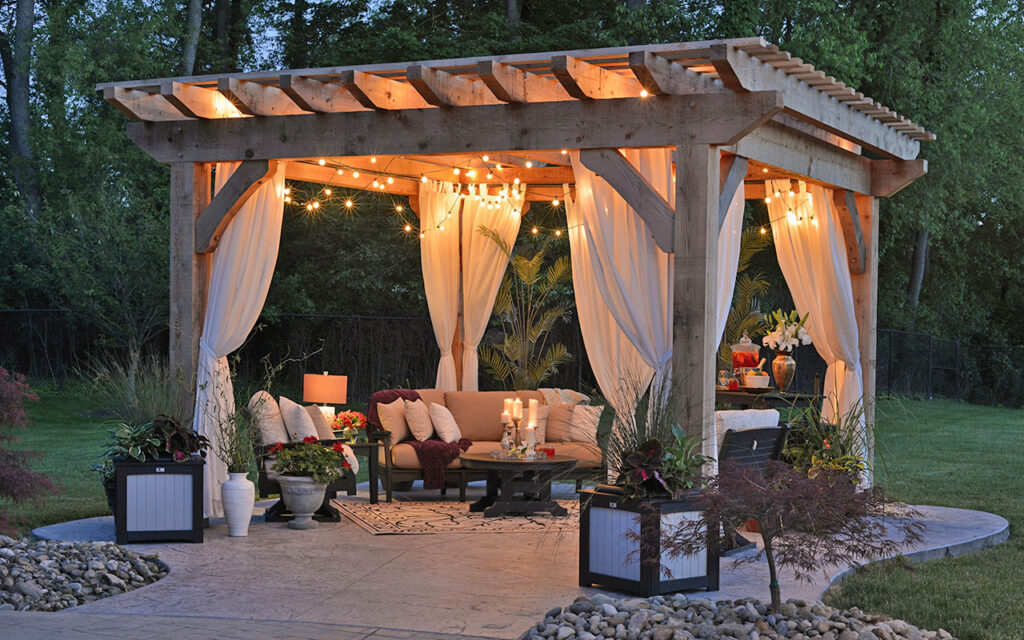 Heritage style gazebo
If the modern or island look is not so much your style as classic heritage, then perhaps this one calls to your heart. Whether made by timber or metal elements, these tend to be round or hexagonal shape with details around the edges and some kind of decorative roofing. These offer a delicate feature that create the feeling of culture to a lovely garden or natural environment. Of course, these will be suited to public parks, or various kinds of heritage homes. Although they would look a little strange in a modern villa, they certainly have their place in the gazebo world.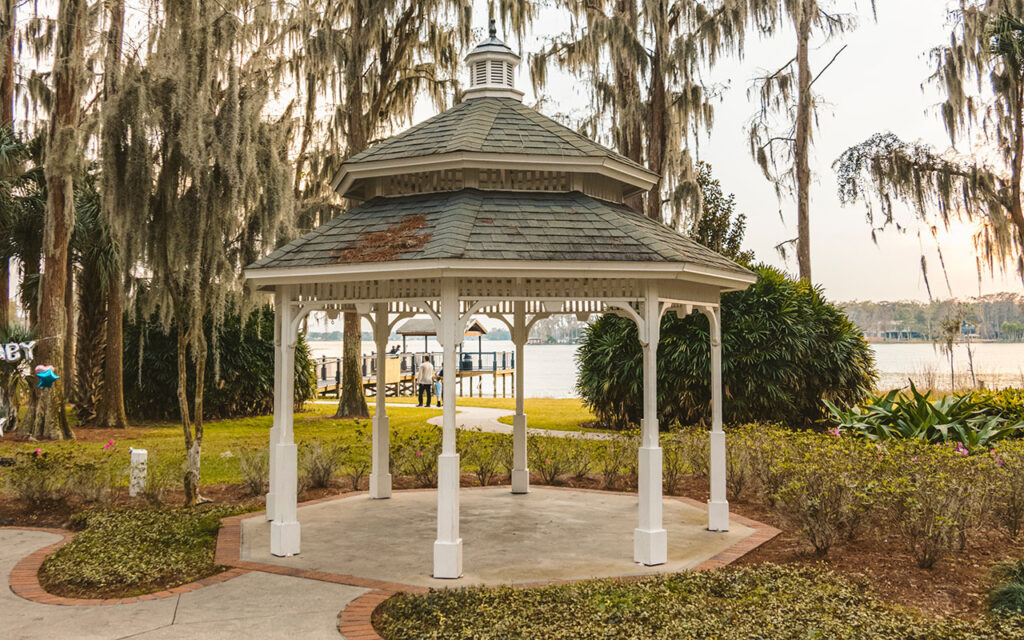 Finding the right gazebo or pergola for you
Depending on your level of time and budget some gazeboos or pergolas can be found pre-fabricated from your local hardware store. Although of course, if you want one that is customised or built more sturdily you´d better look for a qualified builder or specialist in your area.
Here at ProMas Construction and Design, we know the best materials and designs that suit life here in Marbella, Mijas, Benahavís and surrounds. We advise you on what will best suit your home and lifestyle, and create a custom design and build the right structure for your garden, swimming pool or terrace area.