Photo by StefPhoto by Cloris Ying on Unsplash
Our last blog explored the most popular high-end restaurants in the wonderful town of Marbella. This blog provides a sneak peak at 10 other good food options speckled around this lovely place. Many are located in the restaurant cluster between Marbella Centro Historico and Paseo Maritimo, that has developed a vibrant dining culture among locals and visitors alike. Whether it be in this zone, the pine coated suburb of Elviria, the old town centre, or the sandy beaches somewhere in between, here are 10 of the best quality restaurants recommended by foodies in our favourite Spanish town. Wherever you plan to eat- don´t forget to call ahead to see if reservations are possible and secure a good table!
1. La Tienda Casa Curro, Marbella Old Town– A small boutique gourmet food and wine bar located in the old town centre, La Tienda is known for exquisite food and wine, knowledgeable staff and it´s stylish roof top terrace. Tastefully decorated in contemporary rustic décor, it´s a local favourite for indulgence of fine classic foods.
2. Hacienda Patagonic Tapas Grill, Marbella – If you´re looking for a meat tapas bar, this is known to be the best value and atmosphere in Marbella.
3. Casa Blanca, Parque Alameda Marbella – Located near the Parque Alameda leading to the paseo maritimo, this tile fronted tapas bar offers awesome experimental and traditional tapas and full meals in the centre of Marbella, with great service and smiles.
4. Ta-Kumi Restaurante Japonés, Marbella– This Japanese restaurant on the beach side of Marbella offers fantastic food and service in typical décor. With a Michelin star, Trip Advisor´s Traveller´s choice award in 2021, this is an absolute must visit for all who love Japanese or oriental food.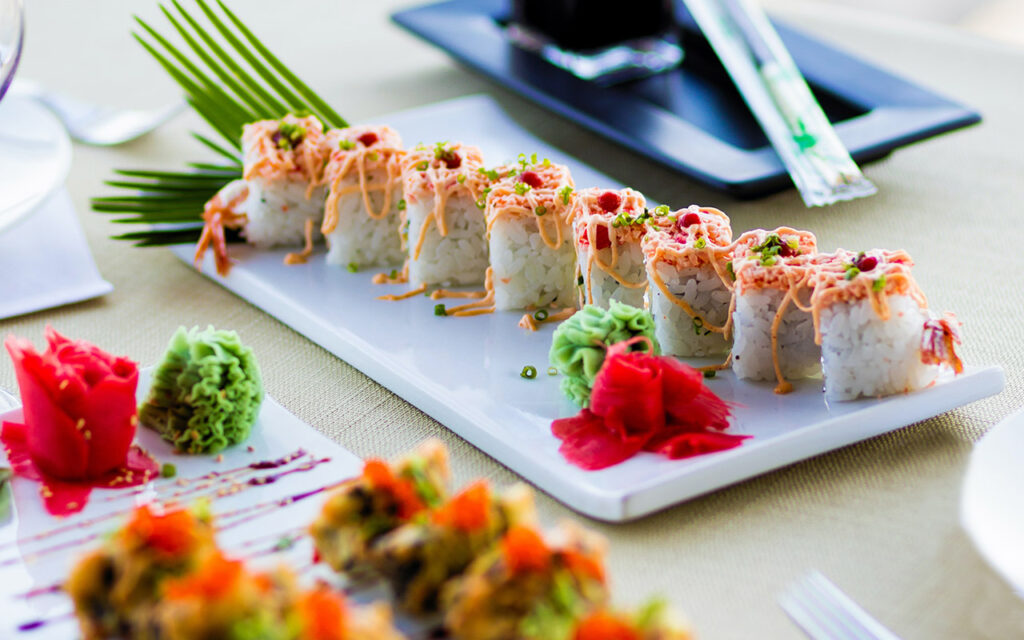 5. Origen Asador Argentino, Marbella– This cosy restaurant is a must stop for meat lovers and has absolutely raving reviews for fantastic food and service, including salads, tapas, seafood and quality steak. With friendly staff, modern decoration and delicious selection of a good variety of cuisine, you´re sure to be satisfied.
6. Restaurante Taberna Gaspar, Marbella– An authentic Spanish experience in the heart of the Marbella restaurant district. This small stylishly decorated Mediterranean restaurant offers excellent local dishes and good servings.
7. Sidrería Usategui, Mirador of Marbella– This traditional northern Spanish restaurant west of La Cañada, offers a fantastic selection of meat and fish dishes from the region of Navarra. Worth a visit if you want to try delicious authentic food from this popular regional cuisine.
8. Cascada Cocina and Bar, Mirador of Marbella – Behind La Cañada you will find this true hidden gem restaurant set in the stunningly peaceful garden and chic bar setting. With excellent modern Spanish food, meat dishes and cocktails, this wonderful place has won the Trip Advisor Traveller´s choice award in 2021 and is worth a visit, especially for outdoor dining.
9. Trocadero Arena, Rio Real Beach– Excellent high-end cuisine in a stylish beach-side setting. With it´s elegant safari accented design, it is the highest rated of the Trocadero restaurants, especially loved for it´s sushi and seafood options, and sometimes has live music.
10. Fujiumi, Elviria Plaza – This small Japanese restaurant is located in the central plaza of Elviria, offers a fantastic al fresco ambience and incredible fresh food. With raving foodie reviews, it´s a more relaxed place to eat quality Japanese outside of the centre.
So that top´s off our list of 10 foodie recommended restaurants in Marbella- though there are plenty plenty more to explore. We hope that you find it helpful when exploring the many wonderful eateries in this cosmopolitan seaside town.