A stylish and luxurious bedroom is the epitome of comfort, relaxation, and sophistication. Whether you are designing a master suite or a guest bedroom, incorporating high-end features can transform an ordinary space into a haven of elegance and tranquillity. If you're looking to create an elegant bedroom that embodies the luxurious lifestyle of the Costa del Sol, you've come to the right place. In this blog post, we explore the top features of a classy bedroom that will elevate your living experience- whatever your taste.
High-end Materials and Finishes
When it comes to creating a stylish bedroom, the choice of materials and finishes plays a pivotal role. Opt for opulent materials such as rich hardwood flooring, beautiful natural stone like travertine marble, quality porcelain ceramic, luxurious carpets, or plush rugs that exude warmth and comfort. You may also want to incorporate exquisite details like marble countertops, custom cabinetry, or decorative mouldings that add extra elegance and sophistication.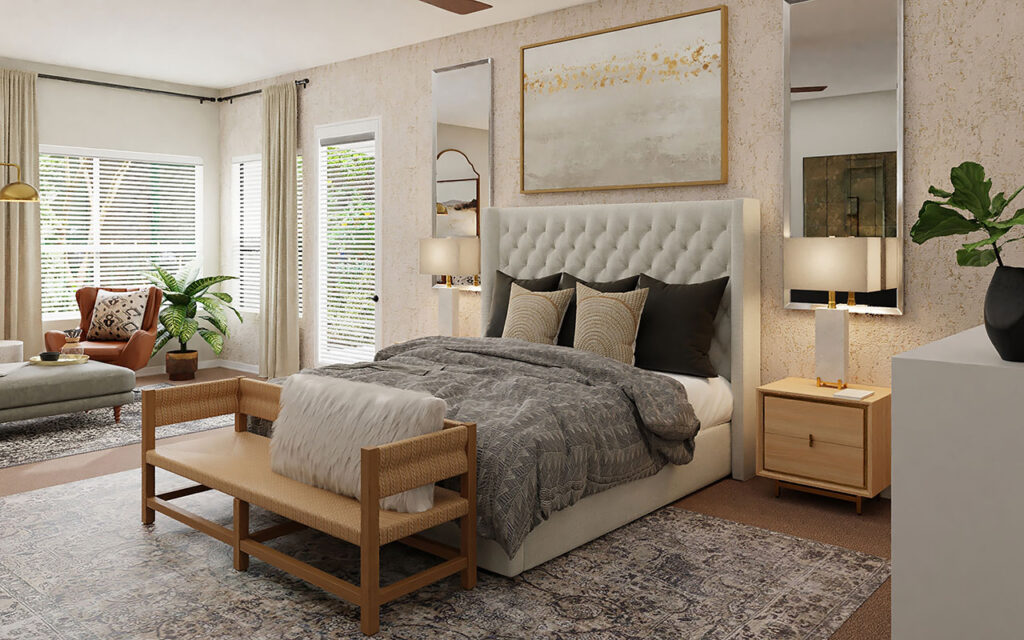 Sumptuous Bedding and Linens
The bed is the centrepiece of any bedroom, and investing in lavish bedding and linens is essential for a deluxe touch. Choose high-quality, soft bedding made from premium materials like high thread count Egyptian cotton or silk. Select pillows and duvets that offer both support and grandeur. You may like to layer the bed with delicately chosen cushions, throws, and luxurious fabrics to create a cosy, glamorous and inviting atmosphere.
Ambient Lighting and Heating
Lighting also plays a crucial role in setting the atmosphere of any space. So to optimise both practicality and mood, incorporate a combination of ambient, task, and accent lighting to set the desired feeling. For that added personalisation, you can install dimmers to easily adjust the brightness and create a soft and intimate ambiance. Consider incorporating elegant chandeliers, stylish pendant lights, or sconces as focal points to enhance the visual appeal and add extra glamour to the space. Many of our top clients opt for built in enclosed fireplaces for that ultimate hygge effect, whether they be gas, timber or pellet operated. Alternatively, underfloor heating provides a lovely warmth for the coldest months.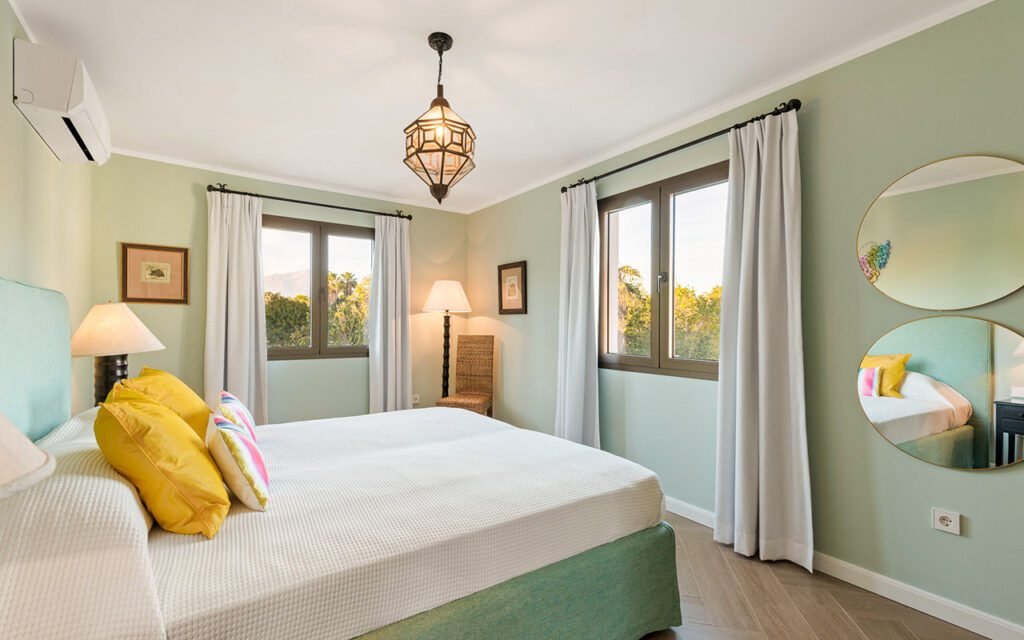 Customized Storage Solutions
A sophisticated bedroom should not only be visually appealing but also functional and well-organised. To optimise space, we recommend investing in bespoke storage solutions that also help to eliminate clutter for your particular needs. Where possible, consider built-in wardrobes, walk-in closets, or concealed storage compartments that offer ample space for clothing, accessories, and personal items. Sleek and modern cabinetry with custom inserts and organisers will ensure a seamless and organized bedroom that both impresses and delights every day.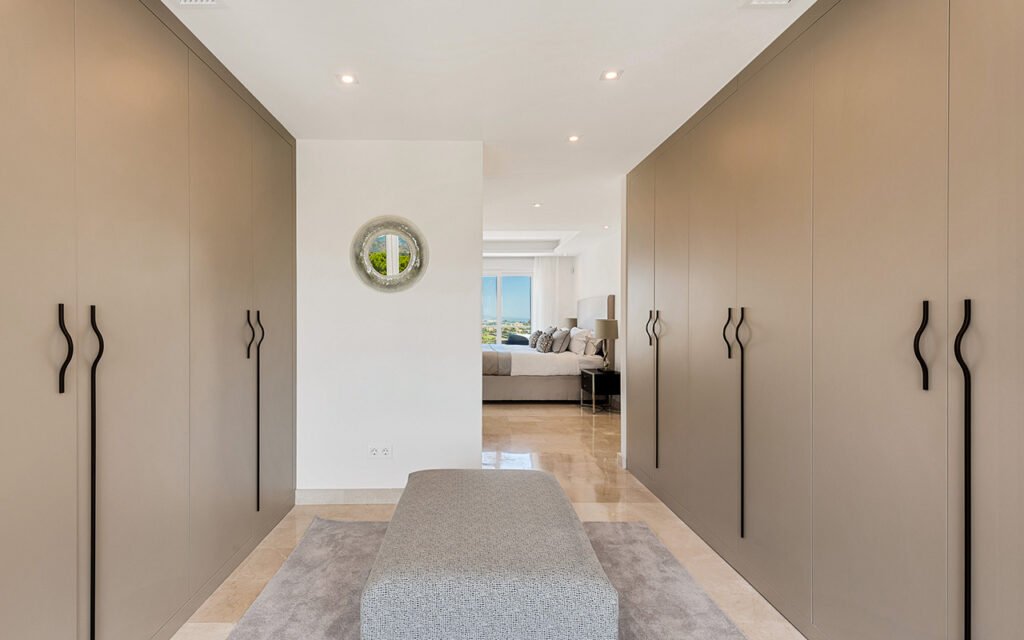 5. Statement Headboard, Artwork or Décor
You can make a statement in your bedroom with a tasteful and eye-catching, personalised artwork or headboard. Choose a headboard that complements your overall décor theme and reflects your personal flair- whether it be upholstered with luxurious fabrics, beautiful timber board, carved wooden designs, a decorative iron or tufted leather headboard- the sky is the limit here. Similarly, choose artwork that speaks to your taste and desired atmosphere, whether it's abstract paintings, framed photographs, or unique sculptures. You can also incorporate decorative accents, such as vases, candles, or decorative trays, that reflect your personal aesthetic and create a feeling of luxury.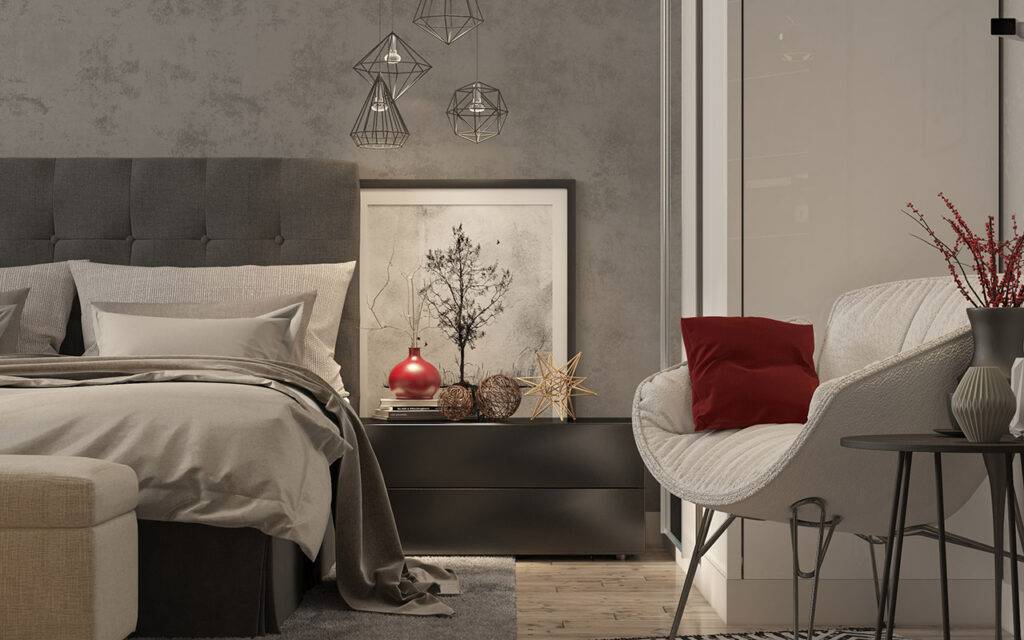 6. Elegant Window Treatments
You can further enhance the style and functionality of your bedroom with well-planned window treatments. Choose curtains or drapes made from sophisticated fabrics like silk or velvet, adding texture and elegance to the space. Where possible, combine blackout options for better sleep quality and privacy, with sheer curtains that optimise natural light and provide an airy feel. In Spain, it is common to have externally installed persiana blinds that allow you to keep both the heat and light out completely- so if you have those you only need to include the sheer blinds for privacy and breezy affect. In any case, classy window treatment will make a comfortable bedroom seem effortlessly inviting.
7. Luxurious Seating Areas
If you have the space, we recommend including a cosy and intimate seating area within your bedroom that enhances glamour, functionality and comfort. Where possible, incorporate sophisticated armchairs, chaise lounges, or a loveseat in premium fabrics. You may also add a coffee table or side table for convenience and place a plush rug underneath to define the space. This kind of seating area creates a private retreat within the bedroom, perfect for relaxation, reading, enjoying a morning coffee or nightcap.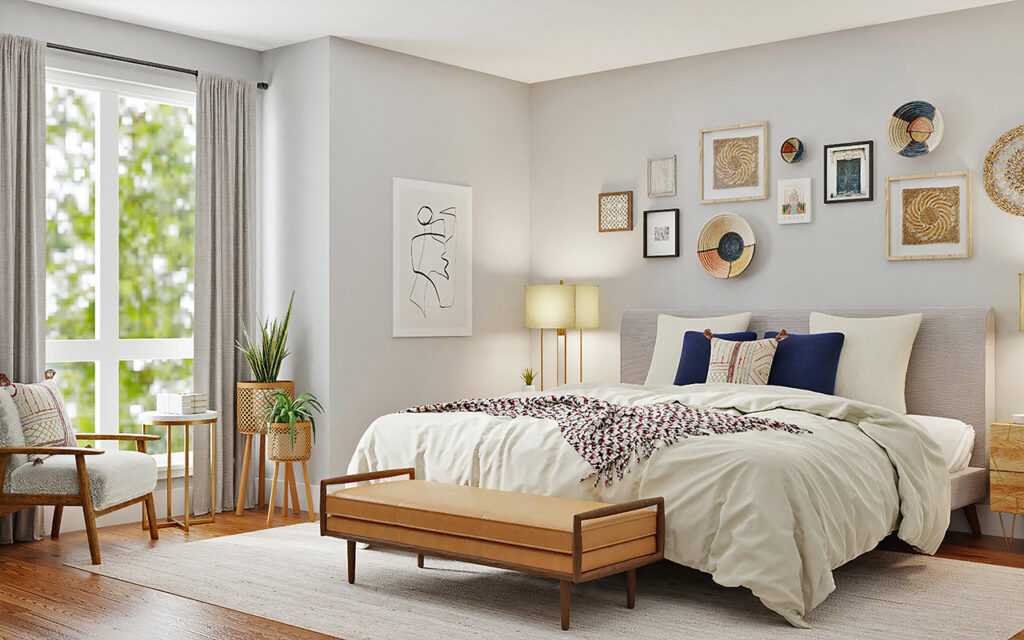 8. Smart Technology Integration
For the ultimate in bedroom luxury, embrace the convenience of smart technology. Why not incorporate smart lighting systems that can be controlled with ease, allowing you to adjust the lighting, heating or music to suit your mood. Consider motorized curtains or blinds that can be operated with a touch of a button, or install a sound system that fills the room with your favourite music. You may also want to include remotely operated underfloor heating or fireplace for that added winter comfort. This kind of smart technology adds a modern and luxurious touch to your bedroom, making living there that much more enjoyable.
9. Spa-like Ensuite Bathroom
A stylish bedroom often incorporates a spa like ensuite bathroom. Incorporating features such as a freestanding bathtub, walk-in rain shower, and double vanities with high-end fixtures helps to create your own luxury oasis. To help pass the winter in comfort, incorporate underfloor heating, towel warmers, and a built-in sound system for the ultimate indulgence. The ensuite bathroom should seamlessly flow from the bedroom, creating a cohesive and luxurious space leading to your own private spa.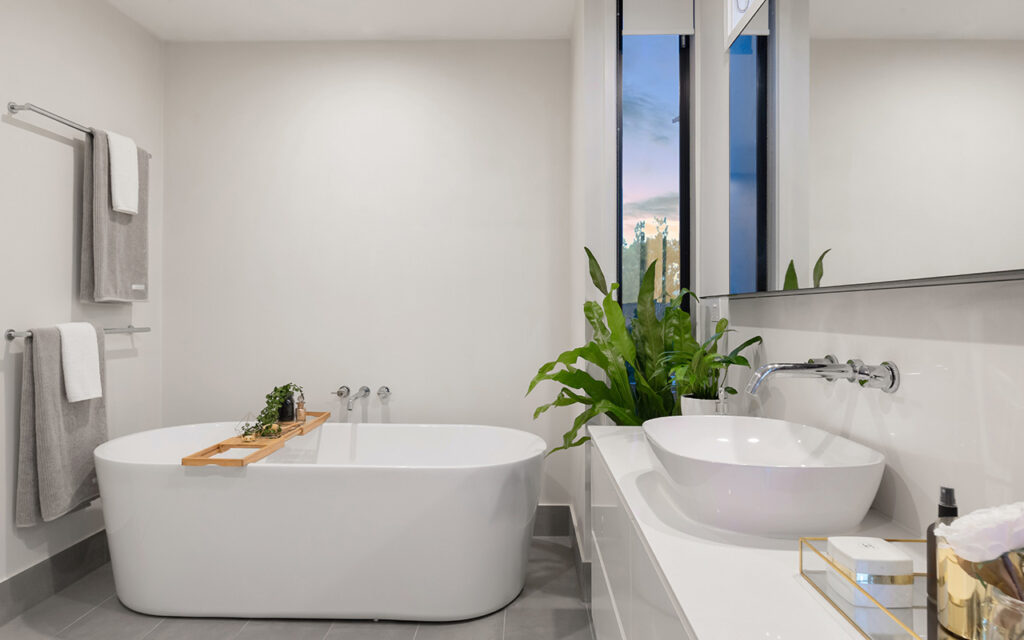 10. Built-in wardrobes and bars
The final characteristic of the most glamourous bedrooms are custom-built walk-in wardrobes, dressing rooms and mini-bars. All the most lavish homes have private mini bars in key bedrooms. In fact, these kinds of bedrooms are better known as suites, just like their hotel counterpart. These spaces should incorporate the same design elements and luxurious materials discussed above to carry the same level of opulence throughout the bedroom suite.
Creating your bedroom haven
Designing the ultimate stylish bedroom in the Costa del Sol is all about embracing lavishness, comfort, and sophistication. By incorporating these top features, you can transform your bedroom into an elegant sanctuary where you can relax, recharge, and experience the epitome of luxury living. If you are considering a quality renovation here in Marbella or Mijas, we´d love to hear from you to see how we can help you. Our talented team can design, manage and undertake the whole process from idea to plans, permits, interior designs, materials and fit out so your entire project will run seamlessly.