Lighting is a crucial element in any stylish home, potentially transforming spaces into inviting, functional, and visually stunning environments. It follows that choosing and planning lights is key in creating the perfect combination of functionality and prestige. It is particularly important in the planning stage of your home design or renovation so that you have it all fixtures incorporated into the building design, eliminating the need for clumsy cords or installing fixtures after the fact.
In this blog, we'll share top tips for choosing stylish and functional lighting that both enhances the aesthetic appeal and makes using your home that much more effortless.
Embrace Natural Light
The first step in any lighting plan is to maximise the use of natural light. Large windows, strategically placed skylights, and glass doors can flood your space with soft, inviting daylight, creating an open and airy feel. This not only reduces the need for artificial lighting during the day but also showcases the natural beauty of the surrounding environment. More importantly, it is proven to be better for your mental health, as well as overall health and wellbeing- so this is the number one pointer when it comes to general home design and lighting.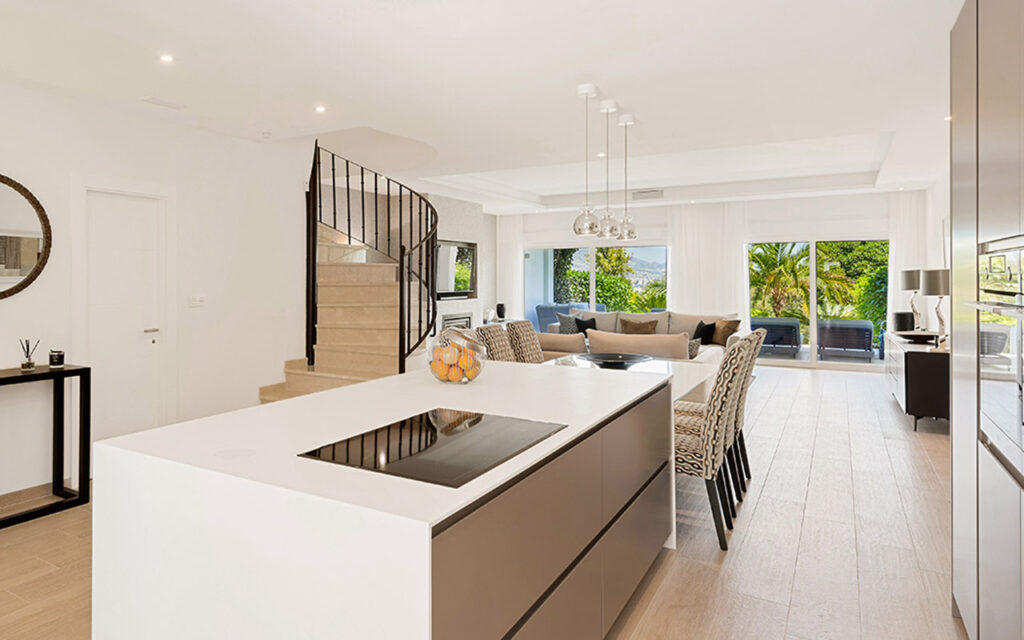 Layer Your Lighting
Now to optimise your lighting options, you should aim for a harmonious balance by incorporating different layers of lighting, including:
Ambient Lighting – provides overall illumination and sets the tone for your space. It is best achieved using elegant chandeliers, stylish pendant lights, feature lighting or recessed fixtures that add a touch of sophistication and showcase your unique flair.
Task Lighting – focuses on specific areas where activities like reading, cooking, or working take place. Excellent practical options include under-cabinet lights in the kitchen, table lamps, pendant workspace lighting, and adjustable wall sconces that make specific tasks that much more comfortable.
Accent Lighting – highlights architectural features, artwork, or specific objects. Well-placed spotlights or track lighting can also create dramatic focal points.
Sometimes decorative lighting is considered its own category, however it is best that all lights are chosen to also contribute to one of the purposes above.
Consider the Architecture
Take into account the architectural style of your home when selecting light fixtures. For instance, if your residence exudes a Mediterranean flair with arches and terracotta accents (which is common here charming Costa del Sol homes) opt for fixtures that complement this aesthetic. Clean lines and modern fixtures may better suit a contemporary villa, while beach club style wicker lamps are also popular in modern homes and around pool areas. Alternatively, traditional stain glass style lamps or Moroccan filigree lanterns might suit more rustic style homes.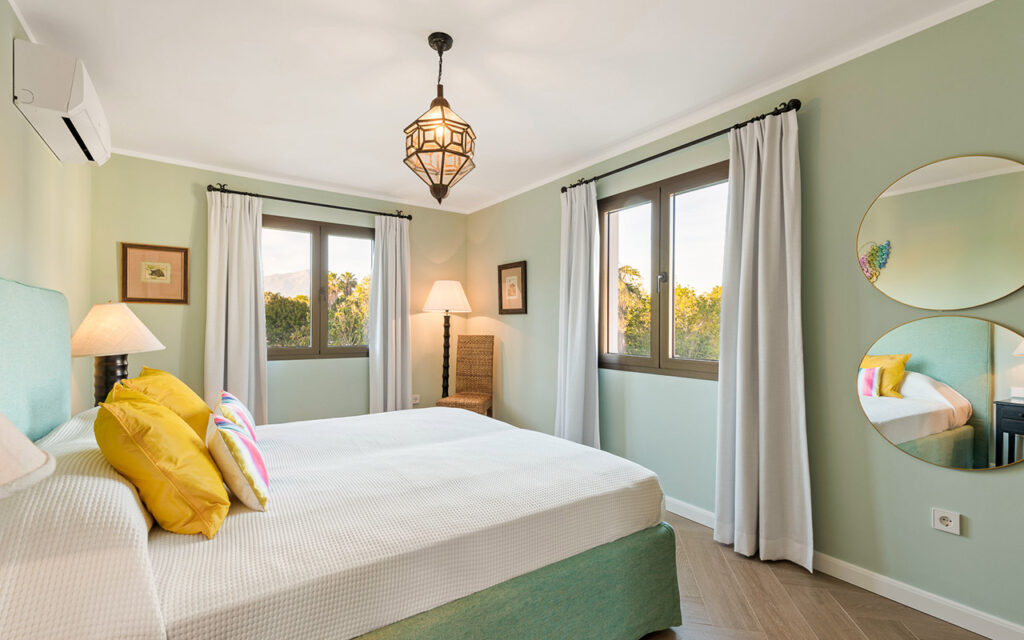 Use Dimmers for Flexibility
Installing dimmer switches allows you to adjust the intensity of the light, providing flexibility to create different moods and atmospheres. This is particularly valuable in spaces where versatility is key, such as dining rooms and living areas.
There are three main ways to install dimmer lights here on the Costa del Sol. The first is by using smart hue lights that can be voice commanded and automated (discussed below). Secondly, if you are happy to control by a remote for the particular light, you can purchase one of the many options of lights that is adjustable in itself, either by remote or some kind of dial or switch. The final option is to install a dimmer from within electrical installations that allows you to adjust the level from your light switch. Note that with this option, only lights that are compatible with standard lightbulbs will work (not led lights), so there are less available models to choose from in this kind, but has the benefit of not needing an app or remote to adjust.
Prioritize Energy Efficiency
Where possible, opt for LED bulbs and fixtures to enhance energy efficiency. Not only do they last longer, but they also consume significantly less power compared to traditional incandescent or fluorescent lighting. This choice not only aligns with sustainable living but also reduces long-term operational costs.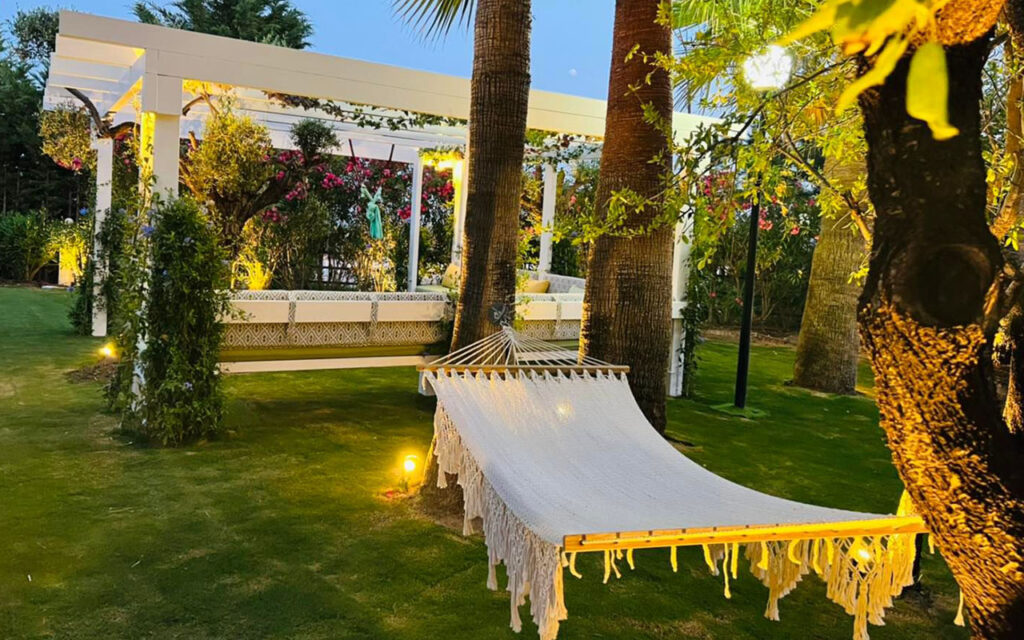 6. Carefully chosen Exterior Lighting
Especially here on the Costa del Sol, the importance of outdoor lighting cannot be understated. Firstly, incorporating chic lighting in your outdoor living or pool area is crucial to effortlessly enjoying these key lifestyle spaces on a lovely balmy night. A well-chosen pendant, lantern or other decorative light will also help set a mood and create a sophisticated ambiance any time of the day. Of course, there are fairy lights and all kind of lanterns that you use after the fact, but it is not the same to have cords and little switches that will wear and break, as having stylish lighting installed year on year.
You can also enhance the curb appeal of your high-end property, by incorporating exterior lighting. This not only ensures safety and security but also showcases the architectural splendour of your home after sunset. Pathway lights, highlight uplighting for trees, stylish pool lighting and well-placed wall-mounted fixtures can work wonders and make the outdoors that much more inviting and easier to access.
7. Automated smart lights
As with all smart options, it is becoming increasingly easy to automate lighting in your home. For those lights that you would like automated, you just need to buy smart globes, such as Phillips Hue, TP-Link's Kasa Smart or LIFX, then it is just a matter of downloading the app for that brand and adjusting it from there. All of these apps allow you to select which lights you would like switched on with a specific trigger, for example, a particular time or when you approach your home. For many models, you can also choose the colour, tone and intensity of the light when it turns on.
Other options are controlling your lights from an Amazon Alexa, Google Home or Apple TV or Homepad, or various other hub systems, also using those smart lightbulbs. When choosing the system, think about how you want to create commands, using one of the home systems if you would like to be able to control everything in one spot, and by voice without needing to touch a device.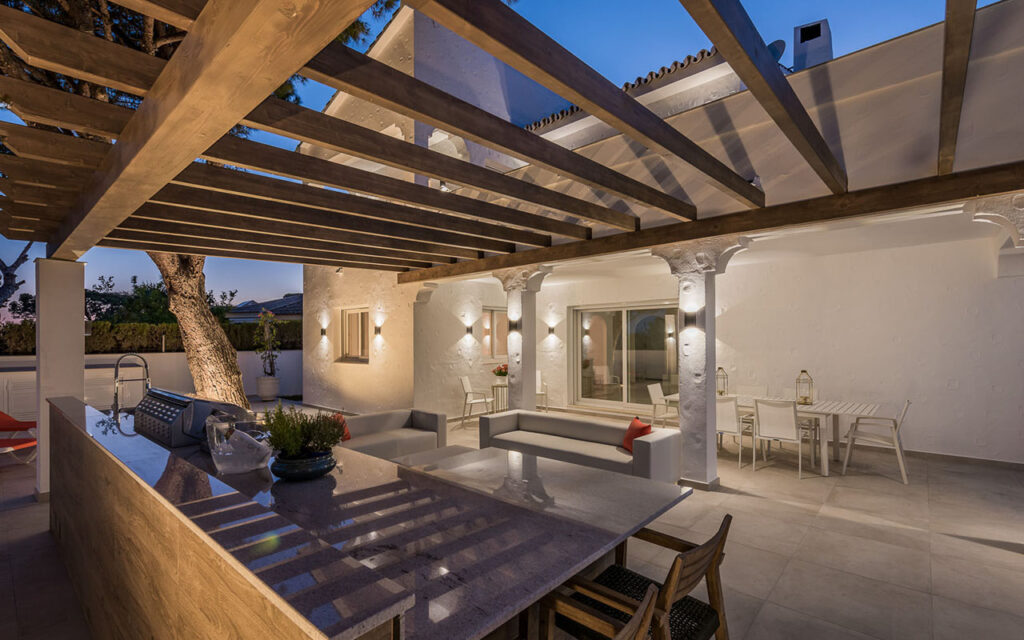 8. Seek Professional Advice
Consulting with a lighting designer or an interior designer with expertise in high-end properties can provide invaluable insights. Their experience can help you select fixtures that not only elevate your space but also align with your personal taste and lifestyle and they also know the best places to source materials, making the process much smoother and quicker.
Lighting your home
In Mijas, Marbella, and Benahavís, where luxury meets natural beauty, crafting the perfect lighting plan is a key element in creating a truly remarkable home. By embracing natural light, layering your lighting, considering architectural styles, including outdoor lighting, prioritizing energy efficiency, and including automated lighting, you can transform your home into a captivating oasis.
Remember, seeking professional advice can be a game-changer in ensuring that your high-end home shines in all its glory, both day and night. For those of you here on the Costa del Sol, you need not look any further than our experienced construction and design team here in Marbella that can do all the planning, sourcing, fit out and furnishings for you from start to finish.