The bathroom is not just a functional space; it is a sanctuary where you can escape the stresses of the day and indulge in unwinding and relaxing. If you´d like a regal bathing experience fit for a king, then it's time to transform your bathroom into your own luxurious haven. In this blog post, we explore exquisite bathroom ideas that will help you create a space where you can unwind, rejuvenate, and pamper yourself like royalty.
Soothing Colour Palette
Create a calming and serene atmosphere by opting for a soothing colour palette. Choose neutral tones like soft creams, warm greys, or tranquil blues. These colours evoke a sense of relaxation and allow you to immerse yourself in a peaceful oasis. They also create the perfect backdrop for your unique taste in decoration further down the track. Consider incorporating luxurious touches like marble or granite countertops, elegant tiling, and gilded accents to add a touch of opulence.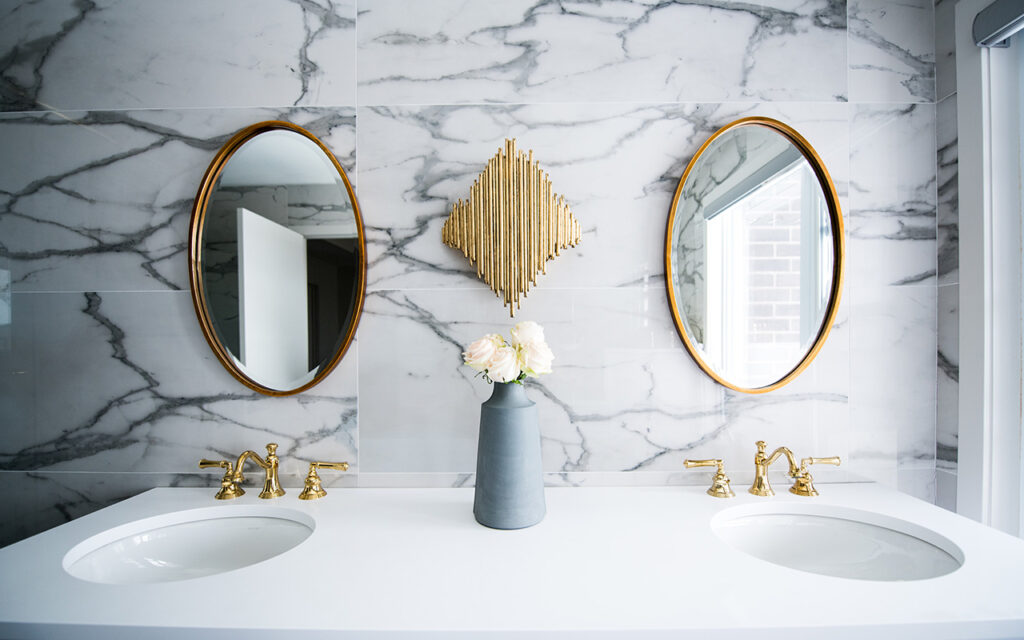 Spa-Inspired Shower
Transform your shower into a spa-like retreat by incorporating luxurious features. In the first instance, you want a large shower space, with natural ventilation looking into a luscious private space where possible. But to push any shower up to the next level, install a rainfall showerhead that provides a gentle cascade of water, simulating a soothing rainfall experience- that you may want to complement with natural pebble mosaic floor. Consider adding multiple showerheads, such as handheld sprayers or body jets, for a customized and indulgent bathing experience. You can also enhance the ambiance with LED lighting or built-in speakers to create a sensory escape.
Statement Bathtub
No king-like bathroom would be complete without a statement bathtub. If you like the simplistic royal bathing experience, choose a freestanding tub that becomes the centrepiece of the space, evoking a sense of grandeur. For timeless finishes, you may choose to opt for materials like copper, marble, or stone to add that extra touch of luxury. Consider a whirlpool or air-jetted tub that provides a spa-like experience with massage jets for the ultimate relaxation.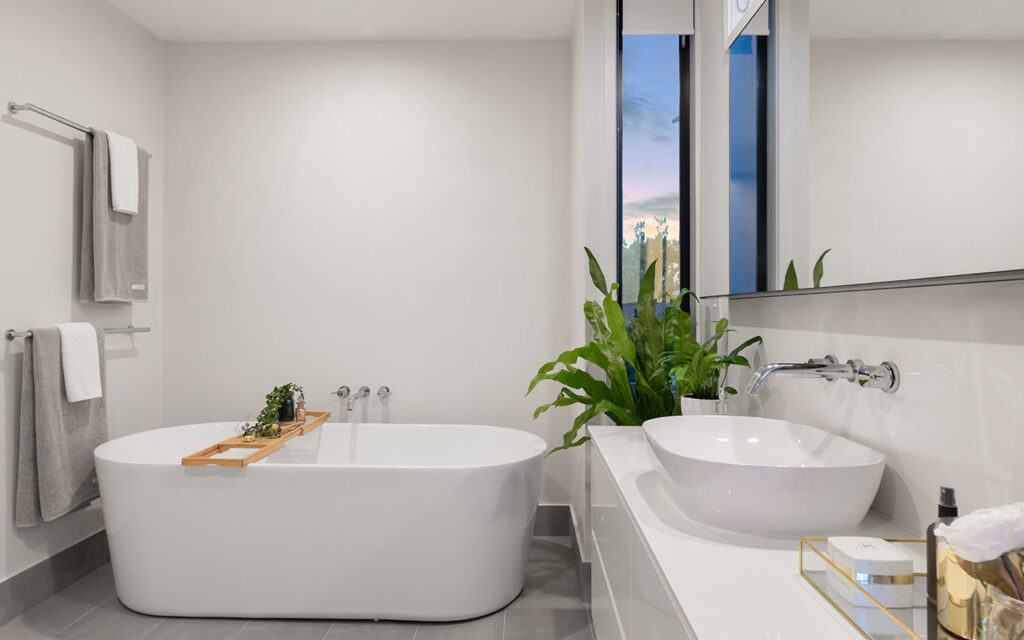 Underfloor Heating
Elevate your bathing experience by incorporating underfloor heating in your bathroom. Stepping onto a warm floor after a shower or bath adds an extra level of comfort and indulgence. With underfloor heating, you can enjoy a cozy and luxurious experience every time you enter your bathroom, especially during the colder months. Obviously, heated towel racks will further enhance the heated luxury too.
Ambient Lighting
Lighting plays a crucial role in creating a tranquil and relaxing atmosphere. For relaxing atmosphere, go with soft warm lights and lamps to allow you to bath in a dimly lit haven. If possible, incorporate ambient lighting options that allow you to adjust the brightness and colour temperature according to your mood. Install dimmers or smart lighting systems to create a soft and inviting glow, plus good bright lighting for when you need to get yourself ready before leaving the house. You may also consider adding illuminated mirrors, vanity lighting, or even chandeliers for that extra touch of elegance and sophistication.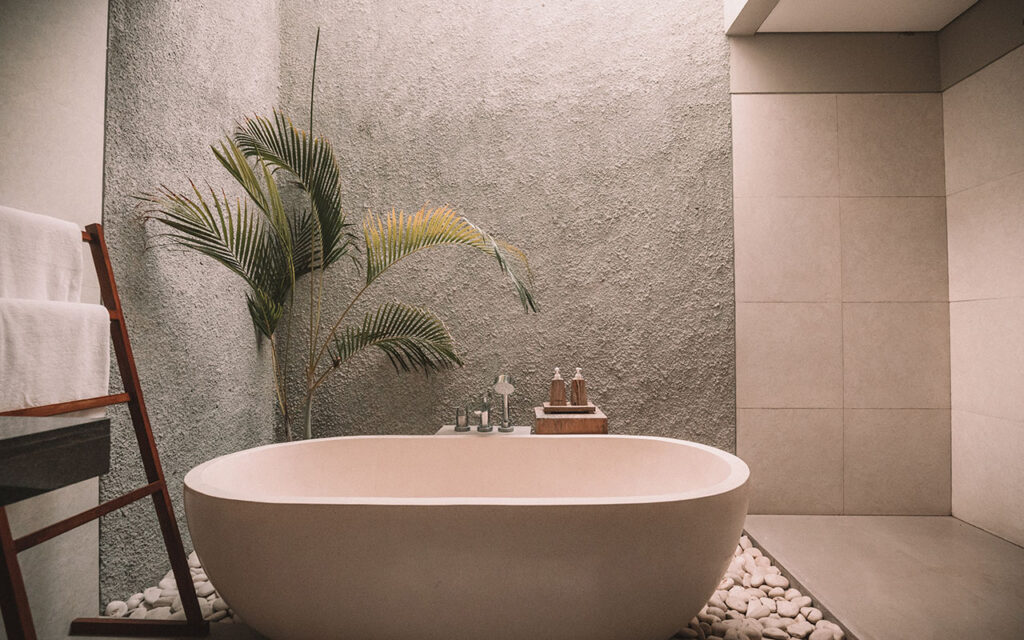 Luxurious Textures and Materials
Indulge your senses by incorporating luxurious textures and materials in your bathroom. Opt for plush, soft towels, bathrobes, and rugs that add an extra layer of comfort and luxury. As mentioned above, introducing natural materials such as marble, granite, or wood adds a sense of opulence and warmth. You can also include accents like gold or silver fixtures, crystal accessories, or decorative tiles to enhance the regal ambiance.
Smart Technology
Incorporate smart technology to further elevate your bathroom experience. Install a smart shower system that allows you to control water temperature, pressure, and even play your favourite music. You may also choose a smart mirror with built-in LED lighting, Bluetooth connectivity, and integrated voice assistants for a high-tech touch. Embracing this kind of technology can help to create a truly modern and convenient bathing environment.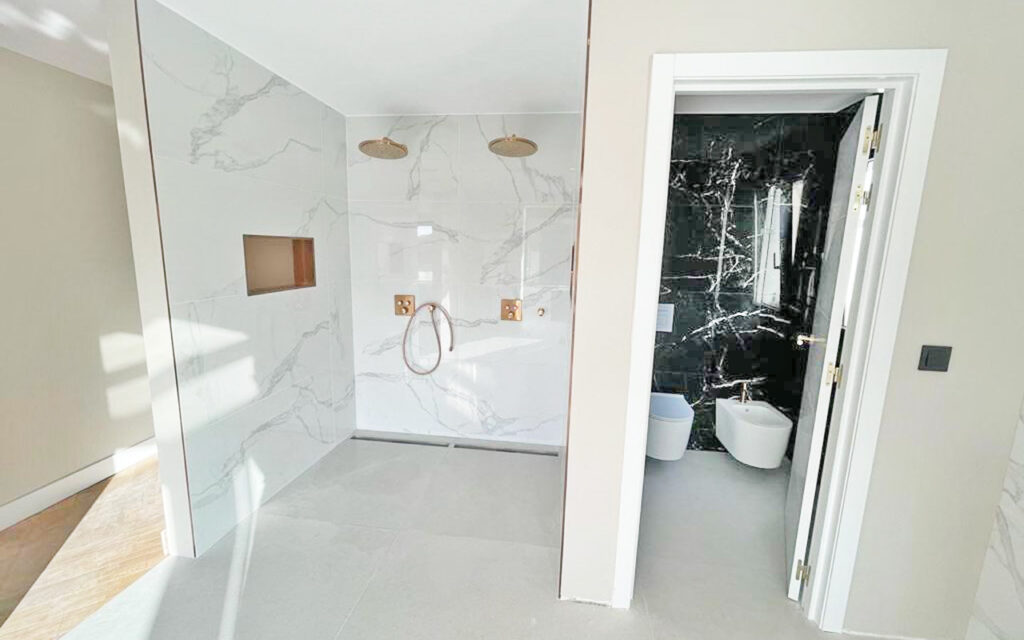 Creating a royal bathroom experience
Transforming your bathroom into a space fit for a king is all about preparing it for the ultimate indulgence, opulence, and relaxation. By incorporating soothing colour palettes, spa-inspired showers, statement bathtubs, underfloor heating, ambient lighting, luxurious textures and materials, and smart technology, you can create a bathroom that exudes regal elegance and offers a sanctuary for ultimate relaxation.
With these ideas, your bathroom can become a luxurious retreat where you can pamper yourself like royalty and escape the world's cares. If you are in the Costa del Sol, we´d love to hear from you to see how we can help you design, upgrade or build the ultimate bathroom sanctuary for you- whether it be just your bathroom or a bigger project that you have in mind.