When building or reforming a house, one of the biggest decisions you will make is which flooring to install. There are so many types and different installations and it´s hard to know which will suit your needs better. For the flooring rookie, we have put together a quick overview of the kinds of flooring options and a simple three step guide to choosing the right floors for you.
Introducing floor options
Natural materials
Classic natural materials like solid timber or stones such as marble, sandstone, quartz, granite, slate or travertine that have that extra sense of luxury, and never go out of style. Although marble isn't as popular as it once was, all types of stones still convey a sense of luxury and unique style and are popular in country or grand style homes. However, these natural options tend to be more expensive than manufactured versions, and often need polishing and ongoing maintenance so should be chosen carefully.
Ceramic options
Manufactured versions of porcelain ceramic materials are very strong, durable and cost effective, and many are almost indistinguishable from their natural versions- so are the growing trend in many parts of the world. Of course, tiles are also quite hardy alternatives to natural materials that are extremely practical and popular and come in all kinds of shapes, colours and affordable styles. Both tiles and porcelain ceramic materials are classified as eithers indoors (C1) and outdoors/antislip (C3), and some have C2 which is in between- so you can choose the right texture for the use. Many will be available in C1 and C3 so you can have the same floor style indoors and outdoors, just be aware that mops don't pass over C3 grade so smoothly.
Three step guide to choosing floors
In any case, there are few steps that we recommend to help you choose your floor:-
Choose your style
In all options, you can have timber, stone or modern effect- so the first thing to decide is what you like…. Look through magazines, pinterest, online and physical flooring stores to see the colours and patterns that appeal to you most, and fit with the style of your home.
Timber and stone looks are classic, but think carefully about how it will look with the furniture that you have in mind. Wood look has a distinctly Scandinavian or US country look and is clearly a modern international favourite. However, timber style floors should be carefully considered in relation to the furniture- you want to avoid too many different tones of timber, or clashing textures.
Deeper toned floors hide dirt and stains but also make the space darker so are not recommended for spaces that don´t have abundant natural light. Similarly, plain and matt floors without any patterns or textures will show every grain of dirt, especially if white or bright colours. These should be avoided in most places really!
Also think carefully about the size and shape of the pieces of floors that you like. Parquet floors, either with by real timber, or timber look patterned squares give a unique classic look. Polished concrete and similar looks are perfect for the modern industrial look if traditional is not your thing. Finally, Moorish or other patterned style tiles can create exotic spaces and are popular in the south of Spain for a touch of culture.
In short, take some time in choosing the right style that you will be happy to see every day, and make sure it works with the furniture that you have in mind. At ProMas Building, we work with each client´s individual taste in colours and style to find them the right floor for their space.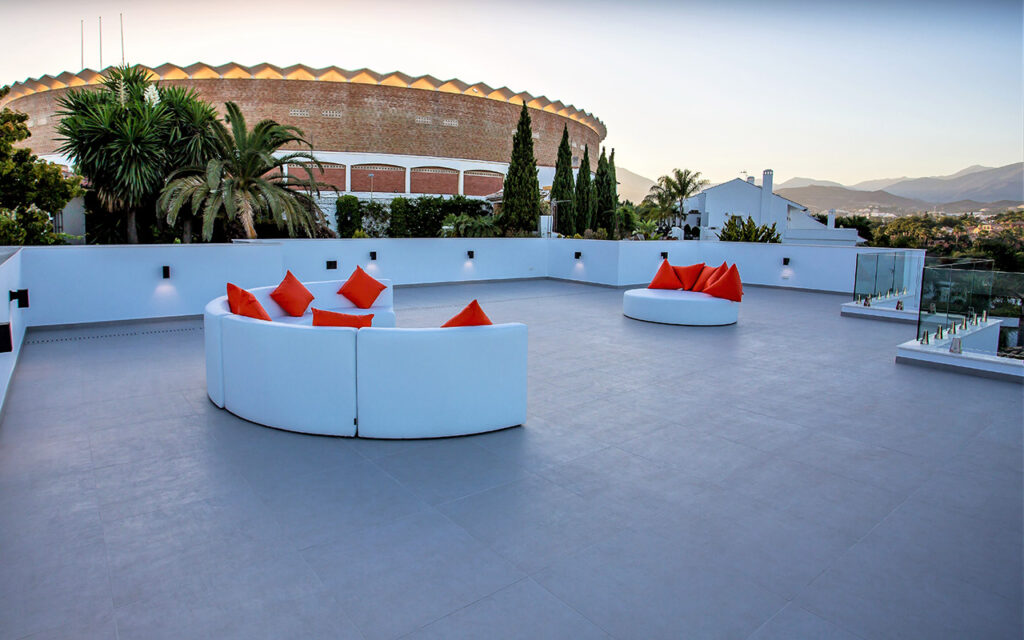 2. Choose your material
Now that you have your style clear, it´s time to go and look at the specific products on offer.
As stated above, while feeling more classy, natural materials are more expensive and have higher maintenance. On the flip side, a benefit of natural materials is that a polish and fresh coat of lacquer and it is as good as new, while most of the other materials need to be replaced once chipped or broken. Similarly, edges of timber and natural stone can simply be polished up to look beautiful, so there is no need to buy any special step or edge pieces, making it feel effortlessly luxurious.
Although timber floors are renowned for feeling the nicest on the bare foot, they don't handle so well with humid conditions or changes in temperatures, so are not ideal with underfloor heating.
Luckily nowdays, porcelain ceramic options in both of these styles are readily available. So it´s just a matter of finding a quality product that suits your taste- and checking whether they have matching skirting boards and step pieces to create that extra level of quality in the details. Go with ´fully body´ options if you´d like the ceramic to have the colour and texture throughout the flooring, rather than painted on the top layer that can be chipped off.
Another thing to look at is number of different patterns in each product- the cheapest might all have the exact same pattern or drawing, so it will look like you have the same tile layed out again and again- not a good look! The best materials will have at least 20 different patterns as well as a low variation gradient and high strength level. Look closely at these details to ensure an outcome that you can be proud of.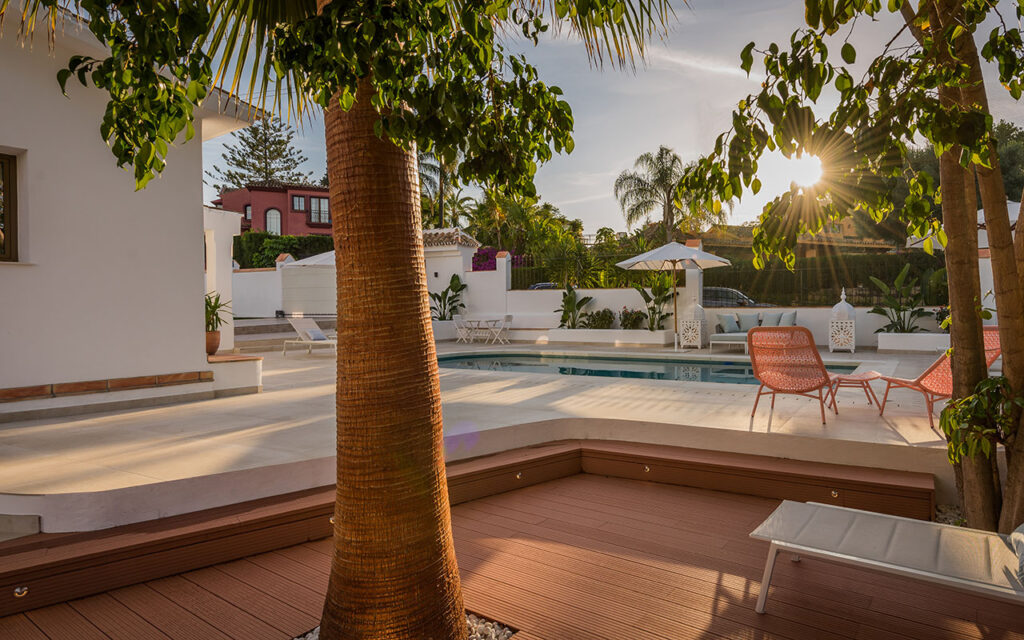 Large format one metre porcelain ceramic tiles, or half metre timber look tiles, are very popular in high end properties on the Costa del Sol, limiting the number of edges and therefore areas for movement and imperfection. These are best for large spaces to highlight the sense of space and class, and are popular among our clients.
With ProMas Building on the Costa del Sol, all this hard work is done for you and we will present you with proven quality options so that you don´t need to meddle in these technical details. Whatever floor you choose, it´s important to see it laid out on the floor or instore, because it looks very different in photos or looking at one piece than seeing it all laid out in the format that you´ve chosen. It´s also a good idea to bring a sample of any key timber furniture you have to ensure the tones work well together.
3. Choose the details
Now you might think that the decision making is done, but there are still important decisions to be made to make sure that you love your floor!
Attention has to be paid to your skirting boards (rodapies in Spanish), the ideal gap and grout tone to use between your tiles, stone or timber to minimise movement and maximise style. If laying rectangular formats, you need to choose the pattern that you want them laid out in- do you want them in a grid format, or offset/staggered in a brick style? Or would you like to go more arty with herringbone, pinwheel or more traditional country style like versailles? Another important element with timber type floors is the percentage of stagger (offset) across each line that is ideal for your style, space and material. This is where skilled tradesmen are so paramount.
Similarly, the steps that you use will make a big difference to how you feel walking around your home. For ceramic, there are special step (peldaños in Spanish) pieces that allow your steps to look stylish, but will come in limited sizes and textures. However, skilled tilers, like our ProMas technicians, can cut the tiles at 45°, join and polish step pieces and pool edges in 3 cm thickness so they feel effortlessly perfect in whatever ceramic option you like the most. Timber and stone can also be polished up perfectly.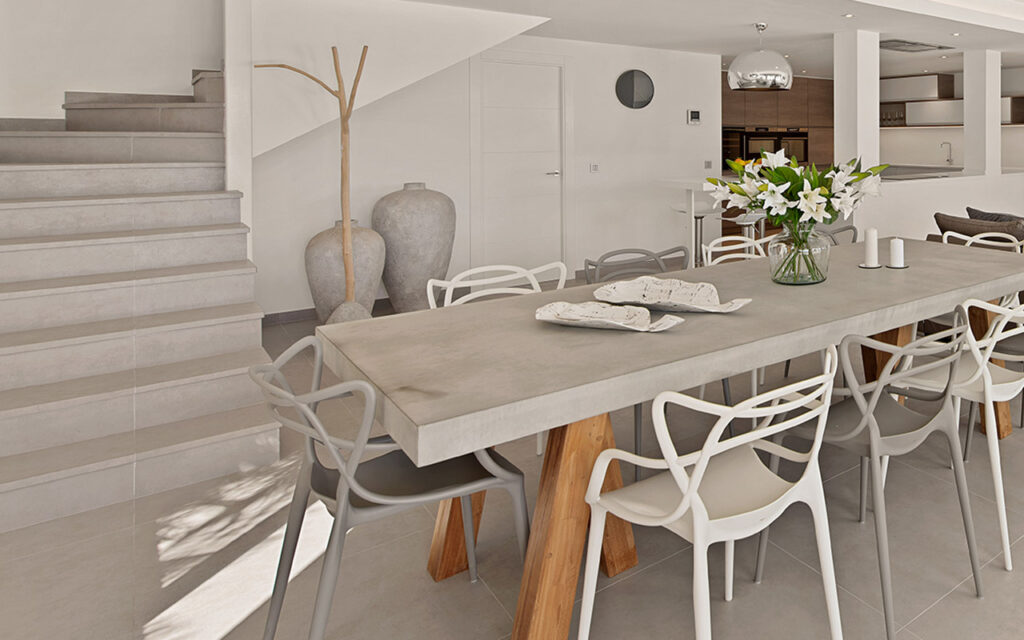 Choose the right builder
Finally, even the classiest floor won´t look perfect if not installed by skilled tradesman who pay attention to detail, make good decisions and know exactly what they are doing. Precision and skill is very important for perfect finishes in all building aspects so it´s important to see some finished works by your builder to be sure that they work to an acceptable standard.
If you´re in or around Marbella or Benahavís, the talented team at ProMas Building will happily work with you to choose the right floor and create the perfect space to suit your budget and style. We know the best products in the Costa del Sol, and will source the right product for your taste and needs, including offering 3d visualisations for the clients that choose. Then, our skilled technicians know exactly how to seamlessly lay and finish your floors so that you are delighted with the outcome.