When undertaking home renovations, lighting is often overlooked resulting in rushed decisions or regrets later on. It is important to consider the lighting elements in the planning phase to get electrical plans right before roofs and walls are finished.
That is why lighting planning is a key element in the design phase in all our building projects on the Costa del Sol. In fact, we always design and fit internal and external lighting to transform the look and feel of the home into a beautiful welcoming place. It is important to consider the uses of different spaces, for distinct needs and times of the day, and atmospheres that you want to create. Sharing our 20 years of experience, here are our key home lighting tips for homeowners.
1. Make a lighting plan
It is important to think properly about lighting while floor and electrical plans are being designed, so that you have all your electrics sorted at the right time (along with power sockets, internet, tv and security connections- although that is another story, of course). Look through all of your favourite furniture store catalogues, home design magazines and study all your favourite bars, restaurants and cafes to get inspired by what style and atmosphere you want to create with your lighting.
Also think carefully about where you´d like the controls for each light to be practical and intuitive, and the tone and level of light you´d like for different uses- bright lights are energising while softer warmer lights are sleep inducing so best in the evenings. Light bulbs should be bought in the right tone for the specific use of that light, and LED platforms or lightbulbs are preferable for better energy efficiency. Do research into the right voltage and tone for each individual use.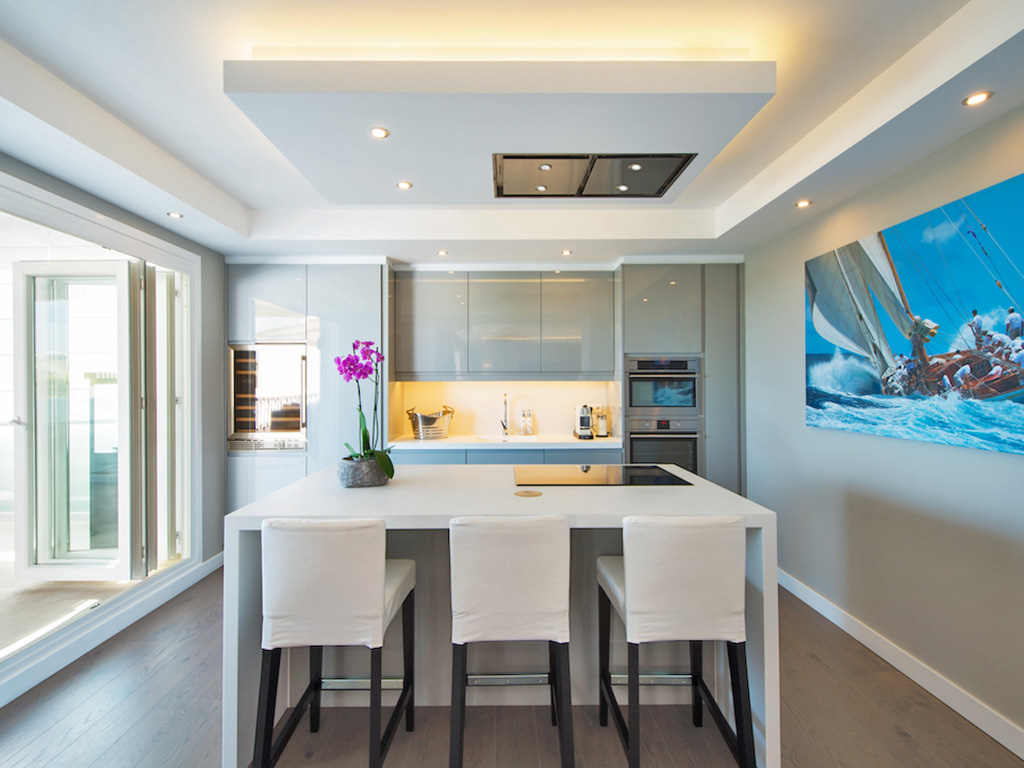 2. Combine direct and indirect lighting
The number one rule in lighting planning is creating lighting layers that provide flexibility in atmosphere and use- and that are also functional in your daily tasks. Direct lighting such as ceiling lights, recessed downlights, spotlights and pendants create concentrated light for a specific use or space, while indirect lighting bounces off the roof, wall or floor to create softer more even lighting, making the room seem larger. Subtle indirect lighting is also a clever way to light your way in the night.
Clusters of lights make a space feel cosy, but be careful only choose a few feature pieces to avoid an uncomfortably busy space, and make sure the style is consistent. At ProMas, we often use recessed lights in gallery ceilings to create simple consistent indirect lighting that suits all styles, combined with feature pendant lights where it´s suited.
3. Pendant lights for function and design
A browse through your favourite furniture design shop or magazine will leave you inspired by so many lovely pendant lights and styles. Not only do they provide direct light on a work area, but they also draw attention to and highlight the space, so pendant lights are often used over dining tables and kitchen islands to create atmosphere and a well-lit work space. Make sure you carefully consider the style and scale to ensure that the size it is proportional to the room and space- remembering that hanging pendant lights will give the illusion of height, but don´t usually work in transient areas.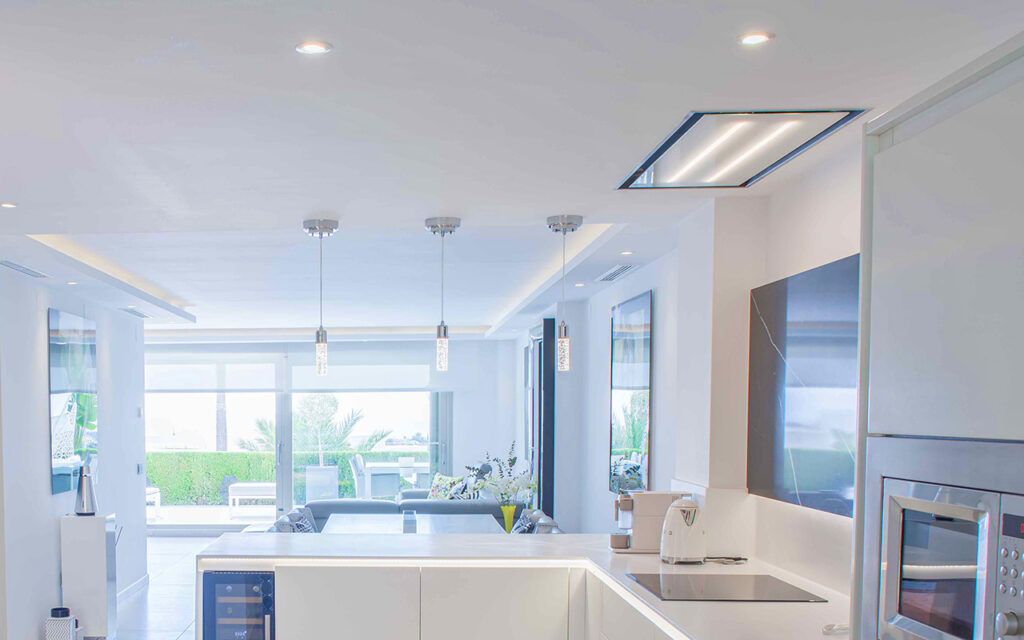 4. Choose Shades Wisely
Sometimes overlooked, different types of light shades create distinct types of lighting. While an opaque reflective material provides strong clean edges, semi-translucent provides a duller light, while woven materials produce patterned light that creates shadows on your walls, roof and space. These kinds of woven shaded lights can create a lovely atmosphere in bedrooms or living rooms for relaxing in the evenings. Similarly, lighter coloured lights make a space seem larger, while darker colours add a feeling of luxury and cosiness, and the use of colour creates interest and sets a tone for the space. Remember to match the shade into the style of your room and keep the colour and style of lights consistent in each room.
5. Wall lights to save space and create atmosphere
Wall lights, also known as sconces, are a simple way to create indirect lighting, or save space by eliminating the need for floor or table lamps. If you don't have false or gallery ceilings to create recessed lighting, upward facing wall sconces can create a stylish indirect light for living rooms, thereby offering lovely options for lighting, while up down lights provide a brighter version. Since sconces are more likely to be used at night, a warm toned bulb is recommendable and so is a dimmable installation to provide even more flexibility to create the right level of light for each particular moment.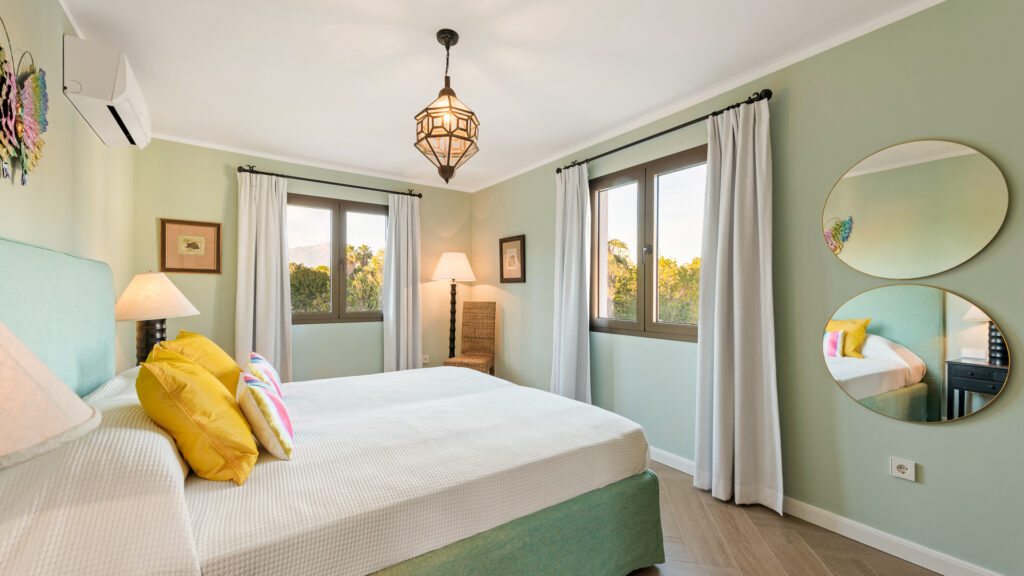 6. Planning Dimmable lights
On that note, installing dimmable light installations is another important element to consider. We always make wall lights dimmable so that our clients are in control of the ambience. Similarly, dinning room, reading and bedroom lights are also good ones to install dimmable. If you want a dimmable led platform, you should talk to a professional lighting shop beforehand because most are only regulable by their specific remote control or with smart lighting. As a general rule, it´s best to only include dimmable installations with lights that require bulbs- then you can also choose the warmth and strength of each individual bulb for the intended task.
7. Outdoor lighting
Outdoor lighting is probably the most overlooked element of light planning, and is key to enjoying your outside living space, especially on those lovely warm summer evenings. Up down lights are a great outdoor option, providing a lovely practical indirect light while creating a stylish visual affect on facades and pools. They should also be carefully planned to allow for flexible and practical use, and different levels of lighting to make outdoor living as practical as possible and without the need to run cables around afterwards. As with indoor evening lighting, we recommend warm lights to make the area inviting and relaxing.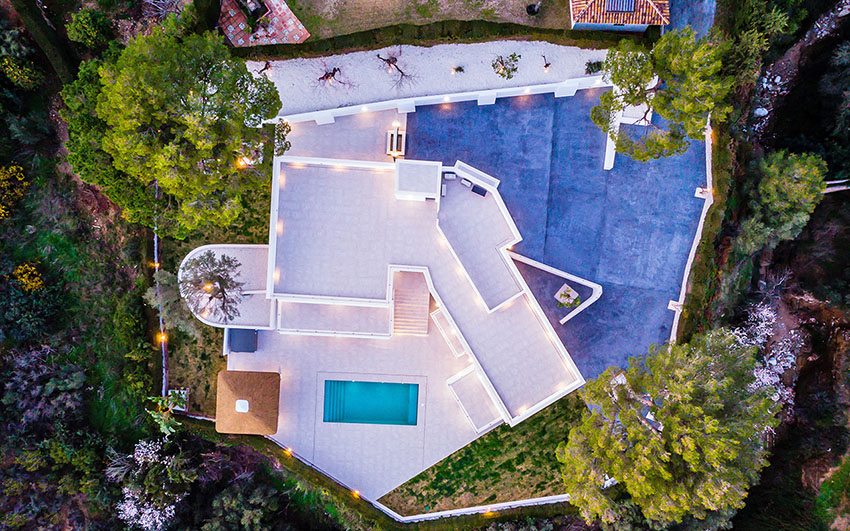 8. Highlighting objects
Highlighting objects allows you to show off your favourite assets: fireplaces, paintings, furniture, wall details, trees or pool elements. Using warm lighting to highlight or reflecting plants and to create a natural shade is a nice touch for outdoor lighting. Similarly, led lights under or inside kitchen cabinets provide practicality of use in the evening, and spotlights facing inwards draw attention to the table during dinner parties. Using spotlights or positioning lighting to highlight particular elements is a clever way to add elegance and class to a space.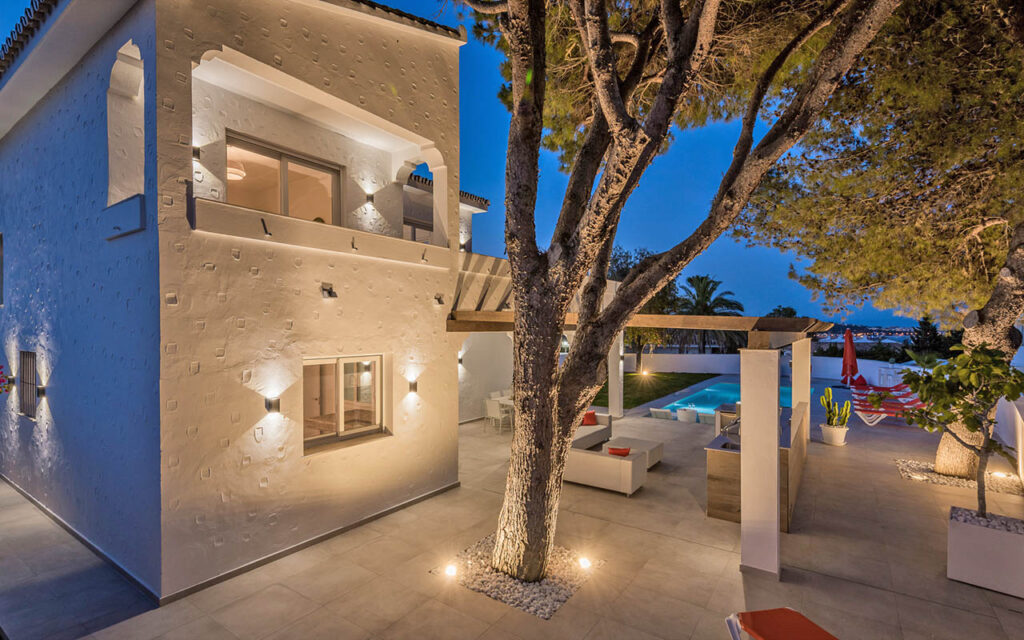 We hope that now you have a better idea of where to start when planning lighting in your home. As always, researching and visualising is a key element to planning and choosing the right lighting for your home. If you´re undertaking a building project in Marbella, Benahavís or Mijas, ProMas Building can help you with the entire plan, design and build process, if that´s what you´re after. We´d be more than happy to help you create the right ambience and style that suits you and your home on the Costa del Sol.