The recommended way to heat your home
When constructing or reforming homes here in Marbella and the Costa del Sol, we often recommend that underfloor heating is installed.
Although we have one of the world´s best climates, winters can also get quite chilly. So since most older homes aren´t as well prepared for the cold as they are further north, people often turn to inefficient electric heaters to warm up. While we also advocate for fireplaces to create that special relaxing atmosphere, underfloor heating creates that effortless cosy barefoot winter feeling that is an undeniable modern luxury.
ProMas recommend radiant heat underfloor heating systems because the comfort and warmth tends to be felt sooner and at a lower temperature. There is also minimal air flow which keeps the temperature comfortable and even, everywhere in the room.

ProMas Building – Underfloor Heating, Blog, December 2016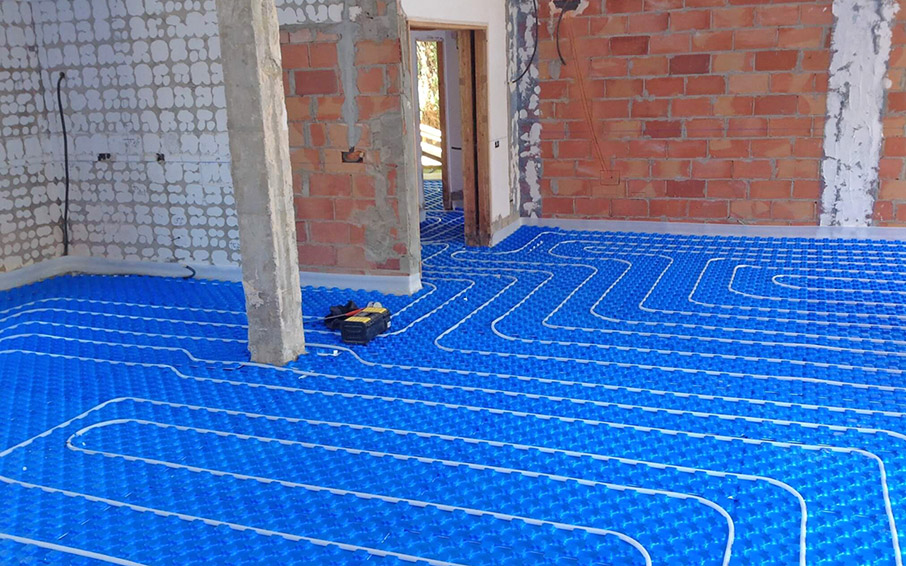 How does underfloor heating work?
Underfloor heating works by producing radiant heat which is evenly distributed from the floor and warms the room from the ground up. There are two types of systems available: electric (dry) and water-based (wet, or hydraulic) systems.
The electric system uses electricity to heat a very thin wire. The water system works by connecting pipes laid under the floor to a central system and on to a heating system fitted to a thermostat, so that you can regulate the temperature,
Is underfloor heating right for your home?
The suitability of each system depends on your project and preference. The electric system may be more suited to smaller areas such as bathrooms and renovations as it does not raise floor levels. Wet systems however are ideal for large areas, new builds or total reforms as in the photos shown here because they are fitted into the structure of the sub-floor.
There is no doubt that underfloor heating can be a brilliantly cost-effective solution. The running costs are linked to energy prices, room surface area and height, and running time. It is also advisable to install the system with sufficient insulation which reduces the heat-up time by reducing heat loss.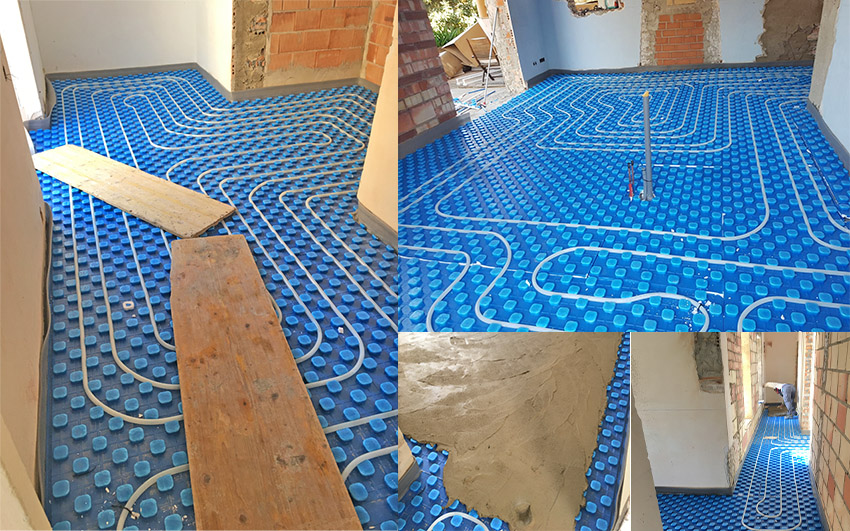 Water-based underfloor heating
The most cost-effective way to consistently heat a large home is a water-based underfloor heating system. Wet underfloor heating works by warming water in pipes connected to a boiler, heating the space evenly at your choice of temperature. They are long lasting and have very little maintenance requirements so are a great option for luxury homes.
Here on the Costa del Sol, these systems will cost around 16,000 euros for a 200 sqm home. The price is more efficient for larger properties since the running system itself is the most expensive part. Depending on the size of your home, these systems can take about a day to warm up, however once they are heated the running costs are quite low.
For this reason, we recommend water based underfloor heating for the majority of villas that we build or refurbish. We have installed many of these throughout our 20 years experience in building and renovating homes for many happy customers.
Electric underfloor heating
Electric systems are easier to install and faster to warm up but have higher running costs if you will be wanting the home warmed regularly throughout the winter months. For this reason, electric underfloor heating is only recommended for small spaces or when it would only need to be heated for short periods.
Heating with us
If you´d like to make your property a little cosier, underfloor heating could be a great choice. Our experienced team can advise you on what heating system would best suit your needs and professionally install it. We´d love to hear from you to discuss your upcoming construction or refurbishment project around Marbella, Benahavís or the Costa del Sol.