One thing that is essential to home functionality and tidiness, but often overlooked, is positioning of power sockets in your home. Nowadays, most people have various devices that need charging throughout the day, and it is a very different experience to have functional well positioned sockets instead of ugly cords, adapters and dividers in every room.
So when building your dream home or undertaking a renovation, how do you ensure that you achieve the former, and not the latter? This blog gives you an outline of how to get power sockets right for your home.
We should start by saying, power socket positioning should be integrated into planning, interior design and use of your home. So if you want to take one message from this- it is that. Another thing worth noting is that you should check your local building code or ask your builder for the standards in your location as there are also minimum safety requirements legislated locally.
Finally, with the plethora of usb connecting chargers most people use, it is wise to include usb connections in all key areas to make those connections slimmer and eliminate the need for moving around those usb to wall adapters everywhere- if you can. If you can´t, there are various usb towers that you can purchase like normal adapters but are not as visually pleasing as hidden sockets in carefully selected areas.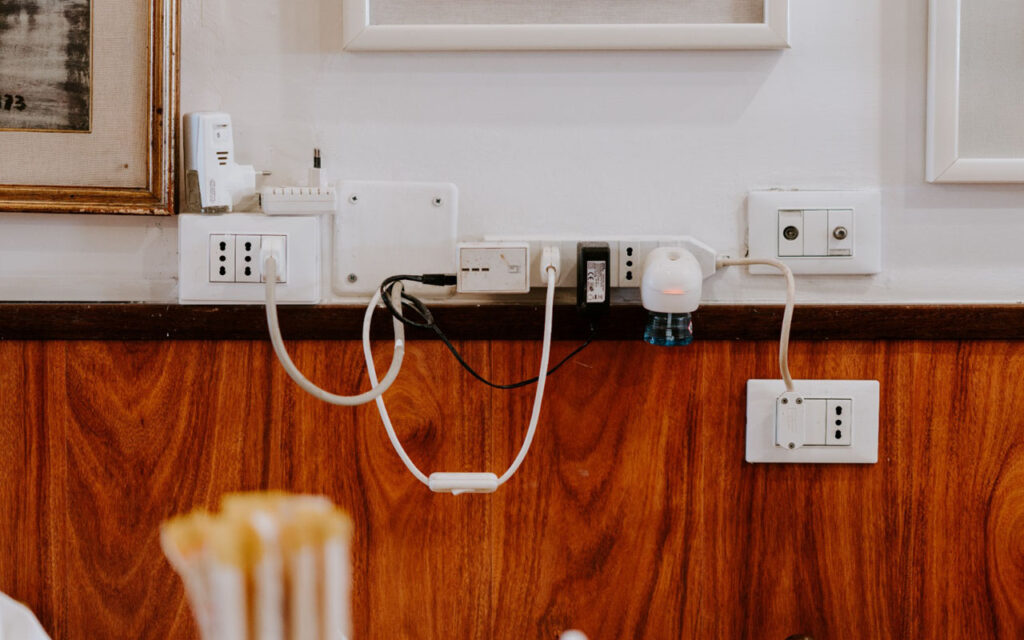 1. Choose your style
Nowadays there are various styles of power sockets and light switches to choose from. Good old white, classic brass, modern matt silver, grey, black, shiny silver or gold- the list goes on. You also have to choose whether the plate is flush or raised, and also the type of switch itself. So when thinking through the interior design and decoration of your home, it's worth considering which power switches you would like to install too- and the ones that are available to you in the market.
While power sockets are often hidden, light switches are not, so it's wise to have a look at some styles and decide what best suits your style. If you choose a modern or unique option that suits your home, it makes those visible power points that much more aesthetically pleasing. Although it should be noted that it isn't the socket itself that creates the eyesore- it is the cords that inevitably accumulate around them so you want to try to have permanently fixed cords hidden, and perhaps integrated into furniture if possible.
2. Plan for your air conditioning, heating and lighting
While working out your electrical plans, it is very important to decide on the lighting and air conditioning that you will be using. If you can, it is better to have ducted reverse cycle air conditioning throughout, and also lighting and lamps installed in the roof and walls to avoid excess cords. But you should consider where you could want to include wall or table lamps in the future, as well as anywhere you might want to locate a movable air conditioning or heating system to ensure that life is easier if you want to add them later on.
3. Living room layout planning
One essential technique to get your electricity sockets right is to plan the layout of your furniture so that you can have your outlets positioned well. In the living room, the key factors are the positioning of your television, tv cabinet and sofa.
Ideally, you want to have your television on the wall, with all your related power sockets and antenna connections accessible, but hidden behind it. Perhaps hidden to the side, inside or slightly below your tv cabinet (but it is important that they are also easily accessible), you want to have an excess of power sockets too for all the extra items that may need connection in this area- think of any lamps, smart home systems, games, stereos or other items that may need connecting in this area. You may also want to include a couple of usb ports in this location for all those random cords with usb connections- and guests' mobile phones.
For the sofa, you should plan for mobile phone charging, as well as lamps, laptops charging while sitting on the sofa, and even electrically reclining sofas. So it is also good to have power outlets hidden in various points around the sofa, at least one in each corner, midpoints between longitudinal walls and a usb socket at either end of the couch to allow for easy mobile phone charging.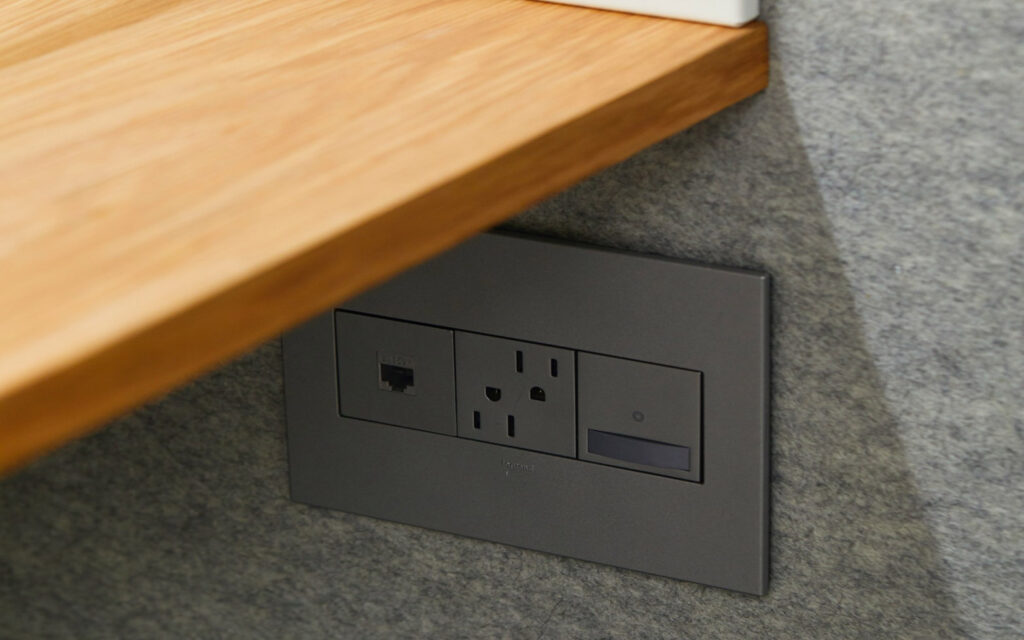 4. Kitchen sockets
As you can imagine, the kitchen needs the most power outlets out of the entire house. With all the appliances, you need to plan for the fridge, microwave, stove/oven, kettle, toaster, coffee maker and any other permanent items that you will keep on your bench (which will ideally be hidden behind the appliance), then add another few sockets for the future and transient items that will likely be used in the life of your kitchen. Your local building code will probably require that it is a minimum distance from any taps, sink and windows for safety reasons- although it is a good idea to position them 12cm above your worktop, the same for above floors.
As with all rooms, it's a good idea to have an excess of power sockets, including some hidden on the wall near or under the kitchen bar so that laptop cords or phone chargers can be hidden out of sight to avoid unsightly bundles of cords sitting on the worktop. There is also the option of adding concealed sockets that can be hidden within furniture like the worktop and pop up when you tap it. While this solves the problem of visibility of the sockets, it still needs to be popped up and cords plugged in to be used- so is not the tidiest solution.
As with all living room areas, it is also a great idea to have some usb connections because many little appliances connect with usb and it is much neater to have them connect straight to the wall than have adapters in every socket. As with every room- if in doubt, include it! It is much easier to install while you are doing work, than to rip up walls and install them afterwards. And if there is any question- you will probably regret not having done it. This is particularly true in kitchens where people and appliances tend to congregate- so be generous with your kitchen sockets!
5. Bedroom power connections
It goes without saying that each bedside table should have a couple of sockets next to or behind them. So, as with every space- it is a great idea to plan where the bed and tables will go so that they are located in the right decision. Ideally, the sockets will be lower and just to the side of the furniture so that it is easily accessed but mostly hidden- or at least not an eyesore. But you may also want to include some stylish electrical and usb sockets within sight just to make your life easier if you don't think the space allows for an easily accessible hidden socket.
While you are at it, think about whether you'd prefer bedside lamps, walls or hanging lamps- it is a great idea to integrate them into the wall or roof around the bed to avoid clutter on the bedside tables (and reduce things that can be accidentally knocked over in the night). If you do include the lamp in the walls or roof, then perhaps you can just have a couple of usb sockets and light switches above each bedside table. In addition, it's good to include extra power sockets near the door or in other locations where desks, vacuum cleaners, or floor lamps may be desired later.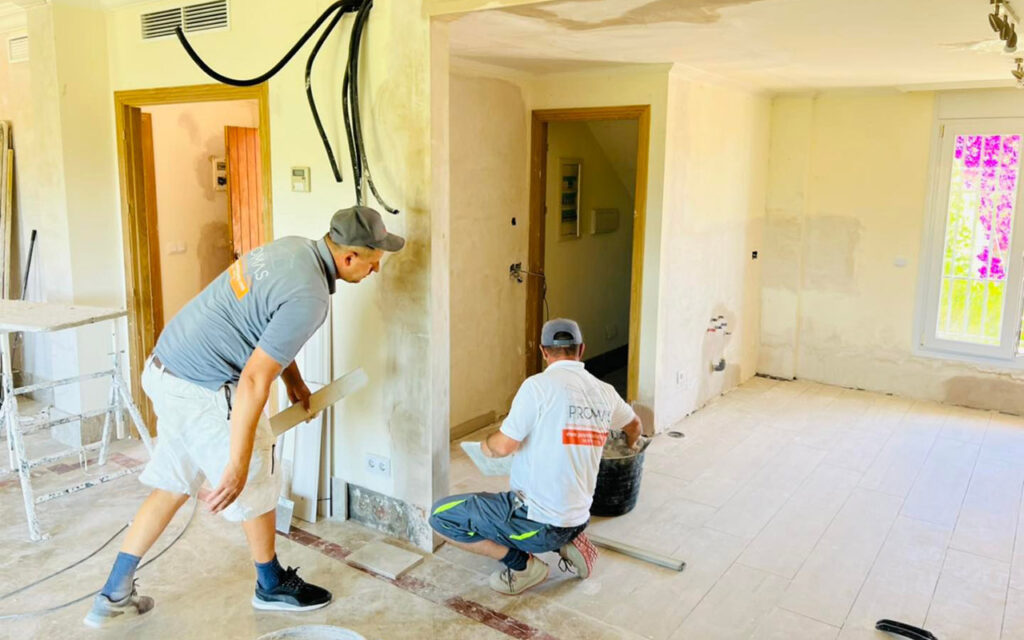 6. Bathrooms
For bathrooms, you should plan to have enough sockets for electric toothbrushes, hair appliances, shavers and any heaters or air conditioning that you may want to install (if you don't plan to have ducted, of course). As with all rooms, you want any permanently plugged cords to be hidden and ideally incorporated into the furniture or wall hangings to avoid visual clutter, but you should also have some extra within sight for occasional use. If the bathroom size allows it, it's wise to position some either side of the sink to allow for two people to use the space at the same time and make getting ready more pleasant.
7. Transient spaces
Areas like entry areas or hallways generally don't need many power outlets, but sometimes they do come in handy. Mainly for lamps, temporary lights, hall table connections and vacuum cleaners. So it is good to have some in places where you would like to put furniture and another in a non prominent place that would allow you to vacuum the hall- or just inside doors along the corridor.
Power point planning
So if you are undertaking electrical works or planning your new home- give some thought to the interior design, heating/cooling and practical use of your property before you go finalising your electrical plans. Remember to also check local regulations, include plenty of usb sockets and be generous with your power socket choices. You, and other future occupants of your home, will be grateful!