In the world of luxury villas, the power of outdoor living cannot be underestimated. The ability to seamlessly blend indoor and outdoor spaces, and create exquisite gardens, chill out spaces and pool areas, is what sets a truly exceptional home apart. These outdoor sanctuaries not only enhance the overall aesthetic appeal but also provide residents with a tranquil retreat where they can unwind, entertain, and connect with nature. This blog outlines the key elements to consider when creating lovely gardens and pool areas.
Designing the Garden Space
Creating an elegant outdoor area starts with thoughtful design and good taste. Firstly, consider the overall theme and ambiance you wish to achieve- whether you prefer a lush and tropical oasis or a minimalist and contemporary garden, choose plants, trees, materials and flowers that complement the desired aesthetic. While you are at it, make sure you think about maintenance and the level of time and effort you are able to devote to upkeep and choose plants and surfaces accordingly. Incorporate pathways, seating areas, and focal points like water features, feature furniture or sculptures to add visual interest. Balancing greenery with hardscape elements creates a harmonious, elegant and inviting garden or terrace space.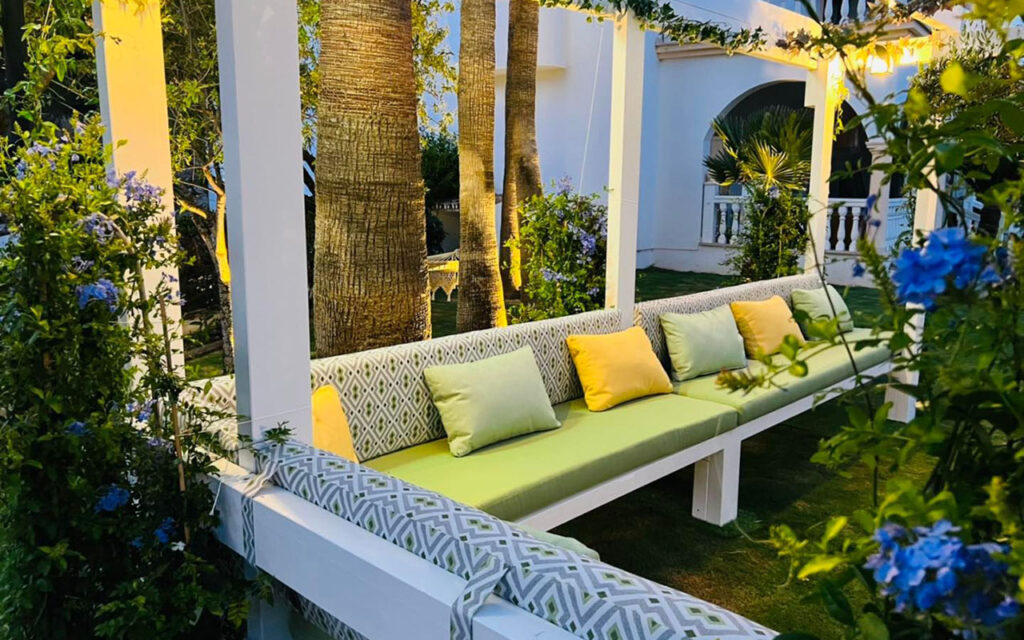 Pool Design and Placement
The pool area is often the centrepiece of the outdoor living oasis, providing a refreshing escape during hot summer days as well as gorgeous relaxing outlook year-round. When designing your pool, consider the overall size, shape, and placement in relation to the villa and the surrounding landscape. Infinity pools, free-form pools, or lap pools can add a touch of elegance and luxury- depending on your taste and the ambience that you wish to create. Incorporate stylish poolside loungers, umbrellas, and shaded areas to create a comfortable and inviting atmosphere.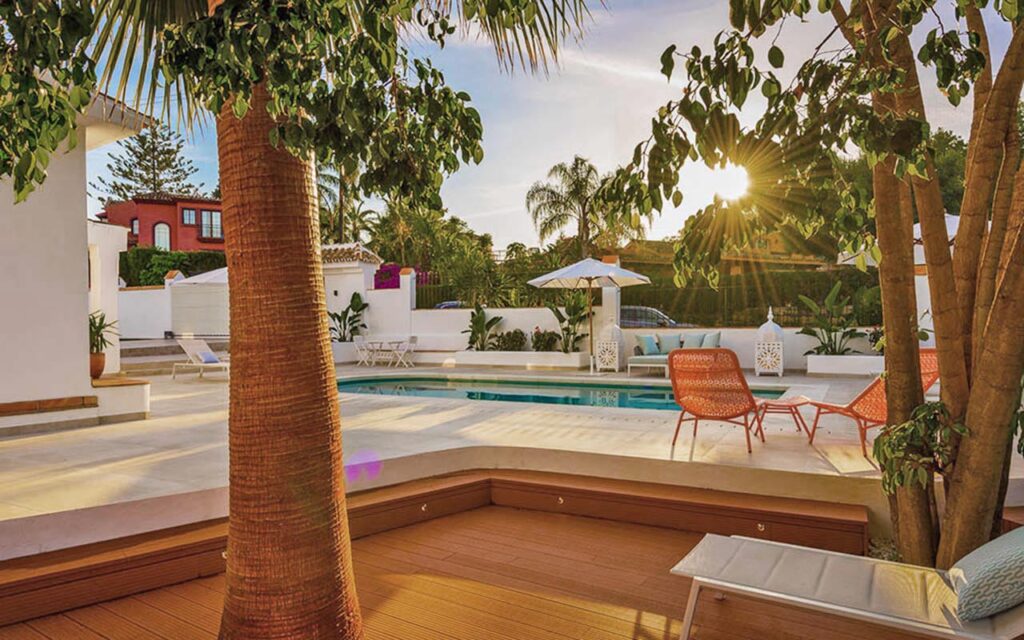 Seamless Indoor-Outdoor Flow
Creating a natural indoor-outdoor flow is crucial for maximising the enjoyment of your home´s outdoor spaces. Design the architecture and layout of the villa to seamlessly integrate with the garden and pool areas by using large glass doors, sliding walls, or bi-fold doors to connect indoor living spaces with your outdoor sanctuary. This allows for a natural transition, blurring the lines between the interior and exterior and enhancing the sense of openness and spaciousness. It is important to include outdoor furniture that can be used throughout the year to make the most of the space, and some covered outdoor living areas.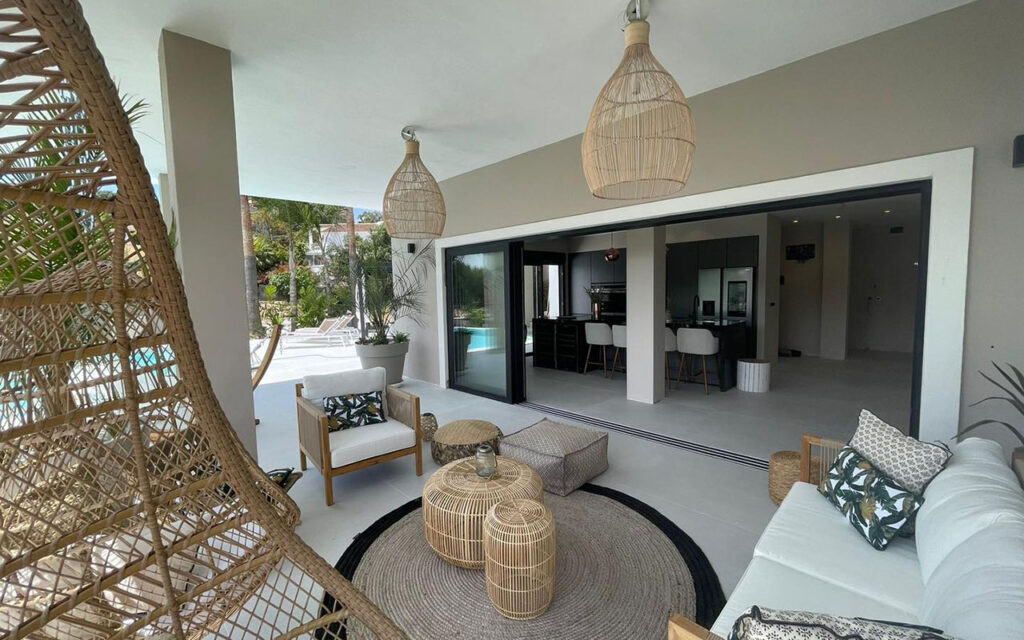 Outdoor Dining and Entertainment Spaces
To fully embrace the power of outdoor living, create dedicated spaces for dining and entertainment. Design an outdoor dining area with a stylish table, comfortable chairs, and ambient lighting for alfresco meals and gatherings- a statement pendant light or lantern can often add character to the space.
If possible, install an outdoor kitchen or barbecue area for easy outdoor cooking and entertainment- integrating a sink, refrigerator, cabinets and cooker (at the very least) to make outdoor dining that much more natural. Pizza ovens or chimeneas create a lovely rustic option for gathering outdoors throughout the year. Consider creating additional spaces for relaxation, such as lounge areas, fire pits or pergolas, where residents and guests can unwind and enjoy the serene ambiance.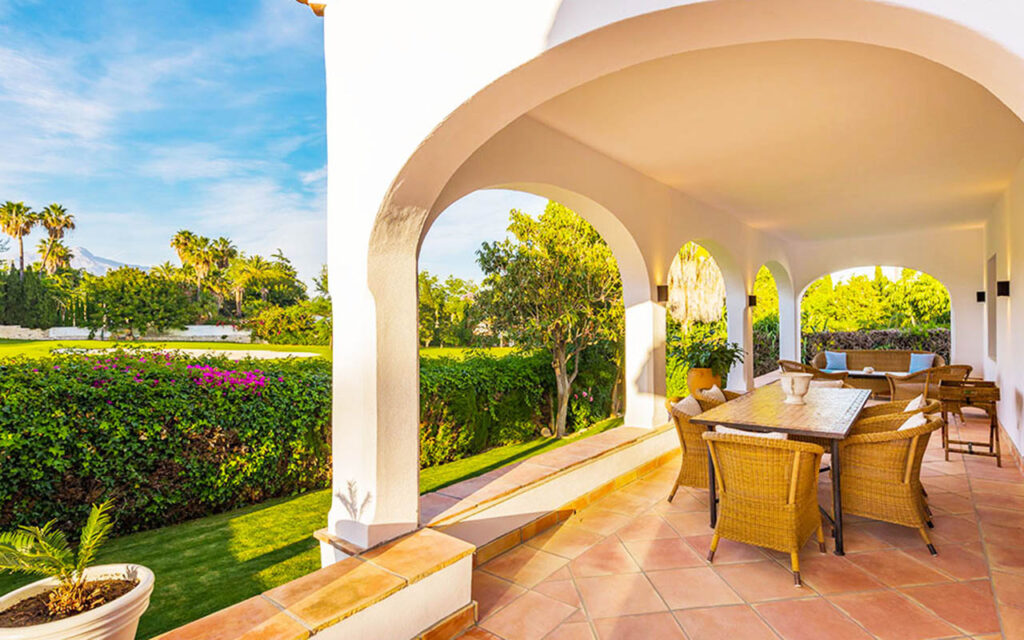 Landscaping and Lighting
Landscaping and lighting play vital roles in creating a captivating outdoor living space. Thoughtfully select plants and trees that thrive in the local climate and complement the overall design concept. Use strategic lighting techniques to highlight architectural features, illuminate pathways and create ambiance. You can also incorporate underwater lighting in the pool to add drama and visual appeal during evening hours. Well-designed landscaping and lighting can transform your villa's outdoor areas into enchanting and captivating spaces.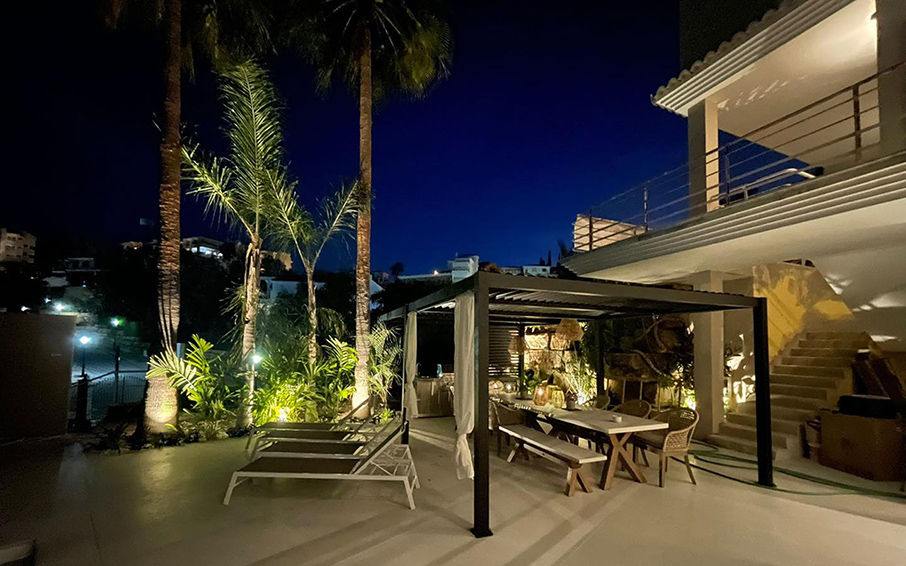 Privacy and Tranquillity
Privacy and tranquillity are paramount when creating exquisite villa gardens and pool areas. The most elegant way to enhance privacy is to incorporate natural screening elements, such as tall trees, hedges, or trellises, to create privacy buffers from neighbouring properties. You can also use water features, such as fountains or cascading waterfalls, to add a soothing and tranquil atmosphere and draw out any excess external sound. Including this kind of well thought out landscaping and design strategies allows you to fully relax and enjoy your outdoor sanctuary in peace, free from external roaming eyes.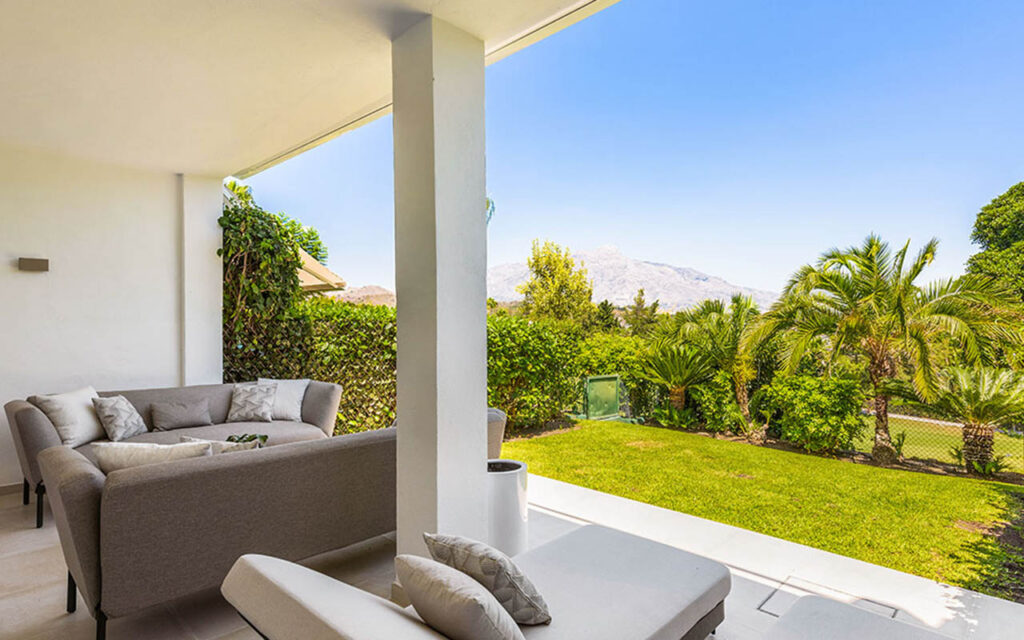 Sustainability and Eco-Friendly Practices
There is something very satisfying about embracing sustainability and eco-friendly practices in your home – gardens and pool areas being no exception. Where possible, opt for native or drought-tolerant plants to reduce water consumption, choose solar powered installations if possible, and install an efficient irrigation system to minimize water waste. It is also environmentally responsible to consider eco-friendly pool systems, such as saltwater or natural filtration options, to reduce the use of harsh chemicals. You may also want to consider incorporating sustainable materials, like recycled wood or eco-friendly decking to enhance the eco-consciousness of your outdoor spaces.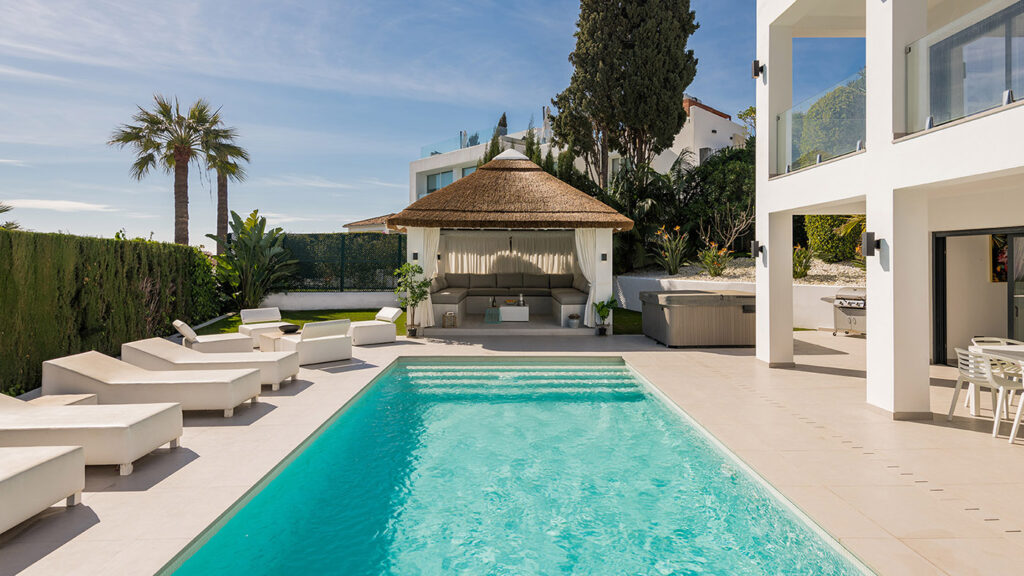 Creating your outdoor sanctuary
Embracing the power of outdoor living allows you to unlock the true potential of your home, where you can bask in the beauty of nature, entertain with elegance, and find solace in the tranquillity of your very own oasis. By carefully considering style and design of the elements discussed above, you can transform your outdoor areas into extraordinary living spaces. If you are around Marbella, Benahavís or the Costa del Sol we´d love to hear from you to see how we can help you transform your outdoor living area into a stylish and practical sanctuary.